IPOC INDEPENDENT PORSCHE OWNERS CLUB

For all your Porsche needs please contact
Frissen Gutierrez
"The Porsche Specialist"
(click here)
Go Drive !!!

Frissen Gutierrez

Porsche Specialist & Porsche Owner since 1992

"Passion for Porsche"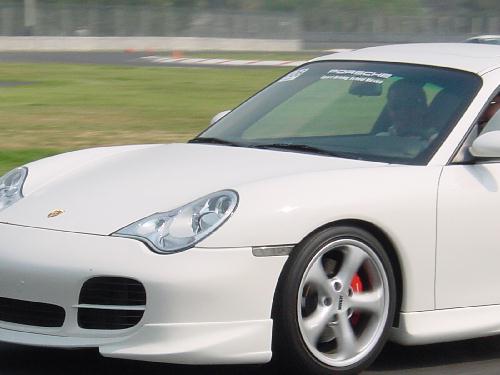 Porsche de Mexico (PdM) had its first Porsche Driving School for the year 2005 at the Autodromo Hermanos Rodriguez in México City. A 3-day Porsche-a-thon that covered Level 1 and 2 of the Porsche Sports Driving School.

A first class event held at a first class facility, the Autodromo Hermanos Rodriguez is a former Formula 1 track and now is the home of the CART and NASCAR events in México.

As expected PdM threw a tremendous event under the command of Julien Busson, where Porsche Owners had the chance to enjoy their cars in a fantastic facility as well as learn Sport Driving Techniques. PdM put special attention to all the details of the event, gourmet breakfast and luch were served and Porsche Owners were also attended at special hospitality tents all around the track. From registration to the end of the event all Porsche Owners were pampered through out the day while they enjoyed their Porsche's at full speed.

Lets take a look at the action...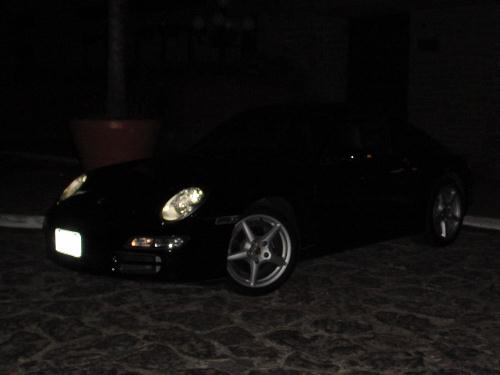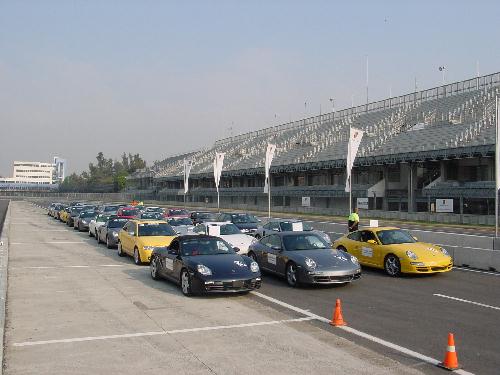 The day started waaaaay early... Thankfully I had a brand spanking new 997 to keep pace with the customers from Puebla...

Beautiful day greeted us at the track, all cars lined up and ready to hit the track...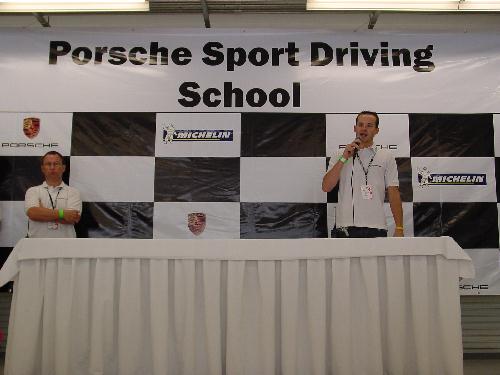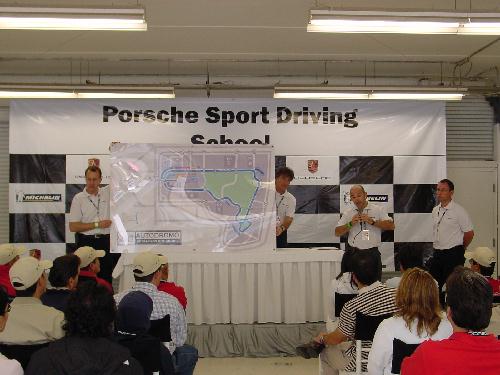 Julien Busson from PdM greeting all participants...

Track breifing before hitting the track...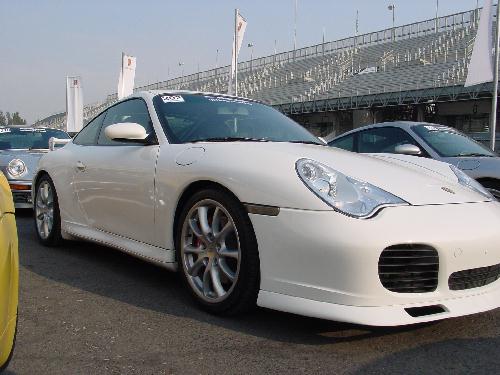 IPOC member AA in his very special 996 C4S configured and sold by yours truly, "The Porsche Specialist"...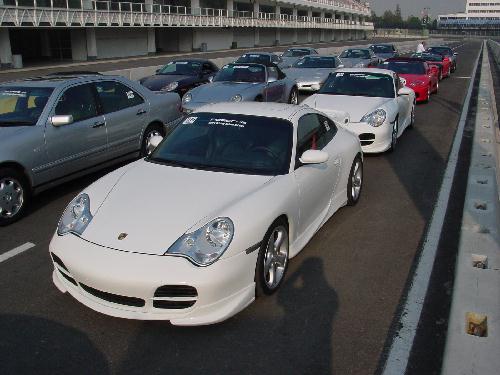 Am I seeing double? Two identical and fully loaded TechArt 996 C4S... and the father was driving the Spyder behind the bother's TechArt's...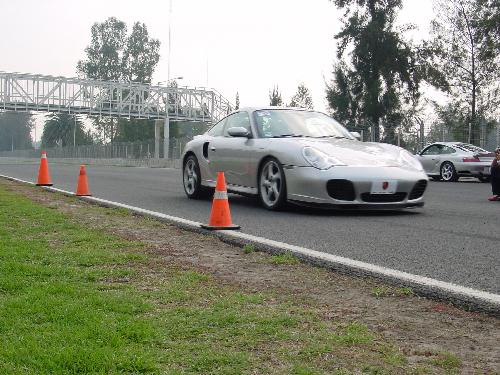 We started the day with some braking... here IPOC member AA demostrating his braking abilities in his loaded 996 C4S...

IPOC member GT in his Piasini 996TT pushing the brakes... well done Gerardo...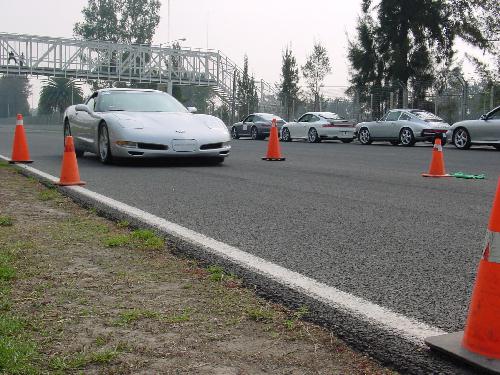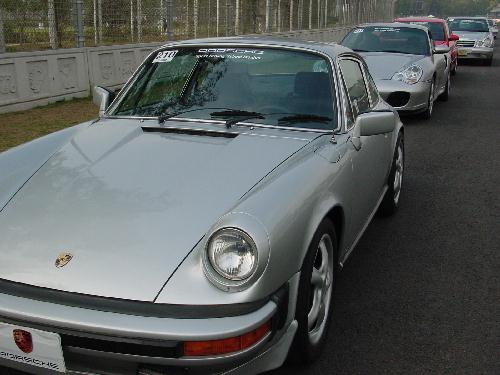 Porsche's waiting on Vette.. of course by the end of the day the Corvette owner was convinced that his next car should be a Porsche...

any Porsche as this early 70's 911 did tremendously well despite being 30 years old... Porsche "There is no substitute"...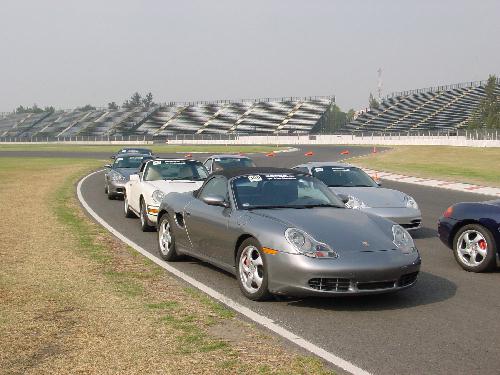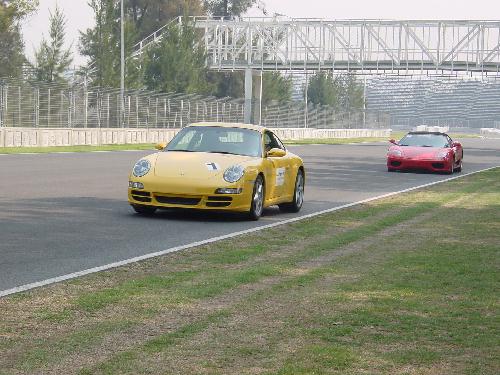 Its time to regroup and start doing some turns...

Following the instructor first...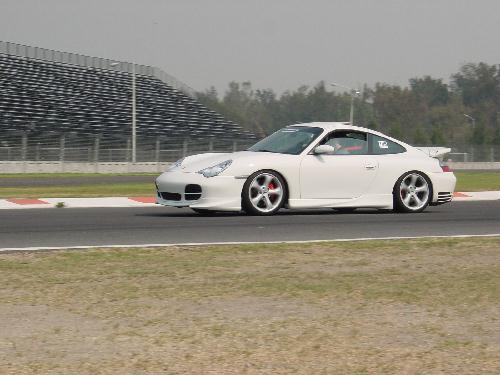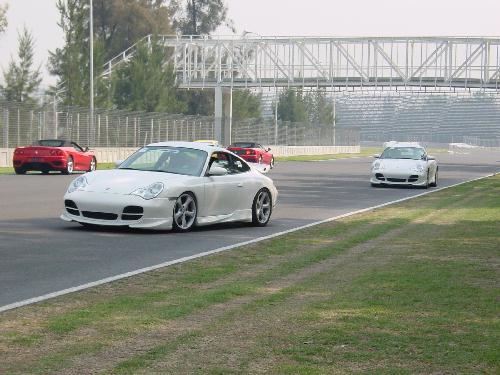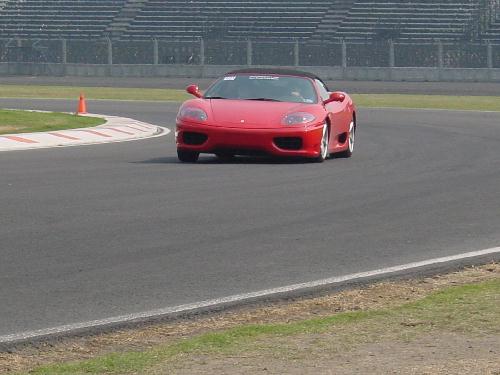 TechArt's chasing Spyders...

The Ferraris were very fast through out the day...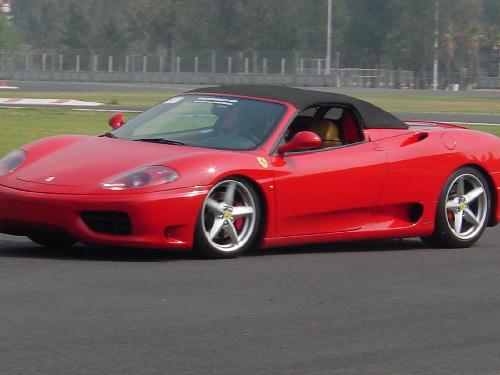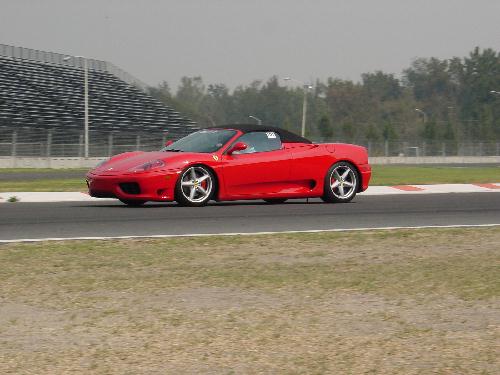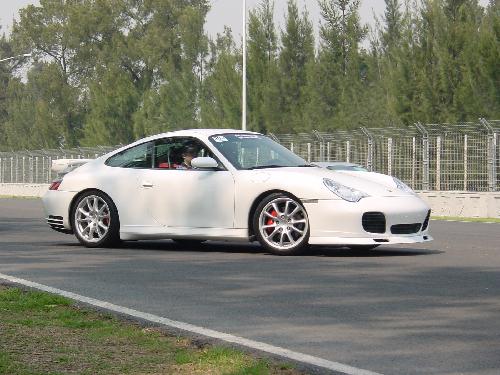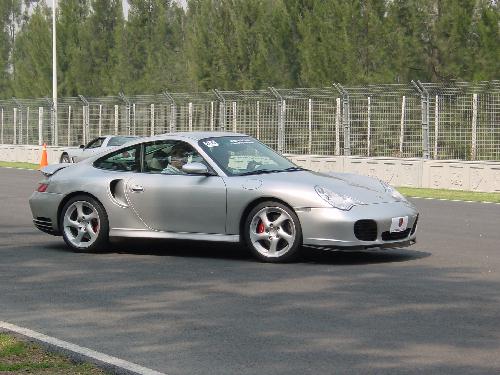 Pushing hard every turn... tremendous engine sound at high revs...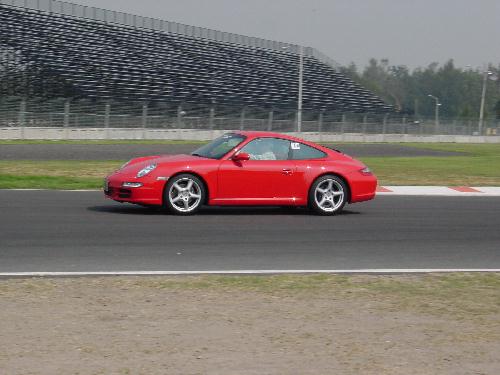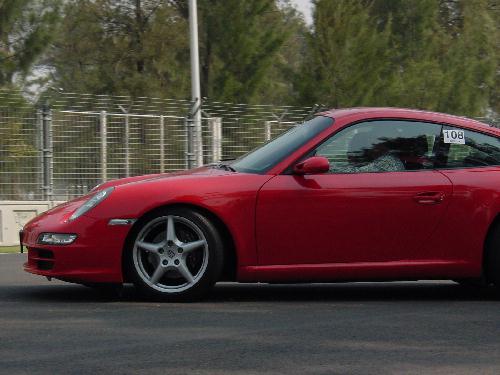 IPOC member AA turning to do it once again... fantastic sounds emanated from the Sport Exhaust of this loaded C4S...

IPOC member GT used every extra Nm the Piasini software makes to exit the turns fast...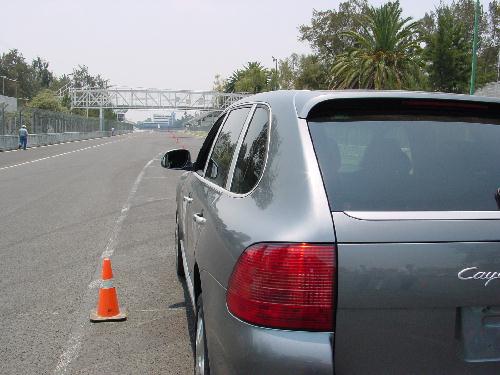 Porsche Puebla customer and multi Porsche Owner, Maurice G. did the event in a brand spanking new 997 donated by PdM...

Maurice G. loved the 997 hopefully he will add one to his garage where a 986 Boxster S and 955 Cayenne S sit right now...

Driver's view of the Slalom Test and Competition...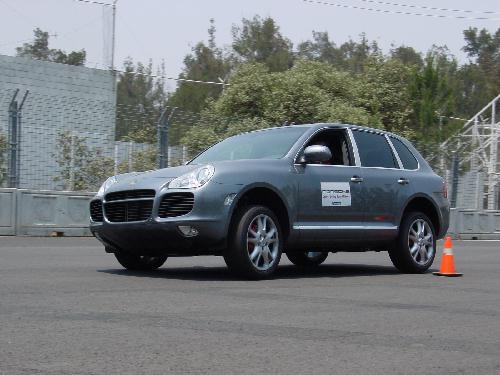 The 450hp Cayenne Turbo doing the slalom... tremendous power display !!!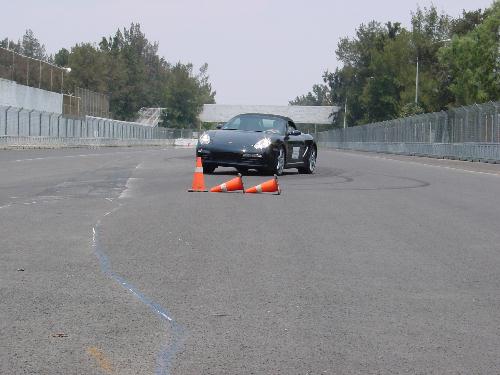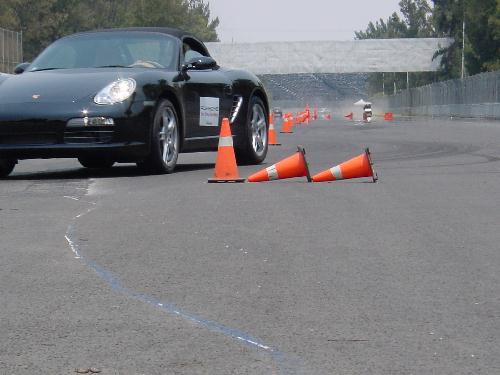 At the same time and on the other side of the skipad customers/competitors were running the 987 Boxster S...

Fast, fast, very fast... the new Porsche 987 Boxster S displyed tremendous handling and speed in the slalom...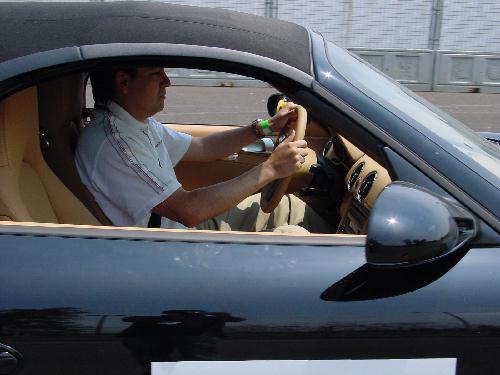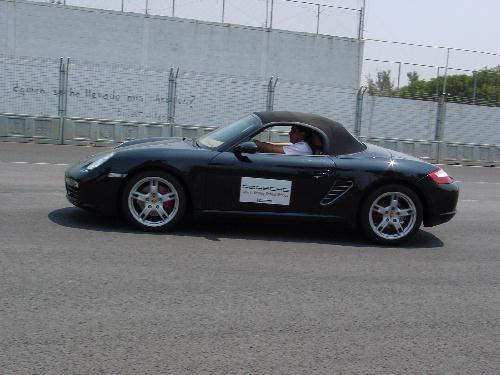 We spotted very interesting people doing the slalom, Fernando Flores Director of Porsche de México doing a run...

Look at him go !!! Fernando has learned a thing or two about driving while being Director of PdM...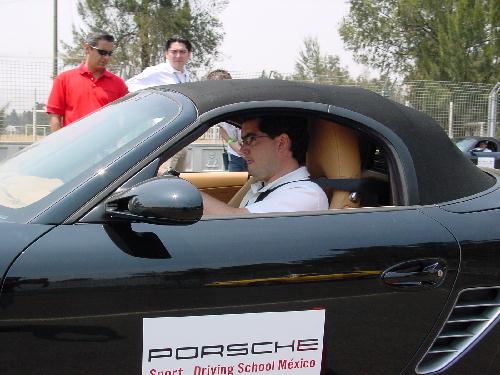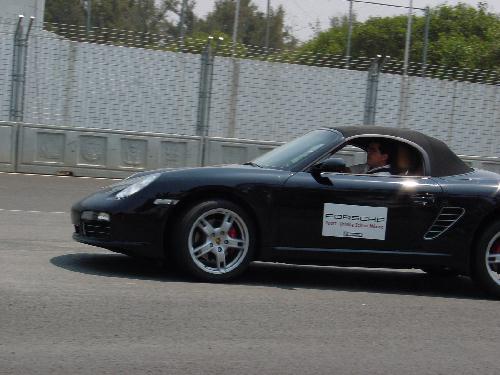 Victor Ortiz General Manager of Porsche Interlomas also did a couple of runs...

Yep, Victor did an stupendous time but awards are only for paying customers, employee's times don't count...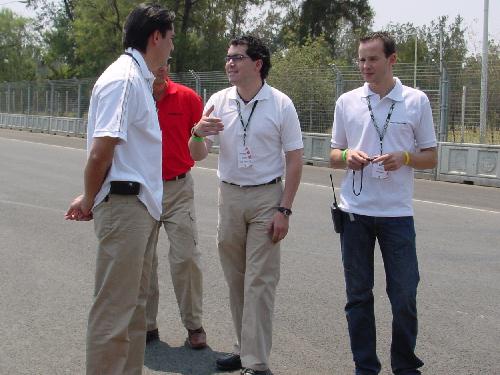 Fernando and Victor discussing their times...  Julien watches...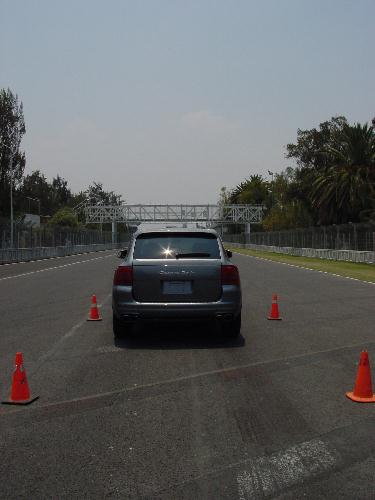 Its lunch time, why don't we take this Cayenne Turbo to the pits and check out acceleration meanwhile...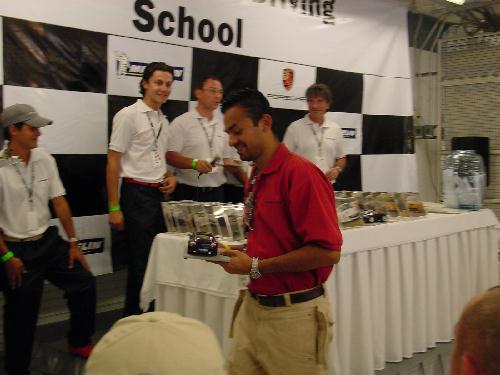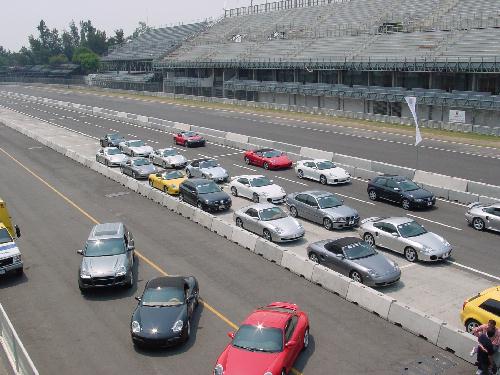 Its time for the Open Track Laps, can you spot my black 997 all the way in the end, yes I'm ready to go full speed... I had a great time at the Open Track Laps...

Award Ceremony, after a full day of driving its time to award the students... on the photo IPOC member AA receiving his "Best Performance" Award. IPOC members always take the awards, GT also took "Best Performance".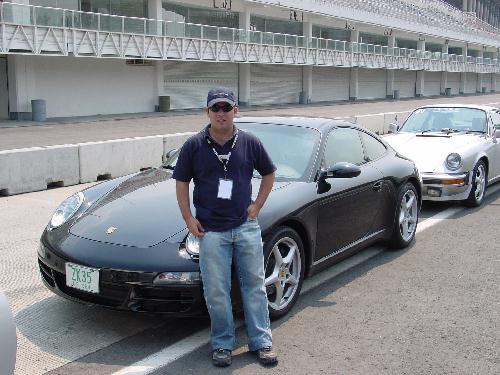 WOW!!! What a day !!! Fast cars, fast driving and tremendous organization... I would like to thank PdM for all of their attentions, specially Julien Busson Director of Marketing and Fernando Flores Director of PdM.

The Porsche Sports Driving School is a tremendous opportunity for any Porsche Owner to learn how to drive faster yet safer. Its a tremendous effort in part of Porsche de México to organize such a huge event but in the end is well worth while. Thanks PdM for such magnificent event.

Due to time constraints we were only able to cover day 1 / level 1.

Until next time...

Frissen Gutierrez

Porsche Specialist @ Porsche Puebla (Yes, I'm back)

ALL PHOTOS BY: FRISSEN RACING

PHOTOS PROPERTY OF: FRISSEN RACING