IPOC INDEPENDENT PORSCHE OWNERS CLUB

Newsletter 14 SUV TEST, Cayenne vs Touareg vs H2

IPOC member Fernando Bayo wanted to test his Cayenne S capabilities against other comparable SUV's, so we put our minds together for a test day.

We had about 15 different opponents nonetheless we decided to narrow it down to complete the tests as fast as possible. In the end we decided on the Touareg V8 as it is the Cayenne's cousin and the Hummer H2 as it is a very popular SUV these days. I would have loved to have a Range Rover to toss around nonetheless those are quite rare here in Mexico and none was readily available for our test. In the end the Cayenne S went against the Touareg and the H2.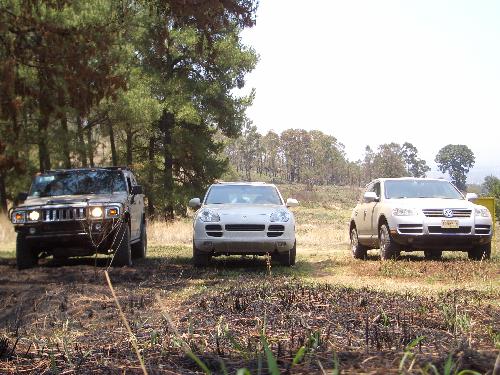 Porsche Cayenne S, VW Touareg V8 and H2 ready to hit the trails...

We were just entering the trails and these guys are already pushing their vehicles's limits... good ground clearance thank to adjustable air suspension...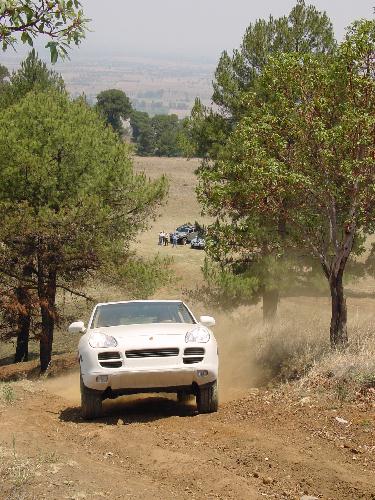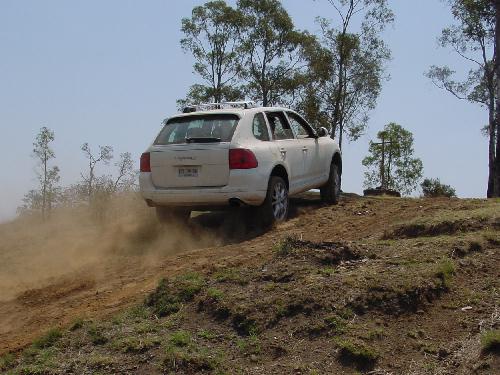 Up the hill the Cayenne S displayed great power and ability to climb...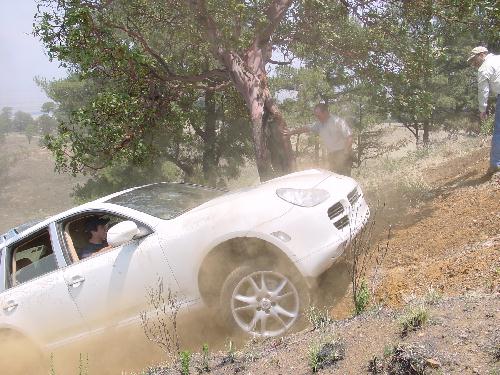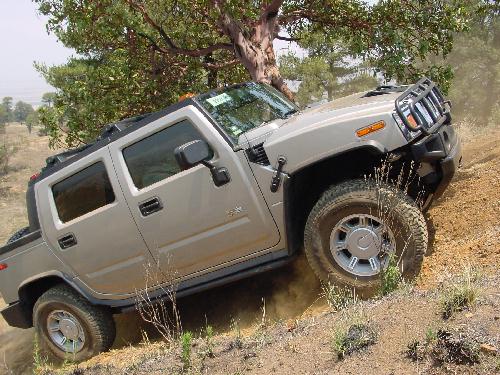 Not easy terrain, the Cayenne struggled mainly due to its "20 wheel and tire combo that left a lot to be desired as far as traction... a consideration if you plan to take your Cayenne off road...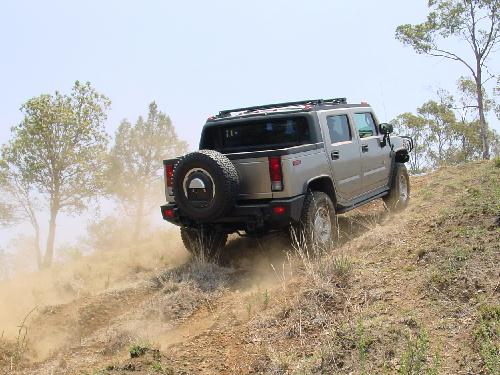 The H2 had an easier time on the up climb...

Without hesitation the H2 got to the top...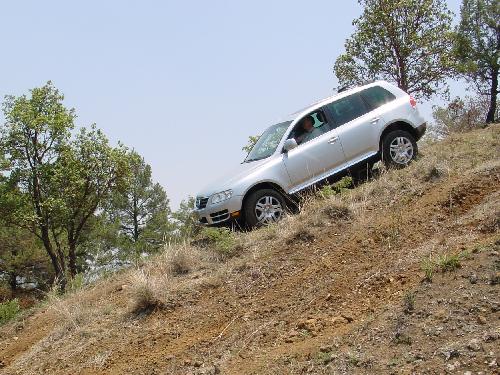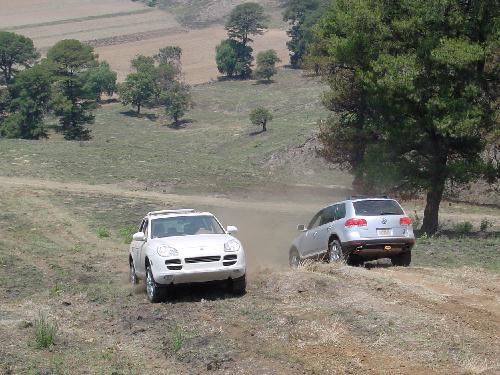 Touareg went up and down with ease...

Cayenne up... Touareg down... with did several passes for each driver to assess each vehicle...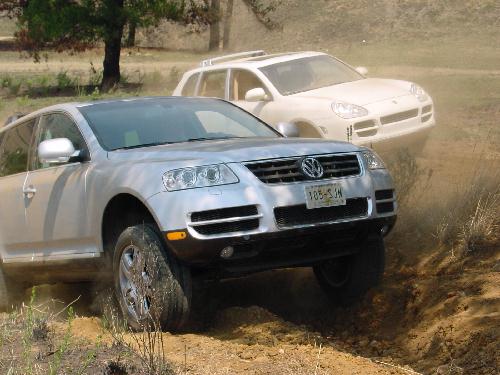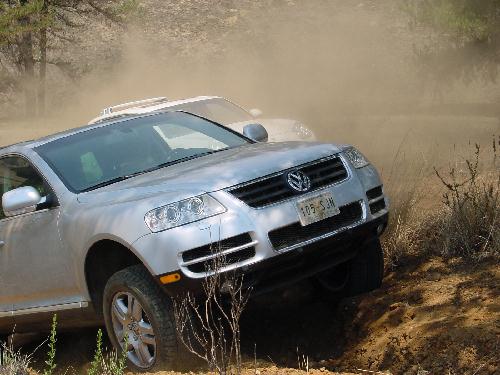 How about a head to head race...

We moved on to the next test...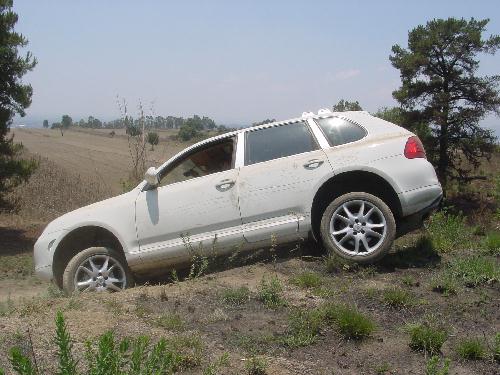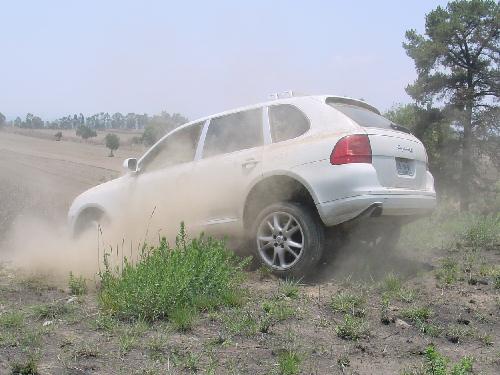 Due to road the entrance for the next test was done in reverse... not only vehicle capabilities were tested but driver abilities as well...

Cayenne S made it ok due to powerful reverse... not all off road vehicles have a shortened reverse, something to look for before you purchase...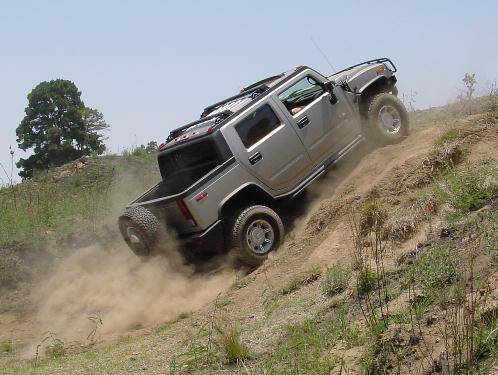 H2 led the way... shot up hill climb... power shots tested...

Cayenne did fantastic... "Fast Keke" Cortes stands as reference for driver Bayo to climb on the correct path...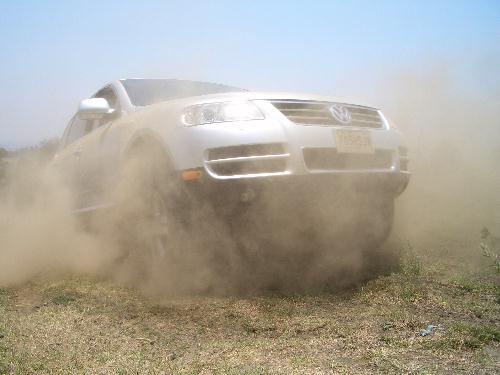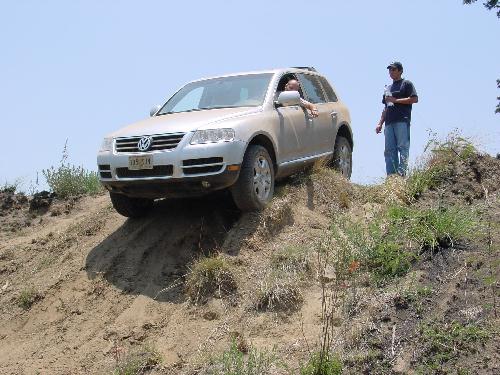 Now Touareg leads down... very difficult down hill... drivers precision wanted...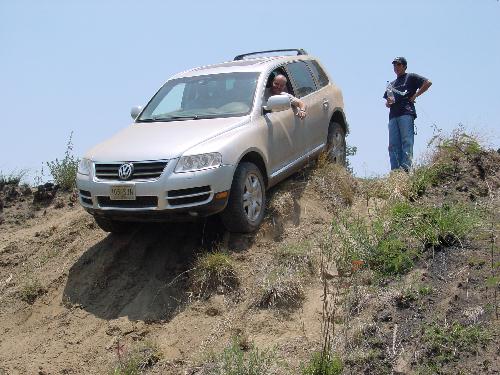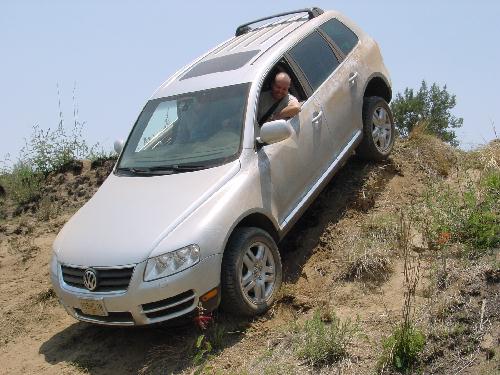 "Crazy drivers wanted"... Pepe seem pretty happy to put his own Touareg in this position... what's the worst it can happen right?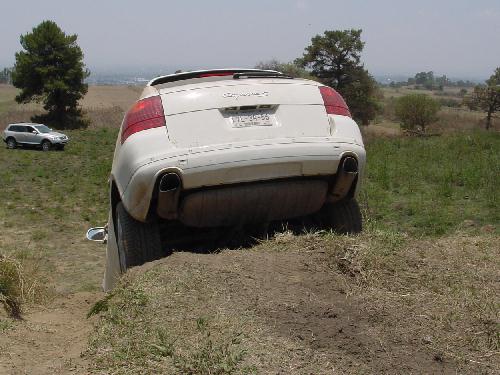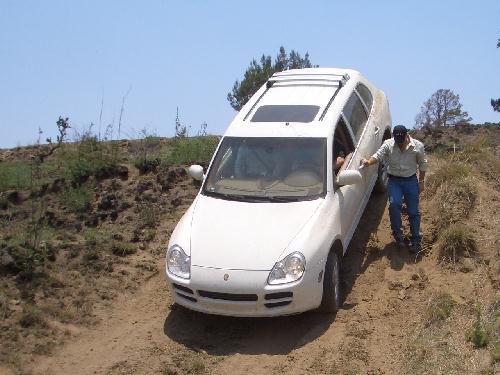 Cayenne S down... we see the Touareg ok and waiting for the Cayenne S to join...

Marco marks the pathway for the Cayenne S...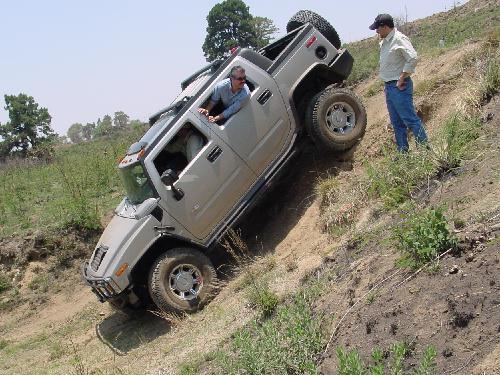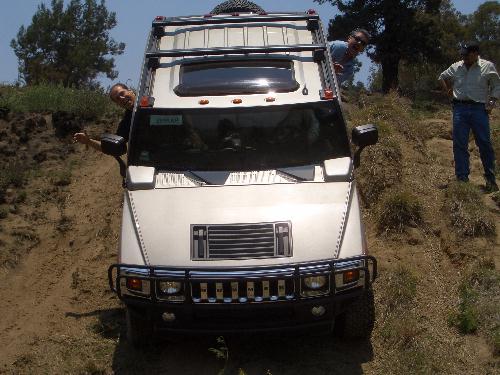 The Hummer guys are having a relaxed time in the trails...

Look ma' no hands... Bayo waves hi from passenger window...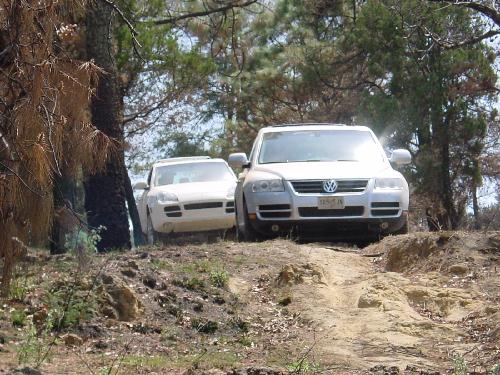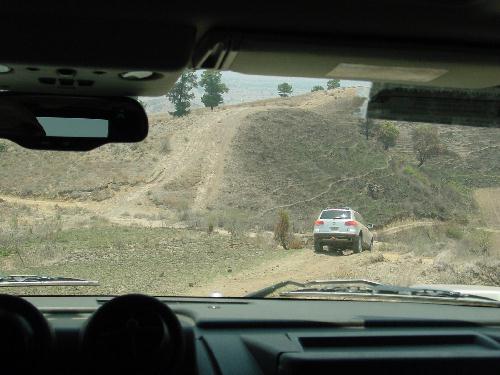 ... and on to the next test... this is a good photo...

...amazing trails offered at "el zapo" in Cholula Puebla...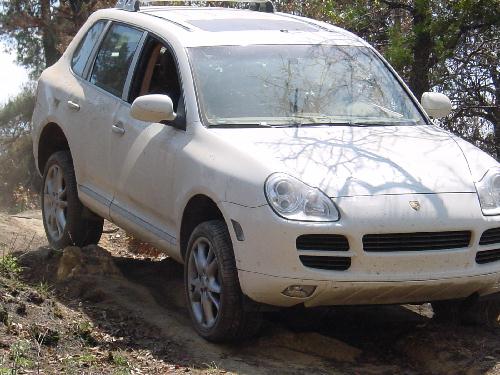 ... there goes our Cayenne S...

...those "20's really took a pounding...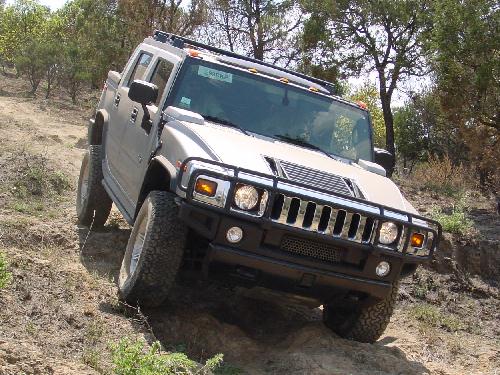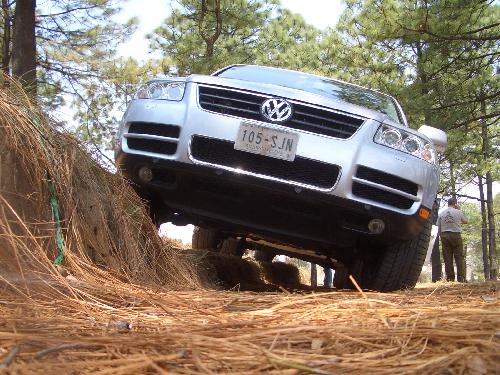 ... this trek is far from over... H2 moving on...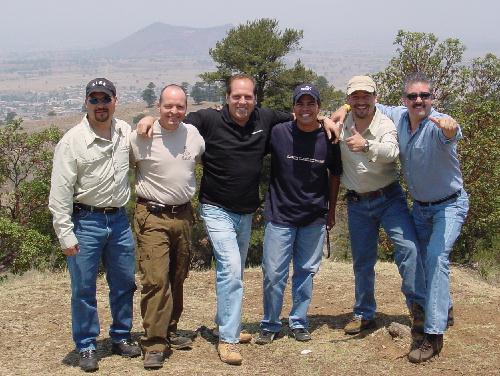 The crazy guys who made this possible... we see Bayo and Kike sporting Porsche t's supporting the brand...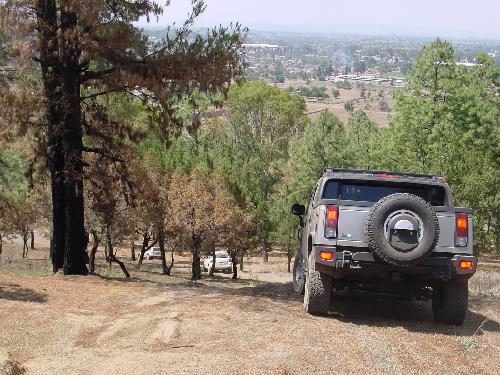 ... its time to leave the trails...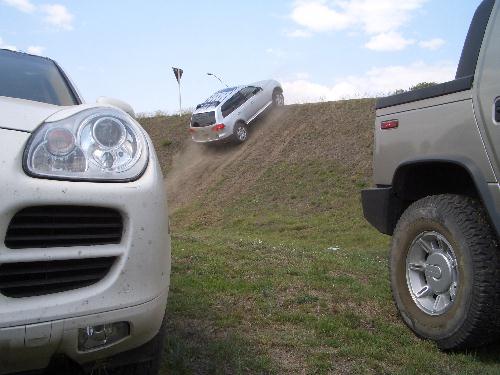 wa, wa, wait a minute here... what is the crazy guy in the Touareg doing... that is public bridge... ok I guess we have to follow...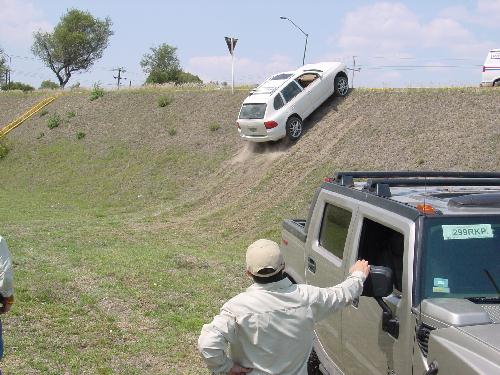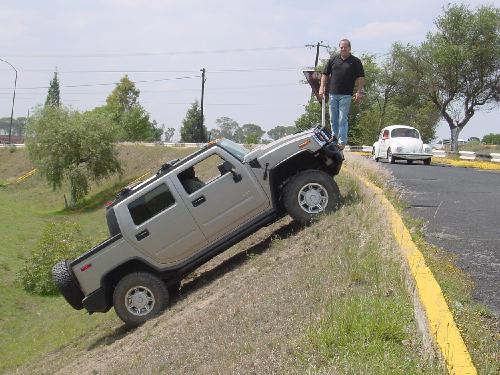 ... our Cayenne S makes it with ease... no problem here...

... H2 makes it ok... Bayo check for incline... old Bettle slows down to check what the heck is going on...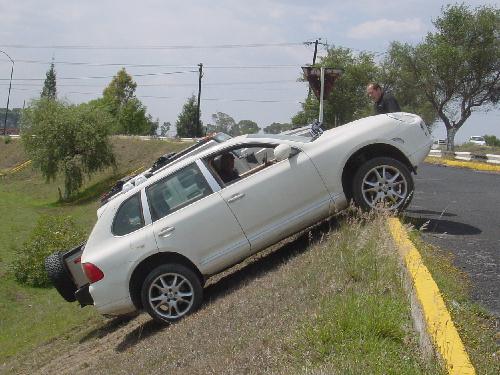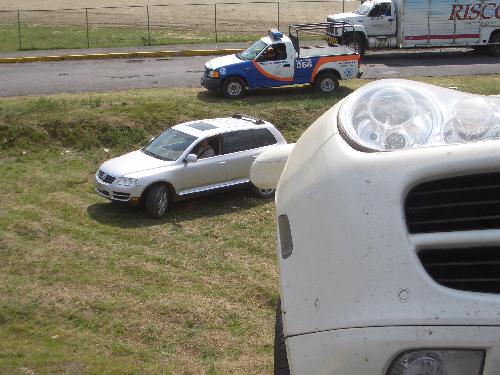 ... Cayenne S pushes the limits...

... oh, oh, Police arivves in arrest mode...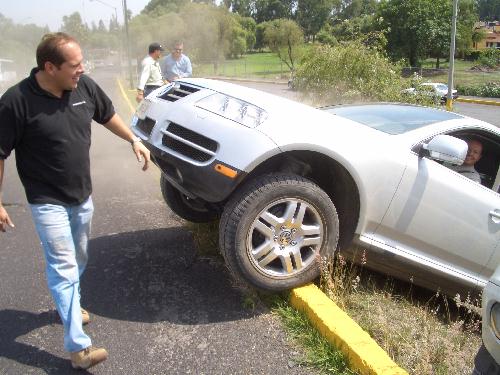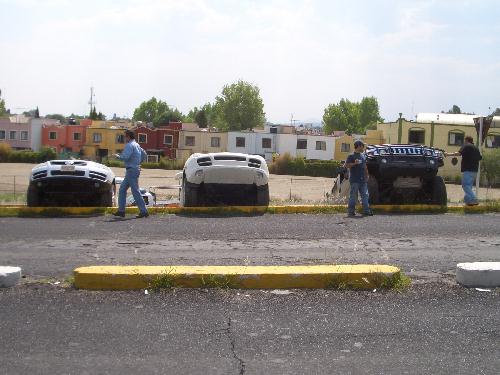 .. this is getting crazy... Cayenne S driver Fernando Bayo smiles at Touareg's approach...

ok, last photo and lets move on before we get arrested...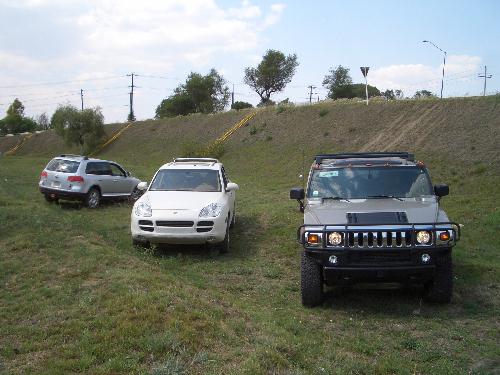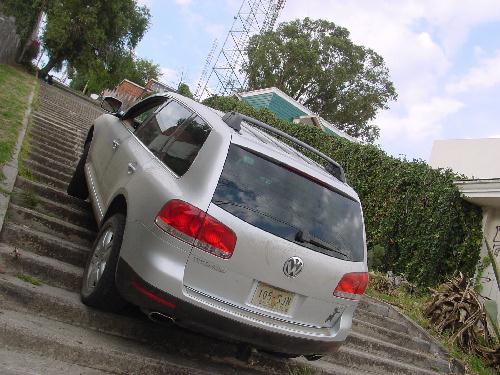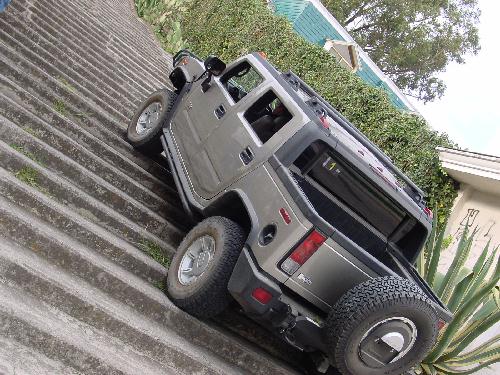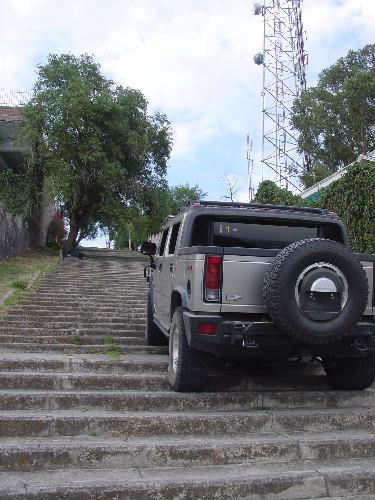 ... lets move on!!! this was fun... everybody stoped and asked what the heck was going on... even a soccer mom dared to challenge us in her Murano...

... more public property damage... this is an amazing site...

... StairMaster... the H2 had absolutely no problems with this test...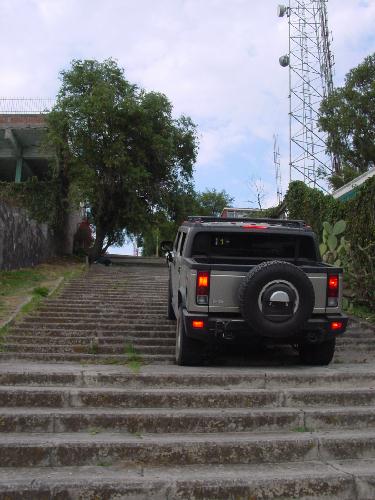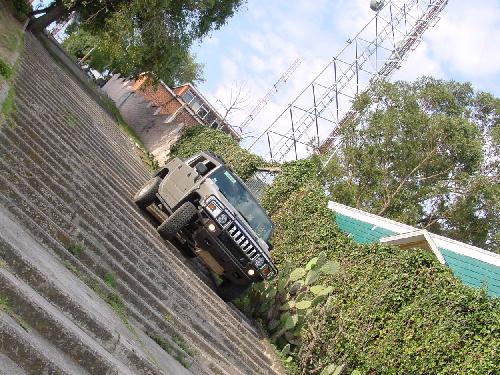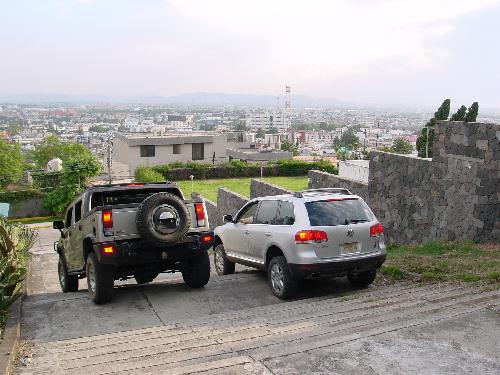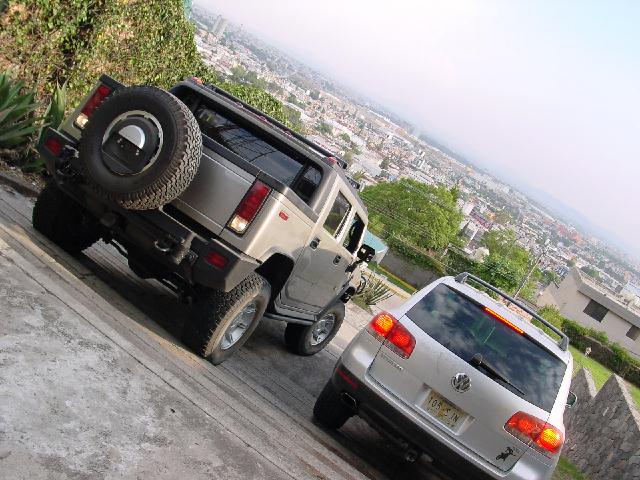 ... how about a race down the stairs... H2 takes a jumpstart..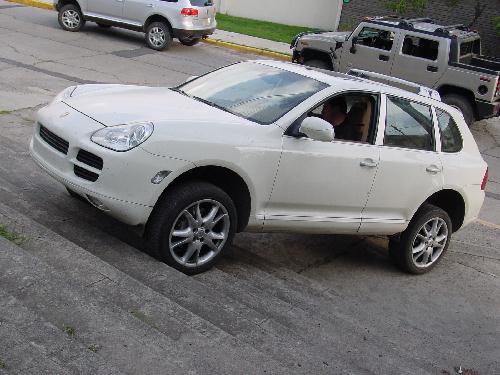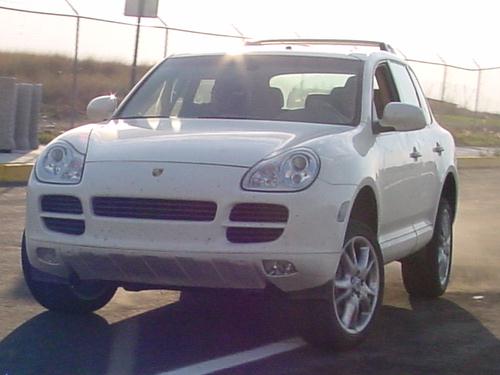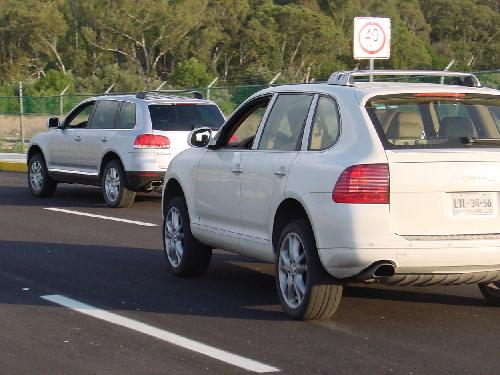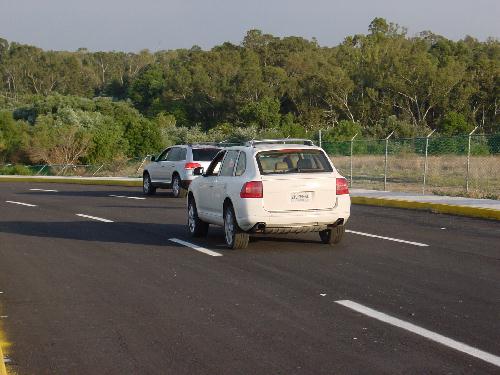 ... once again thos "20's slowed our Cayenne S down... too much of a beating to continue on...

...nonetheless our Cayenne S was uncatchable on the road test... fastest overall by far...

... racing head to head... our Cayenne S was always faster...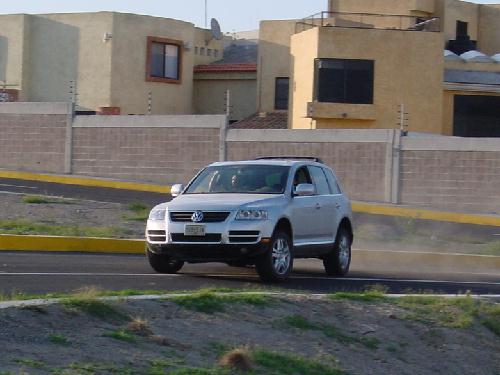 ... the racing and testing continued on... H2 was parked as it was no challenger in this tests...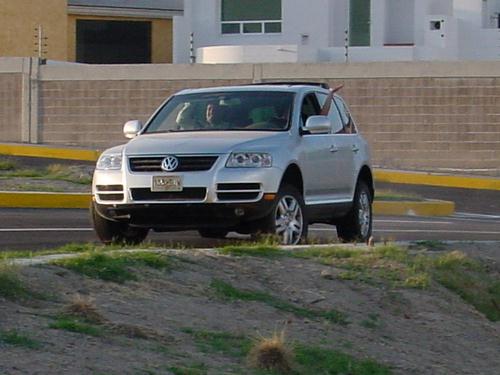 ... Touareg sideways... amazing... the Touareg was the only vehicle to complete all tests and above all went drifting...

... one hand drifting... Kike putting on a show here...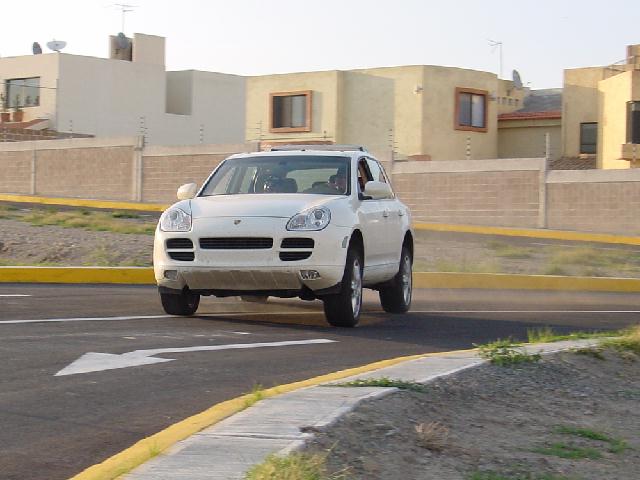 ... in the end our Cayenne S was the fastest vehicle on road and most capable off road despite its "20 wheel and tire combo... our Cayenne S displayed plenty of power to move on well on every test and finally was uncatchable on road...

... just over 16 hours of testing, measuring and driving... what a day... and ready to do it all over again...