IPOC INDEPENDENT PORSCHE OWNERS CLUB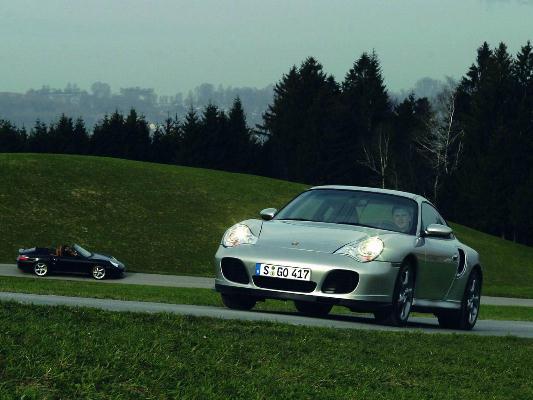 In the past weeks Porsche announced the last iteration of the Turbo S based on the 996 platform. We have to say that we were a little bit dissapointed when we saw the press photos. But, 450hp and PCCB's as standard equipment, what's not to like? Well sincerely we expected a little bit more on the outside, but the only difference we were able to spot right away was the darker shade of gray wheels and the pouting speed yellow calipers from the PCCB's. The 450hp have been readily available since 2002 in the power kit package know to enthusiasts as the X50 and PCCB's are acquirable since 2003. So what is Porsche going to market as "special" for this last iteration of the Turbo S we ask ourselves? Hasn't Porsche learned from the 911 40th anniversary that dealers in the USA still have at discounts over $20,000.00 USD? The 40th didn't sell because it had nothing special really, just a bunch of Exclusive added to it but no special flare. Even the outside is a tremendous mismatch with a widebody front bumper, GT3 sideskirts and regular Carrera rear bumper. What's so special about those mismatched parts, we ask? In somewhat reason the story is repeated once again with the 996 Turbo S that bring really nothing special to the table for enthusiasts besides added equipment and an S after the Turbo badge that most likely will sell for anything between $15-20 at your nearest Porsche retailer for you to add to your "regular Turbo. The Turbo S has traditionally brought the best Porsche engineers can muster. Special tid bits that make the Turbo S special. Lets take a look two generations back.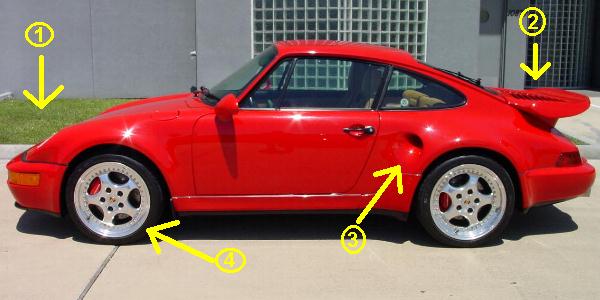 The 964 Turbo S was really special, not only it boosted an increase in engine capacity to 3.6L but also brought many special tid bits like the open lights Slant Nose that not even the aftermarket industry attemtped to recreate. So lets take a look bit by bit of what made this Turbo S so special. 1- The Slant Nose with open lights ala 928. Really no body exactly knew what was going on here, 928/968 type lights in a 935 nose? maybe? It doesnt matter, it came out fantastic, not a single Porsche enthusiast could mismatch this one for another model Porsche. But the front mods didn't end there, Porsche added a subtle lip spiler to the bottom of the bumper and cut the foglights short to integrate a couple of airscoops for brake cooling, pretty neat don't you think? The work didn't end up there. 2- The wing was also model specific, knowing that it belong to the Turbo S only. It left behind the characteristic rubber lip of the traditional Turbo Wing, making it one color and was more subtle. 3- Air Scoops, these are really special and rare, they were added only to the Turbo S.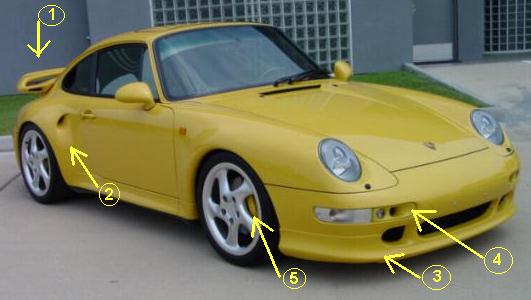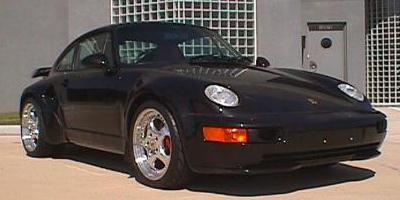 Photo: Ray Joseph/RPM Sportscars

Photo: Ray Joseph/RPM Sportscars

4- Speedline Wheels, Porsche resourced to the Italian wheel manufacturer to bring these beautiful 3 piece polished wheels to the Turbo S. Right on indeed, those wheels now are known as the 3.6 Turbo wheels weather they are real or replicas. That is how far Porsche special tid bits go into history when made right. The Porsche 964 Turbo S is indeed one of the most special 911's out there. It is praised by enthusiasts and well known for its high value on the market. True Porsche history for you garage, never re-created again, not even by Porsche on a 911 chassis.

Photo: Ray Joseph/RPM Sportscars

The Turbo S on the 993 platform, once again special tid bits from Porsche made this Turbo S special. 1- BiPlane Wing a first off for the Turbo in factory form. The BiPlane wing added two small scoops to cool intercoolers and give more fresh air to the engine. Smart indeed. 2- The flare scoops made it once again to the Turbo S but this time in an smaller size and shaped to the 993 rear flares. 3- The Front Lip Spoiler added the balanced needed for the larger wing. Really nice looking and well integrated to the front bumper. 4- The Air Scoops made once again, not a real novelty as they were used since the introduction of the 993 when optioned with the TechArt built AeroKit. Nonetheless this was a special iteration of the scoops that added completely round 55W driving lights. 5- For the first time Speed Yellow calipers came standard and looked fantastic with either matching Speed Yellow car or contrasting outside colors. Wheels could also bring out those calipers by optioning wheel paint in exterior color. So the 993 Turbo S had its ways to make itself special despite having the AeroKit as an option on lesser Carrera 2S and even some 4S's.


Photo: Ray Joseph/RPM Sportscars

The Porsche 993 Turbo S had indeed a very special profile, even the wheels were painted in a brighter shade of silver as we can appreciate on this euro-spec model. Once again limited production numbers and a pragmatic image of the Turbo S made this particualr model very special, cherished by Porsche enthusiasts and highly valued on the market.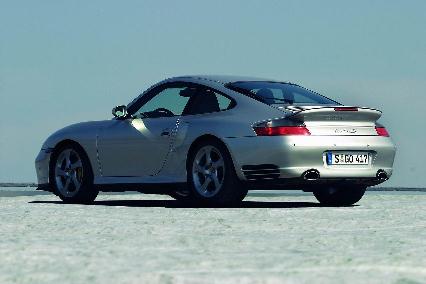 Here it is the new 996 Turbo S, judge by yourself. Looks exactly like a regular 996TT save the darker shade wheels. That in my opinion look like if they were dirty not special. If Porsche wanted to do soemthing special as far as wheels go they might have called their friends at BBS who I bet could have come up with something really special. Porsche didn't even came up with some special exhaust tips, I mean how hard could that be, they are made by Eisenmann anyway, how hard could it be to tell those guys to come up with something different. Also we believe a color coding of the black bottom would be great looking. Ok we have already suggested wheels, exhaust tips, color coding and what else to make the Turbo S different and special.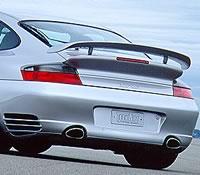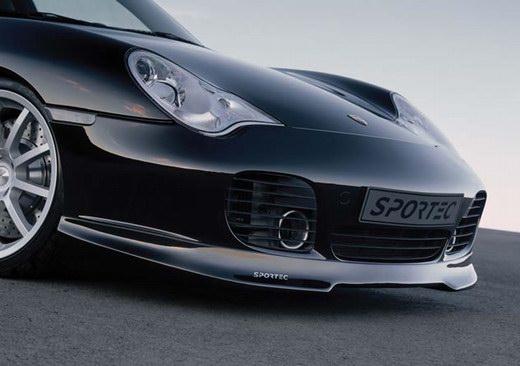 We say play with the aerodynamics, I know this is time, money and wind tunnel to add to a perfectly balanced Turbo already, but Porsche its an "S" !!! please. Having a GT2 on top of the Turbo makes things difficult because it wouldn't be just right to mock a GT2 so how about a subtle wing like the one from TechArt. Its not like Porsche hasn't supplied

themselves from TechArt before, they well have during the 993, but this wing has been on the market for a while and Porsche always likes to be first. Make an iteration of that same wing, maybe a little carbon lip to it. Once again GT2 territory if Porsche applies a carbon theme to the "S" so we will only suggest subtle changes to the wing. Of course the front would have to be balanced too, a front spoiler would have to be sourced to the "S" too. Maybe something like the Sportec, I say a better adapted version of this one, Porsche knows how to make 'em, comm'on. A quasi 993 Turbo S front spoiler for the 996 in color coded. This will bring the color coded issue which we think should be addressed anyway, this is a Turbos "S" for crying out loud.

This are only some items we could have come up to add to the 996 Turbo S that with its 450hp and PCCB's would really make the Turbo S a real "S" in Porsche's book.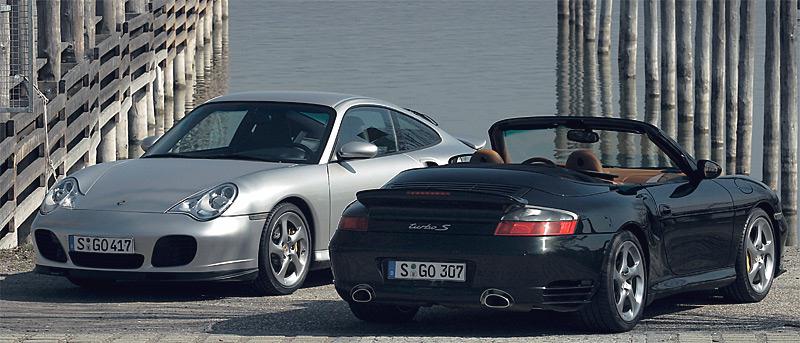 Well this being the last chance to get a 996TT and adding the extra hp and PCCB's, we think is a great opportunity Porsche brings to own the last of the best 996's. Indeed superfast, great to drive and simply the best SuperCar you can buy for the money. The Porsche 996TT is the daily driver SuperCar and no one can argue against it. Having said that is the best car for the money we will have to see how it holds value against other Turbo S where a 964 is bringing even more money that a almost new regular 996TT. We see no difference in trend as the new 996 Turbo S brings nothing special but the "dirty" looking wheels that spin in one direction only. The only thing we can suggest is that if you have the opportunity to special order one of these Turbo S, do it in a defiant color combo and loaded with Exclusive to make really special. Otherwise you will see a ton of Turbos with the added "S" that will look exactly the same as yours.

Last look at the 996 Turbo S that now comes "al fresco" wich is a really first one for a Turbo S. We can't say we don't like it as we think the Turbo is always special, fast, reliable and fun to drive, but wonder why Porsche showed the cars with dirty wheels?

A bit more on the wheels. I never really understood why Porsche deterred from the beautiful 5 straight spoke wheels and came up with the directional wheels that only spin in one direction. First Porsche claimed their directional wheels cooled the brakes by directioning air to the brakes. It was just a matter of going to the other side of the car and asking what would happen on that other side, extract air perhaps? For the Turbo S Porsche does the worst iteration of their directional wheel, is this some sort of tribute as we well know the 997 does not use this "technology". Porsche well decided to make it in the dirty wheel look as other failure technics would be no good. For example Porsche well knows the way with the ultra hard to mantain "polished" wheels. That is why for the 40th anniversary 911 they used alu look paint that resemble a polished look but is not as hard to mantain as the 993 Turbo look polished wheels. Is well known that if you want a wheel to look good in a solid color you have to go with powdercoating but that would be a total logistics & warranty pandemonium for Porsche, having specific wheels in a super hard to mantain finish such as powdercoating. Our suggestion is going ala 964 Turbo S, call an specialist and let them come up with the work, BBS perhaps? Ferrari has done it for the Stradale but Porsche has had a relation with BBS way before Ferrari. BBS has supplied wheels for very special 930's built in Zuffenhausen 1 and we believe that was the way to go for the 996 TT S. Sincerely the best 996 wheels are built by BBS. Take a look at the SportDesign and ClassicDesign in "18, made by BBS. Not directional, not BS, simply strong great looking wheels. Porsche look no more and get some help from the pro's. I wonder how many 996 Turbo S customers will change their wheels or at least have 'em painted?