IPOC INDEPENDENT PORSCHE OWNERS CLUB

Newsletter 25 Porsche 911 Turbo Presentation Mexico City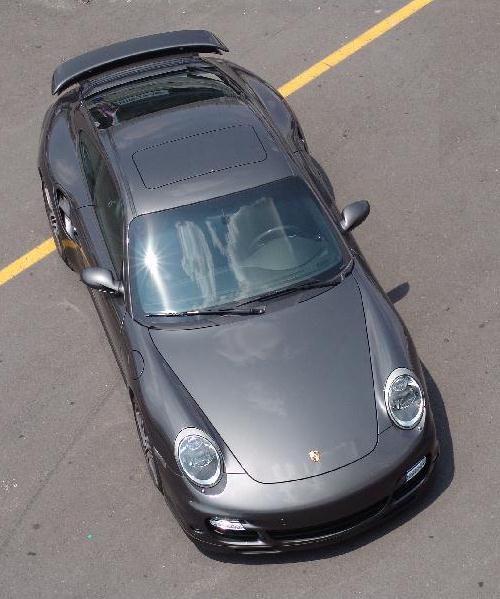 The new Porsche 911 Turbo is, without a doubt, the most awaited car of the year. Porsche AG went through great lenghts to present the new 911 Turbo, first at Geneva, followed by a worldwide press and dealer presentation in Spain. Porsche de Mexico followed suit and presented the new 911 Turbo with a dynamic presentation at the Autodromo Hermanos Rodriguez in Mexico City. The event under the command of Julien Busson was a complete success.

Let's check out the action at the 911 Turbo presentation in Mexico City...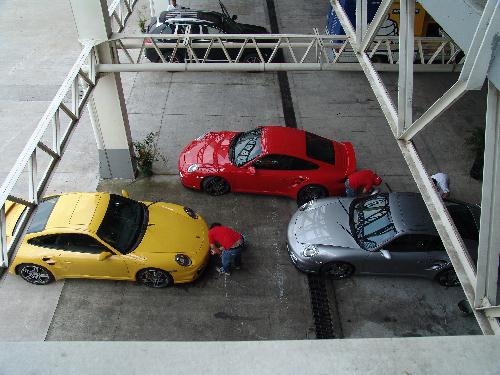 The event aimed at press and select customers started early in the morning...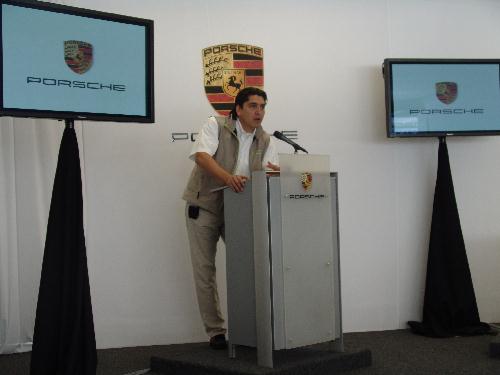 After registering a small welcoming conference was offered...

Babies getting ready for the event...

Fernando Flores Beristain, Director of Porsche de Mexico headed the welcoming conference...

New 911 Turbos ready to hit the track...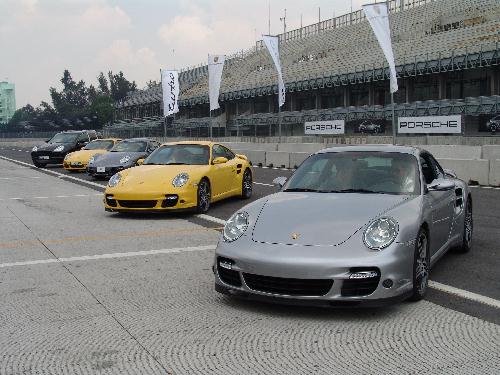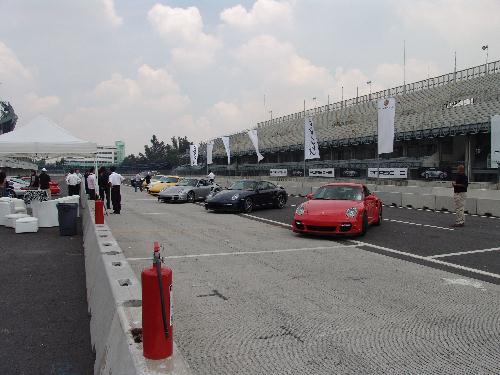 Quite exciting to drive the new 911 Turbo for the very first time...

Its worth mentioning that the Autodromo Hermanos Rodriguez is an outstanding facility and very demanding track...

Too fast for the camera...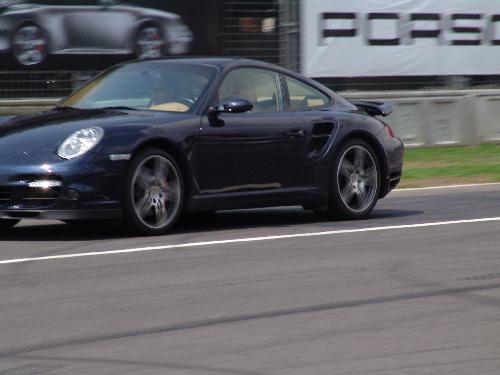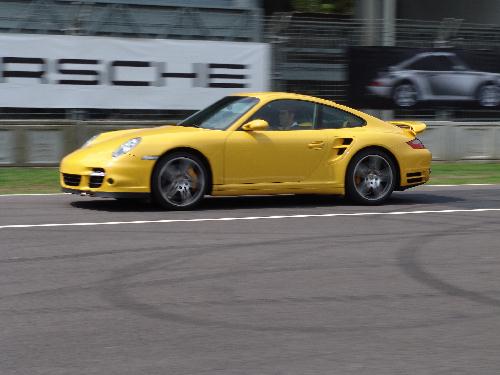 The new 911 Turbo is the fastest car around here, at Mexico's altitude where aspirated cars loose around 25% of their power, the 911 Turbo only looses 5%...

Porsche de Mexico had an instructor for each car making the lap sessions safe for invited guests...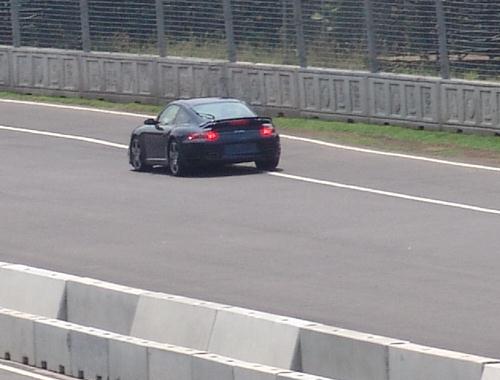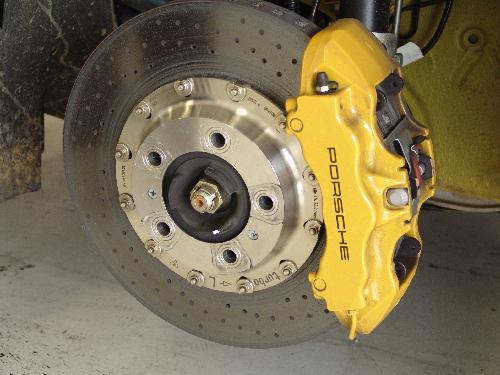 The new 911 Turbo displayed tremendous brakes as expected...

PCCBs a well recommended option not only for superior braking power and durability but also for superb pedal feel...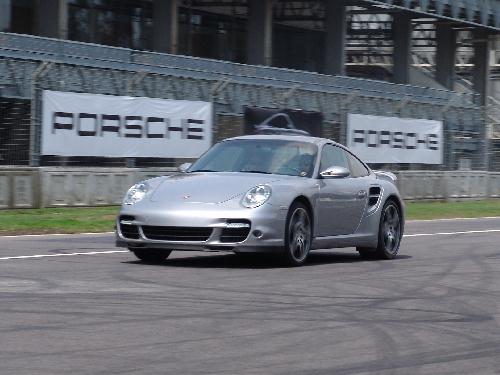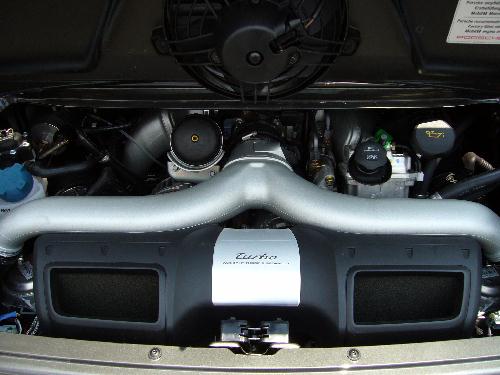 Variable Turbine Geometry...

3.7 sec to 100 kph... what else can I add?

VTG does not kill the infamous "turbo lag" yet it reduces it and once those turbos start spinning there is ferocious linear boost all the way to top end...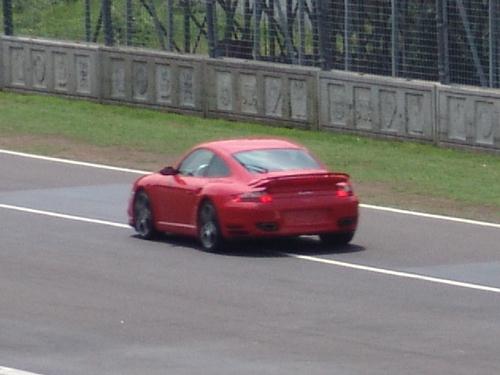 Very surprised on the neutral handling, no understeer setting on the new 911 Turbo...

Late entering and inobtrusive PSM (Porsche Stability Management) and PTM (Porsche Traction Management) make things fun in the new 911 Turbo...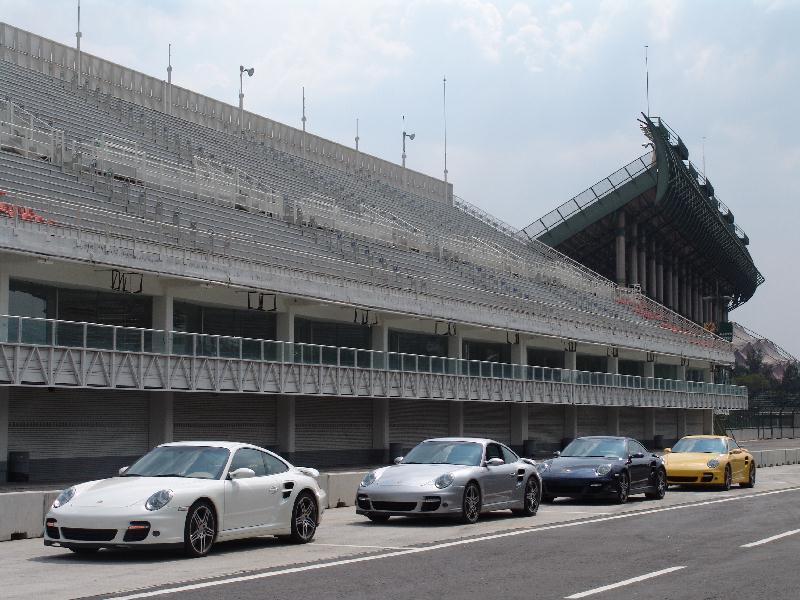 We parked the 911 Turbos for a brake... lets check out the action in the paddock...

5 Generations of Porsche 911 Turbo...

Porsche Club Members helped unite the 5 Generatios of Porsche 911 Turbo...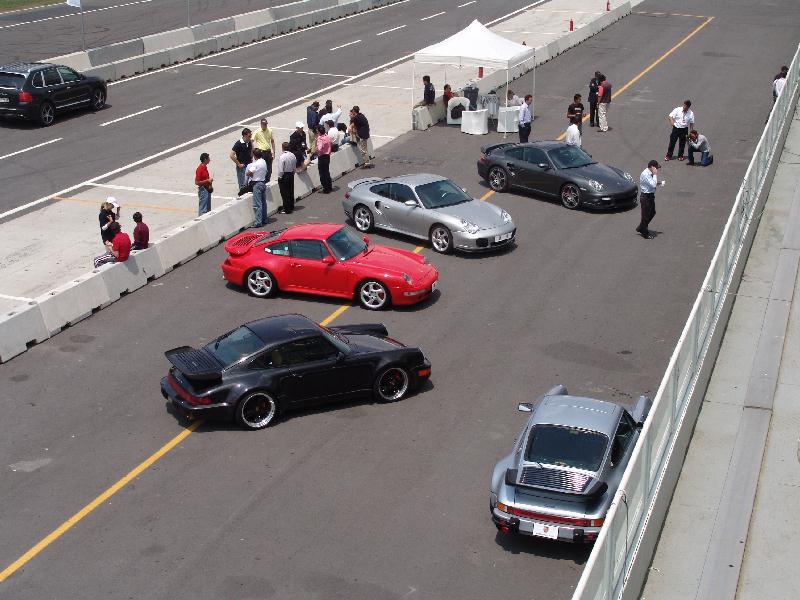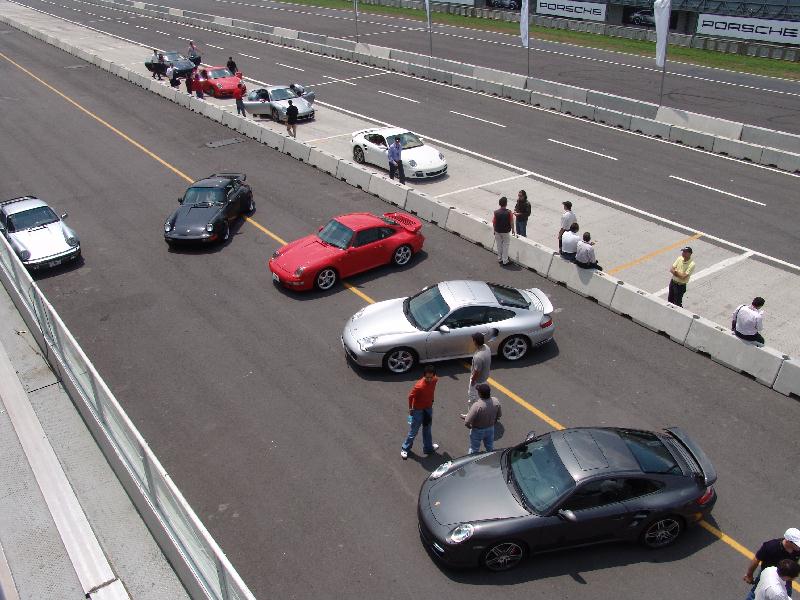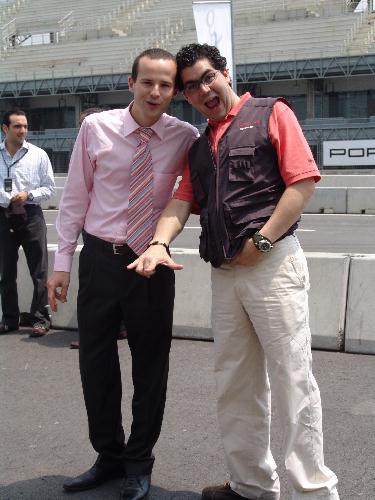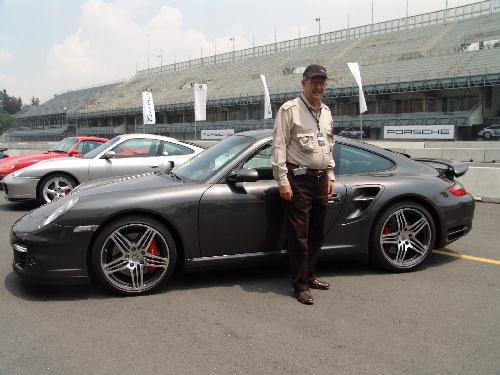 Our hosts, Julien Busson and Victor Ortiz...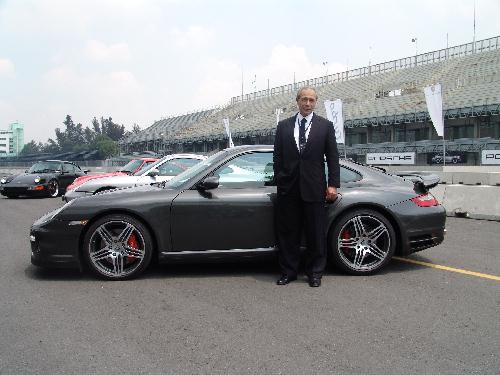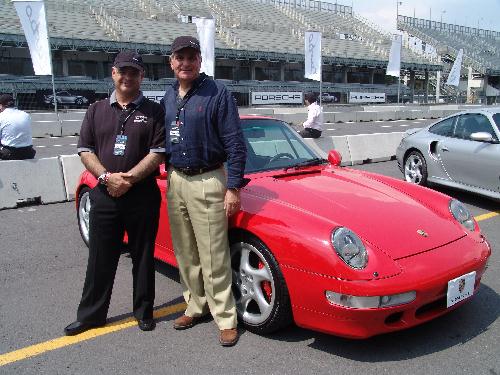 By the 993TT we found Porsche Club Mexico directors, Sergio Nieto and Manuel Robles Gil.

Pedro Cerisola, Secretary of Communications in Mexico.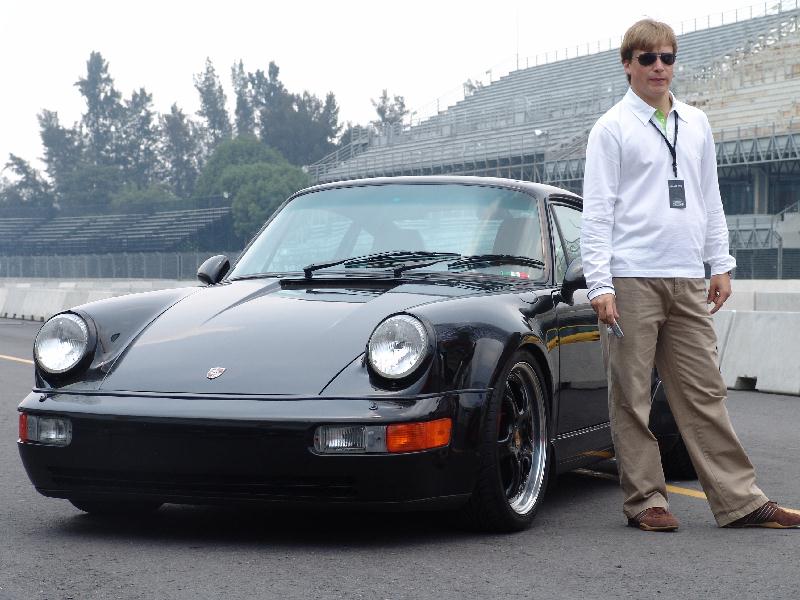 Kolja Kiofsky from Porsche Latin America in working mode...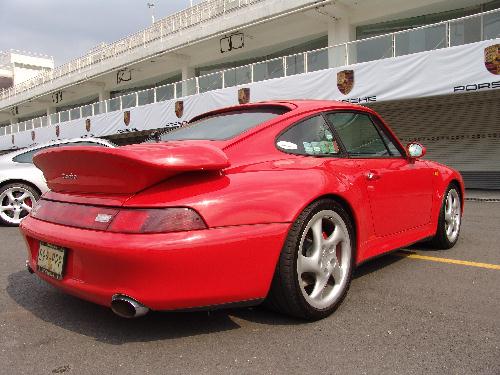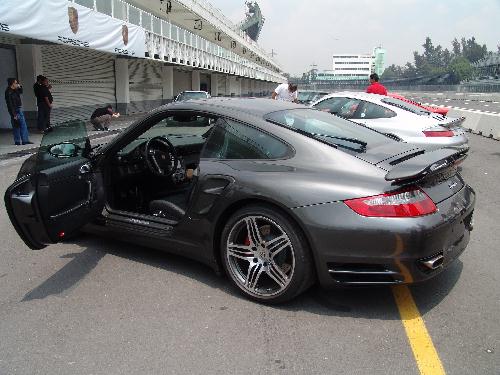 The 993TT made into Mexico under the Henkel attempt back in 1996/97. BMW took over Henkel's operation and no dealer network was developed, despite good sales.

The new 911 Turbo (997) now imported under Porsche de Mexico. 10 years brought a dealer network and full factory support.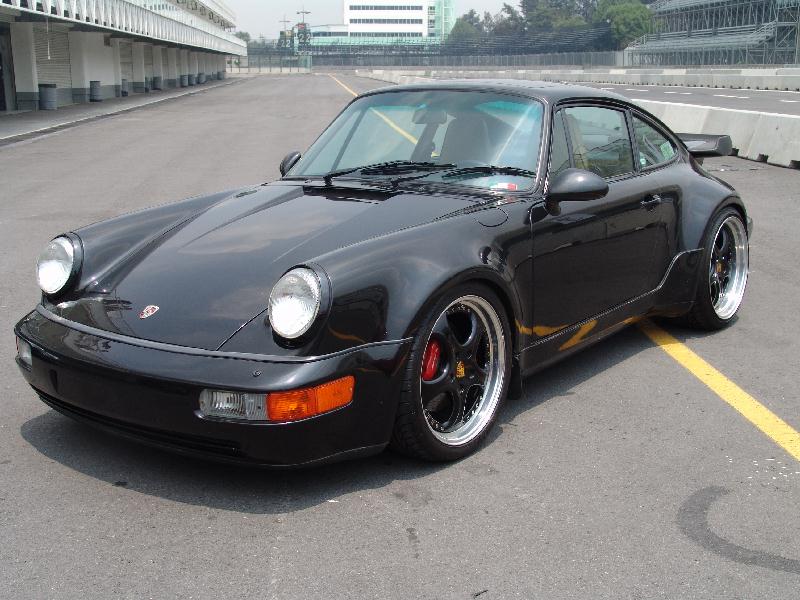 The 964 Turbo is very rare in Mexico.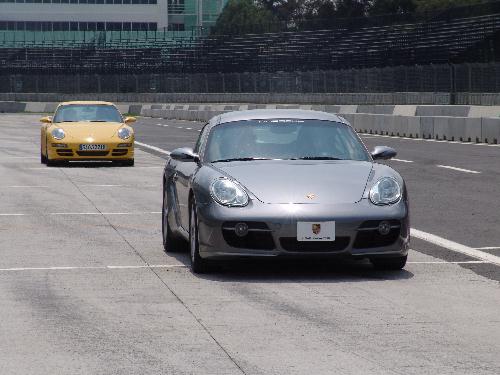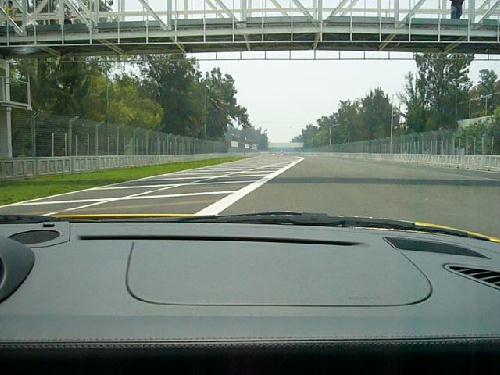 After lunch it was back to drving...

Available to toss around, Carrera S and Cayman S proved to be lots of aspirated fun...

Open track... endless straightaway saw speeds of over 300kph...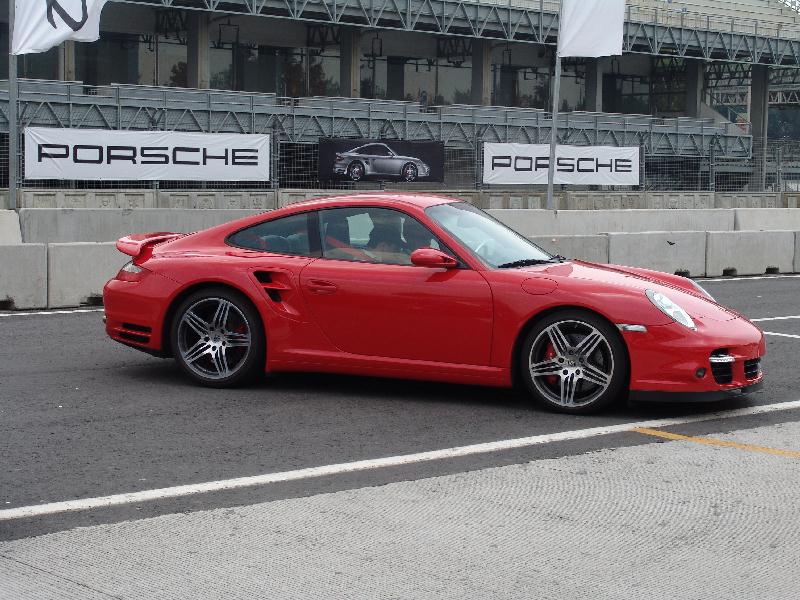 Turbo looks fantastic in Guards Red...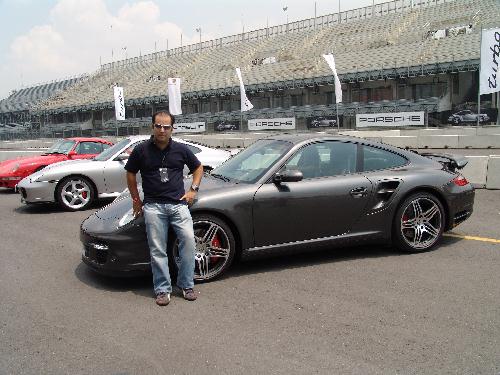 For those who like reading here is my take on the new 911 Turbo...

Get in...

Inside the new 911 Turbo everything is 997 Carrera familiar. That means an excellent built interior with superb ergonomics enclosed in a 911 familiar architecture. Sport seats are a no cost option and I say a must. Unlike 986/996 Sport Seats that were narrow, little supportive and uncomfortable to a point, the 987/997 Sport Seats offer great comfort and good lateral support. Like I said, a must. You may also add Porsche Creasts to your seats at no extra cost, so don't forget to get them also. Non standard but also a must is the Thicker Steering Wheel and in the Turbo it won't cost an arm and a leg like the rest of the range. Get it now and don't bother spending extra dough later. One novelty we found in the New 911 Turbo is a working navigation system, a Mexico's first. Porsche de Mexico worked very hard to get the navigation system working in our country and deserves recognition. And we are diving now...

"Slow" is not in the 911 Turbo vocabulary, I meant I started easy. 1st, 2nd, 3rd, 4th gears in mid range revs while I was getting accustomed, I see the end of the straight, I look down and I was going well over 200kph!!! not slow at all, step on the brakes at the mark and of course brakes were firm and great, no suprise there, but when I turn the steering wheel to the right expecting severe understeer, to my surprise, the car entered the turn well composed and balanced!!! Going easy in the Turbo turned out to be real easy so I started to build up speed and start looking for more intricate stuff...

As I build up speed I went through the gears more and noticed a mushy shifter. Not imprecise or vague, mushy and long. Moving to the optional Factory Short Shifter did not improve things all that much. I am well biased since I leave shifting chores to B&M in my own 986. Still it felt like Porsche felt short, I wasn't happy at all with this shifting mechanism but I wouldn't worry all that much as everything can get corrected with a simple B&M conversion and have money to spare over the Factory Sport Shifter Option. Besides the mechanism, the gearbox is well geared and pushes along in every gear. Despite faster times being accomplished by the Tiptronic gearbox I still believe the manual is faster on the track, I would have to check what Walter Rohr has to say about this, but I felt that way. Next lap...

Superb, amazing, outstanding and every superlative I could come up with could not describe the handling of the new 911 Turbo. So well composed and so much fun. At reasonable speeds the New Turbo enters well composed and balanced. No under or over steer felt. Enter to fast and the same composture stands but a bit of twitching will be felt through the first part of the corner until the PSM and PTM enter to help recuperate trayectory. The new generation PSM and PTM are very unobtrusive, first the will let you play and then when they get activated they are almost unoticeable, unlike 996 PSM that you heard severe squeaking and mechanical noises coming from the chassis, this new PSM is smooth and best of all, late entering. The new PASM which is well improved over the 1st generation does a great job holding everything togeteher. Still there is some swaying as this is no GT3. But considering we were on a track I bet it will hold more than fine on the road. Get all the acronyms together, AWD, ABS, ABD, ASR, PSM, PTM, PCCB and others I might be missing and the New 911 Turbo is a safe, yet fun package.

At Mexico City's altitude all aspirated cars loose well over 25% of their power but Turbocharged cars hold their power. That means that for an aspirated car to aspire to run with the new 911 Turbo has to be well over 640hp and weight under 1500 kgs. So the Turbo feels pretty damn fast at this altitude to say the least. So enough nit picking and lets rip open this New 911 Turbo and see what it can do. Get down to 1st in the hairpin and going through the gears at full revs got me near 300kph at the end of the straight. So it is fast indeed. Official numbers say you will get to 100kph in just 3.7 seconds and to 200kph in just over 12 seconds all without even shifting, that means with the Tiptronic gearbox. Manual numbers are a tad slower but in real life indistiguishable from the Tipto numbers. In short, the New 911 Turbo is fast.

The New 911 Turbo is a complex car to understand fully in just one day, just the technical stuff will burden your brain with information, then driving it and understanding every aspect is simply too much for one day. Take VTG, the new Variable Turbine Geometry, most people don't understand what a Turbo does less a Turbo that expands dependent of boost. Yet it works, despite turbo lag not disappearing it is well reduced and acceleration is very linear all the way to top end. Sport Chrono in the case of the Turbo will also add a "boost" function, where a substantial increase of torque at mid range is given with the touch of a button, I say a must in every New 911 Turbo. And so on and so forth... the catalog in front of me is 130 pages and that's just customer reading material... so explaining the Turbo fully may take a while.

The new 911 Turbo is vast improved version of the last Turbo, its faster, easier to drive, yet fun. As always, the New 911 Turbo manages tremendous speeds and outstandig handling in a rugged package meant for every day driving. Simply put, "Porsche there's no substitute".

Driving the New 911 Turbo under track conditions was tremendous fun and a great opportunity. The event was all first class and Porsche de Mexico outdid themselves. I enjoyed everything, the cars with their various configurations and options, the track was in magnificent shape and as always the gourmet food was fantastic. A good day spent with fast Porsches and friends. What else can I say.

I would like to thank Porsche de Mexico for the invitation and hospitality. Fernando Flores Beristain, Director of PdM, thanks. Julien Busson, Marketing Manager, thanks for an outstanding event. Porsche Latin America, it was nice to see you guys again. See you all next time.

Frissen Gutierrez

Porsche Specialist & Porsche Owner since 1992