IPOC INDEPENDENT PORSCHE OWNERS CLUB

Newsletter 34 Porsche Club Puebla Taxco Drive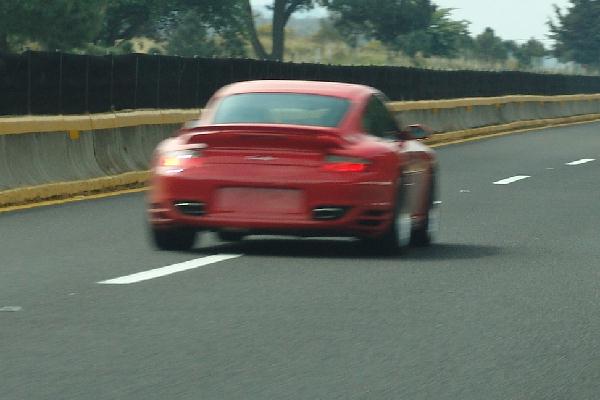 "The Puebla Region of the Porsche Club Mexico may not be largest but certainly is the fastest in Latinamerica"

The Puebla Region's first event for 2007 was a GTG & Drive to the city of Taxco. Impeccable organization, great comradery among members and lots of fast driving made of this first event a success. Where the main purpose of the event is socializing, adding the driving element makes it lots of fun. Members displayed the fastest Porsches making it also a great show of power and speed. Early in the morning 17 Porsches took the road from Puebla to Taxco in a day where the fun and speed ended late in the evening...

Let's check out the action...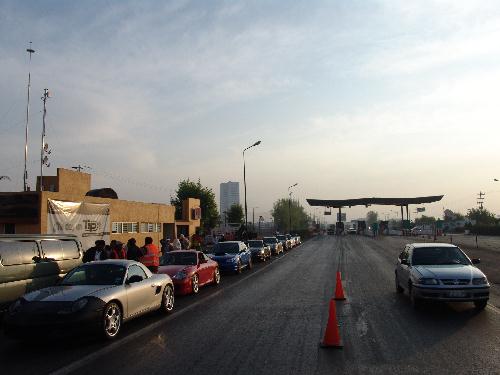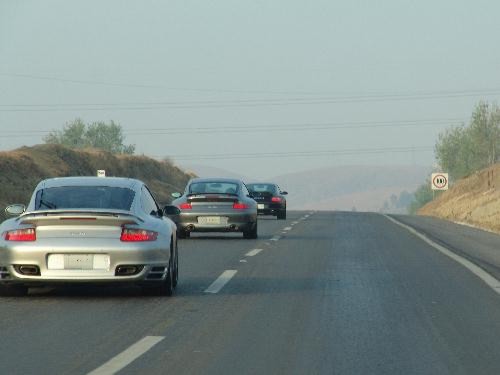 Everything started very early in the morning in Puebla...

Playing hookie & Open road...

Who might have thought that this event took place on a Tuesday? Well its seems no one can take off week end social events, from golf tournaments to weddings to third cousin's birthdays... yet missing a day at the office seemed like a good idea for everyone... well almost everyone but me... yet the event took place on a Tuesday... Porsches playing hookie on a Tuesday... 911's on an open road...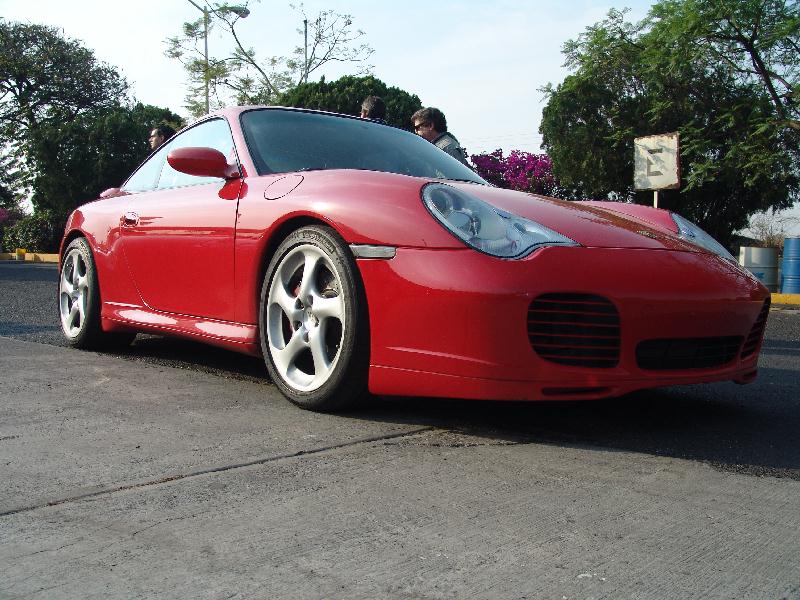 Evoms specs 470hp for the Supercharged 3.6L. Power delivery is constant and acceleration smooth. Tremendous engine sounds come thanks to a full Supersprint headers/cats/exhaust system. Bilstein PSS9's have been sorted for maximum performance. Suspension tweaks include sway bars, stress bars and 15mm spacers rear 10mm at the front. Stopping power increased via larger front brakes and race pads. Inside you may find extra gauges to keep track of engine statistics, sport seats and Tequipment roll bar. Autodynamica's full service support ensures constant fast driving. Autodynamica @
www.autodynamica.com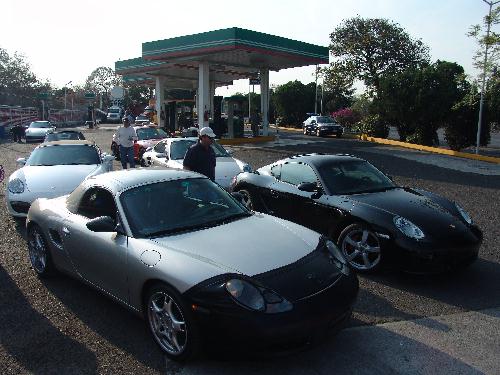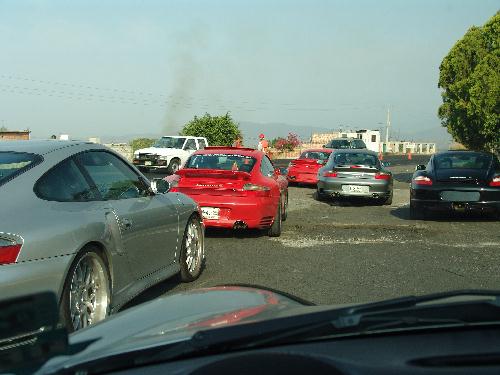 Quick stop at Cocoyoc where we picked up the Cuernavaca leg...

... right in front of me the 700hp Evoms 996TT (silver), Evoms Supercharged 470hp 996 C4S (red), Cayman S in brand spanking new form, Piasini Engineering 996TT (seal), and leading the group our very own 997TT with sonorous AWE Tuning Exhaust and EVO headers... a very fast group of Porsches indeed...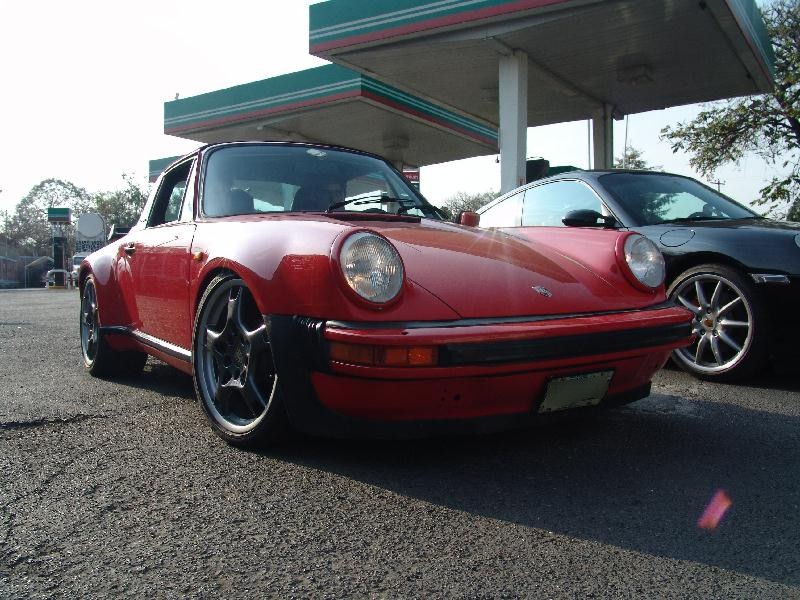 Alan's 3.2L Widebody Targa was sorted by Farben Motors with Koni suspension components, "19 OEM 997 Carrera S wheels, at the back it holds a B&B exhaust and the interior displays custom sound system, Momo steering wheel and fully working 996TT power seats. Good looking as well as fast.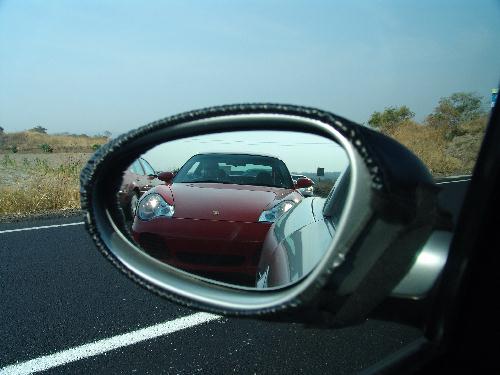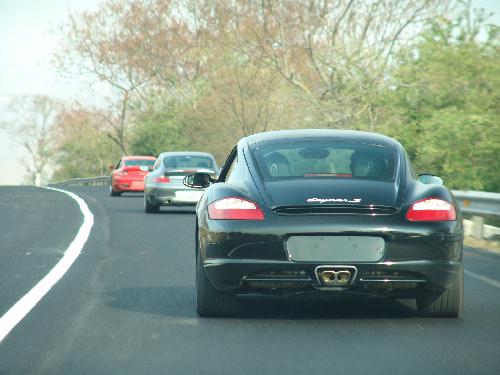 I had my rear view mirrors filled as you can see on the pic...

...at the front... a line of fast moving Porsches...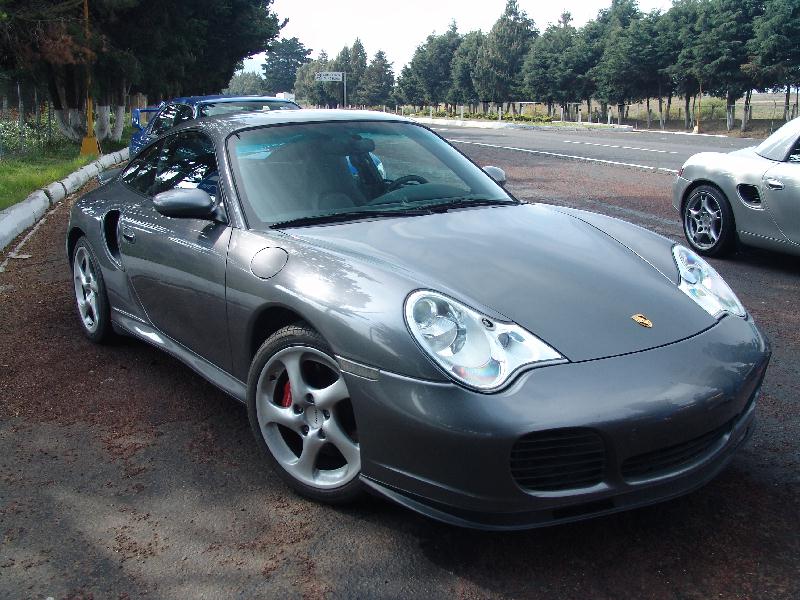 The Potenza Digitale 996TT features custom Piasini Engineering (
www.piasiniengineering.it
)ECU software and Supersprint custom exhaust system. On the road faster than expected really, tremendously fast !!!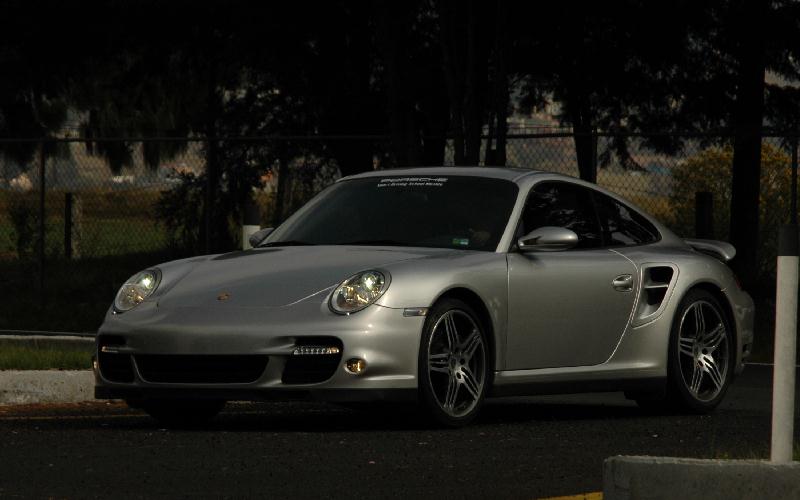 Menacing looking 997TT where HPD Puebla claims a 100hp gains on software alone... certainly fast...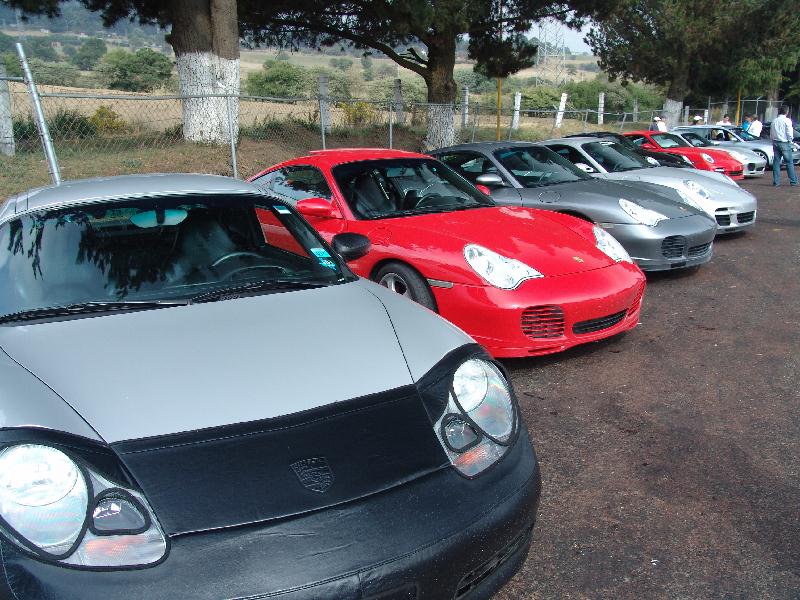 Porsches lined up and ready awaiting the Mexico leg and invited brands... impressive...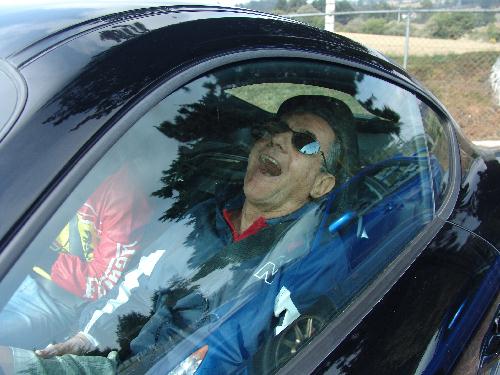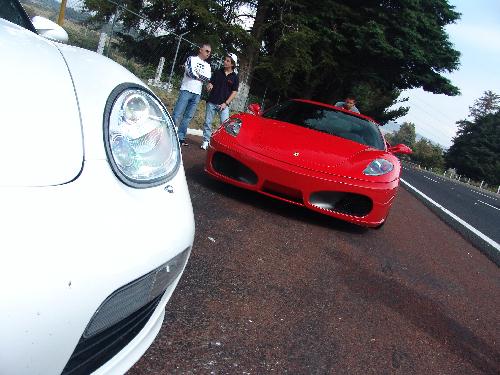 Some decided to take a nap while waiting...

...but our guests soon arrived...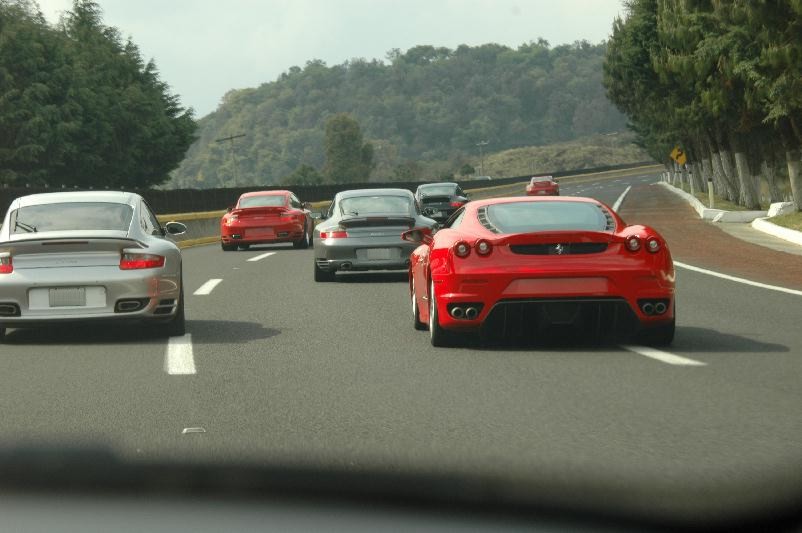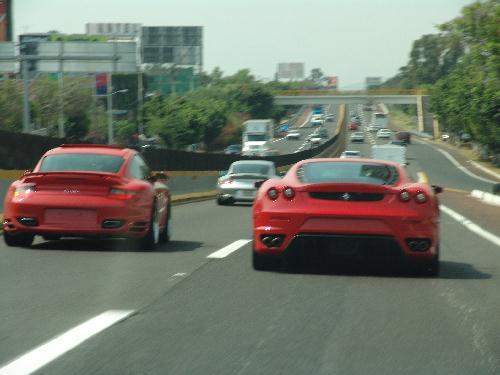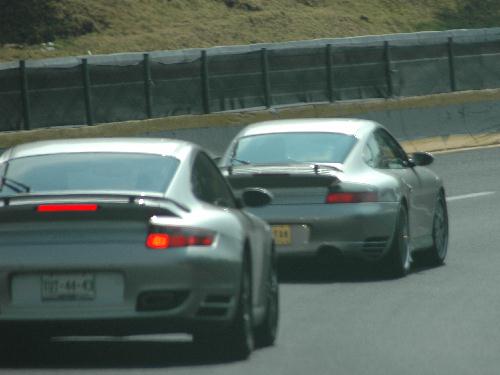 ... Porsche and Ferrari sharing the road...

... silver Turbos tag along...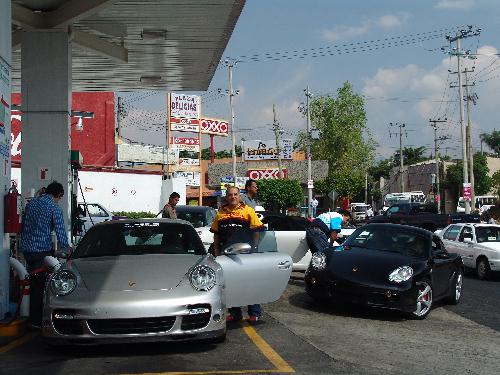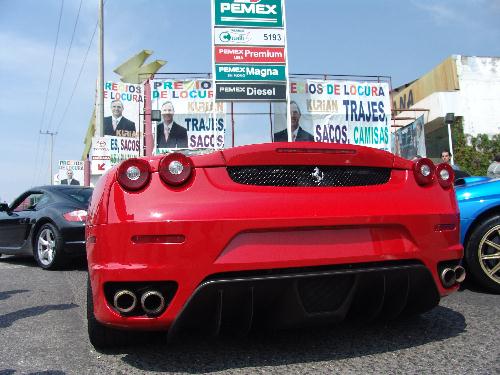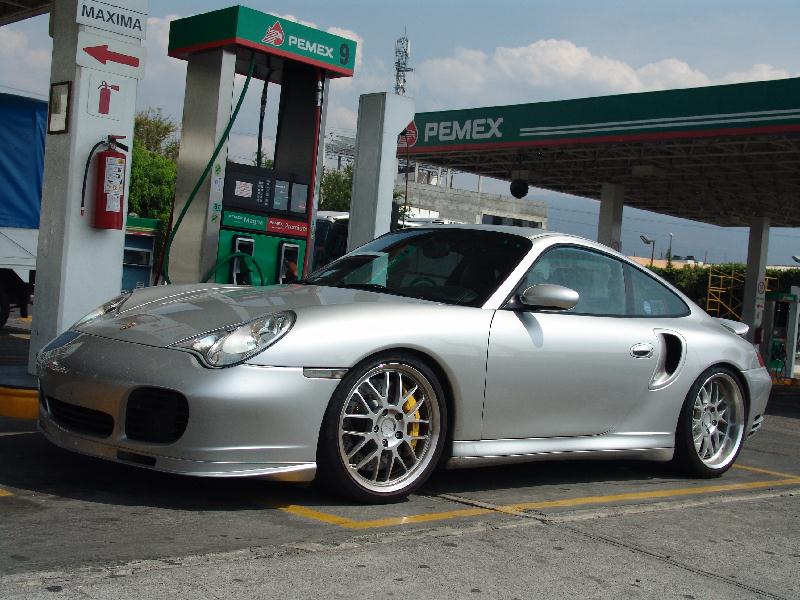 ...quick stop for gas... Genaro poses... Cayman S looks good...

...the brand spanking new F430 also took a sip of Pemex...

...too much to list... K24's, DV's, wastegates, hoses, GIAC, Tubi, PSS9's, huge Brembos, "19 Champions... on and on...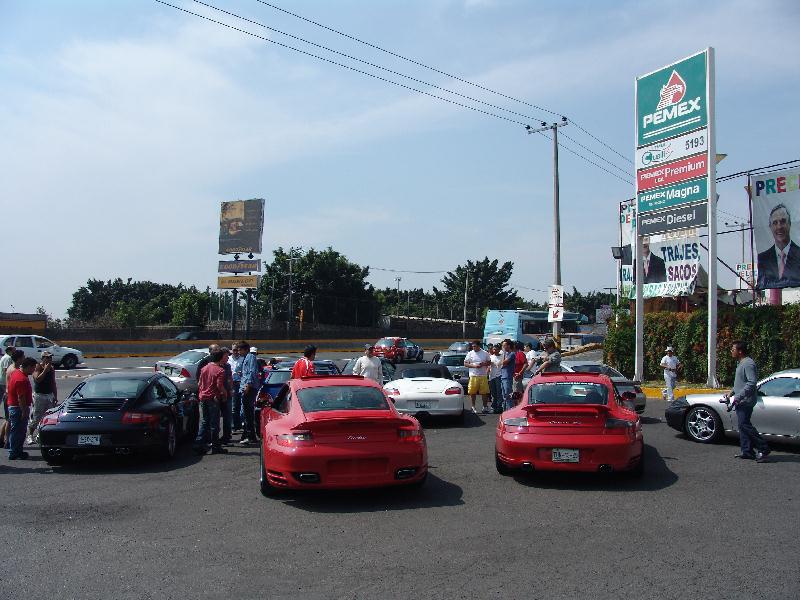 ...everywhere we stopped we caused a commotion... so we fled as fast as possible...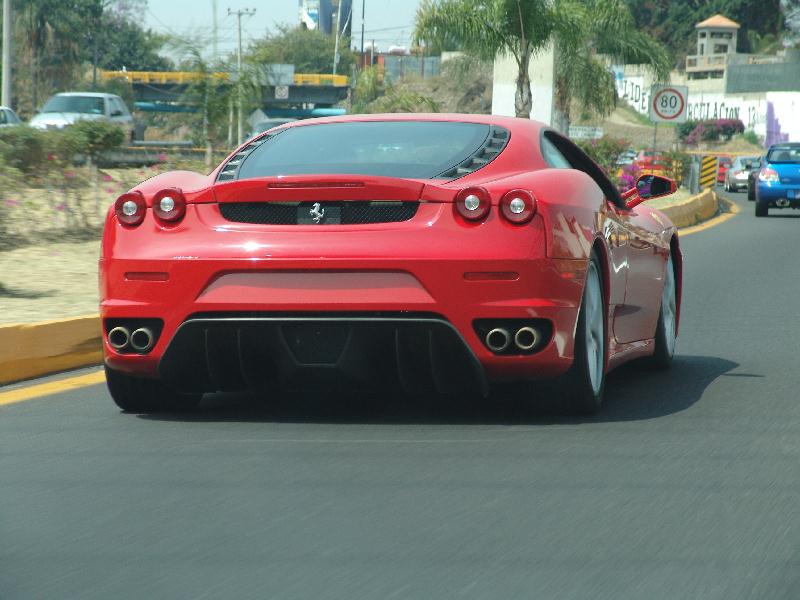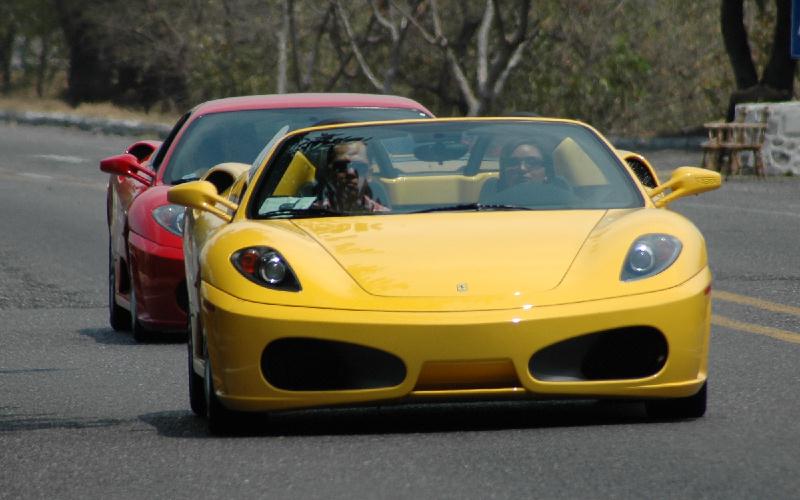 Two of the newest from Maranello accompanied us for the day. One F430 Berlinetta and one in Spyder form. We would like to thank the Ferrari Club Mexico for their support. It was great having you guys coming along.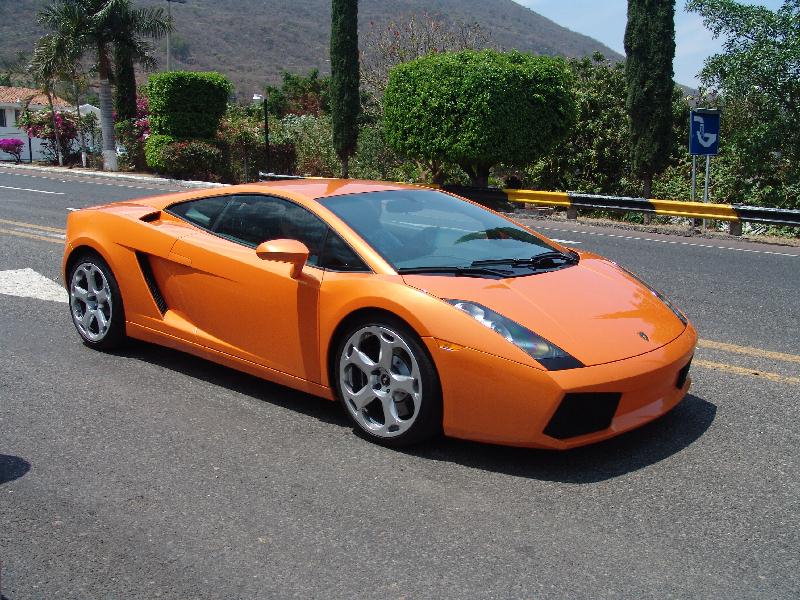 A CERO kms Gallardo came along for the ride... tremendous vehicle... exotic, fast... simply amazing...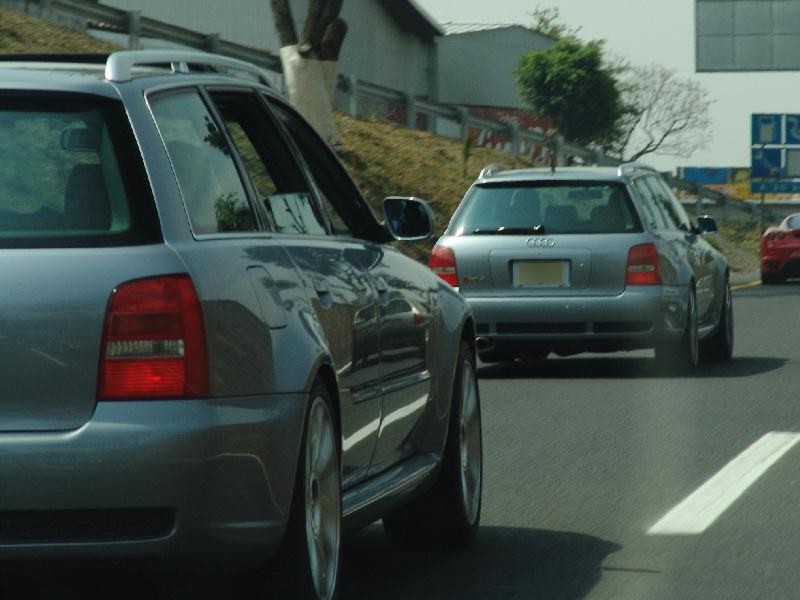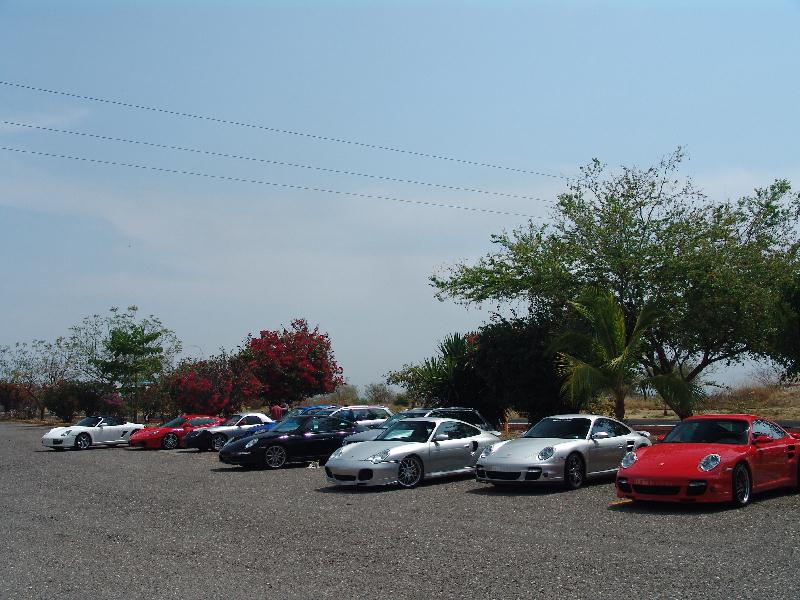 Matching color RS4's came along for the ride... can you say Audi enthusiasts???

4 Vientos was the designated place for breakfast... I know we need to work on our parking skills but most were too hungry to think...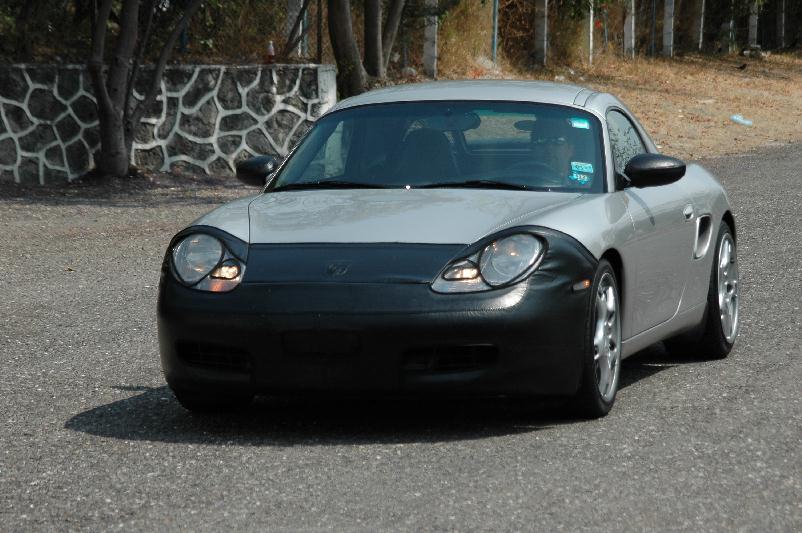 Immaculate and pristine MY2000 Porsche Boxster 2.7L Manual driven by the Puebla Region president... here arriving at 4 Vientos...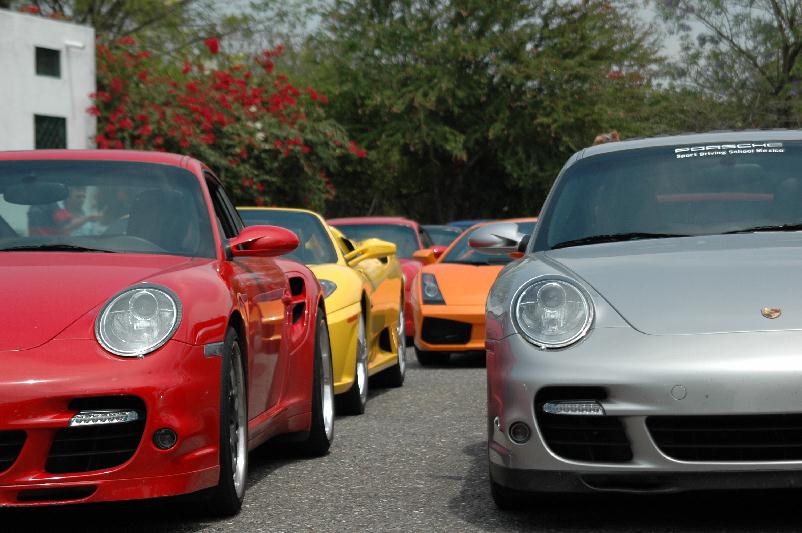 Lined up and ready to go...

...once again... simply amazing...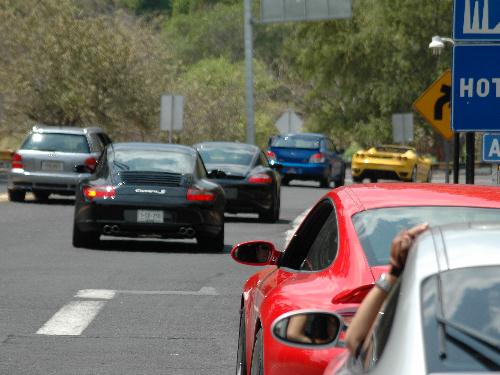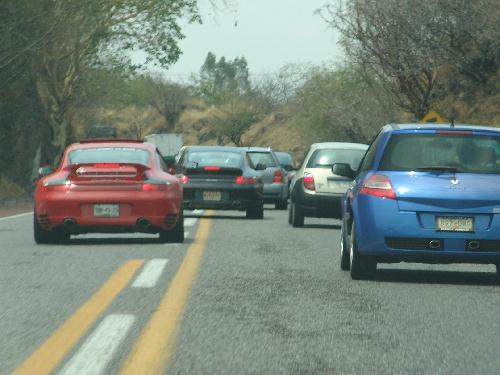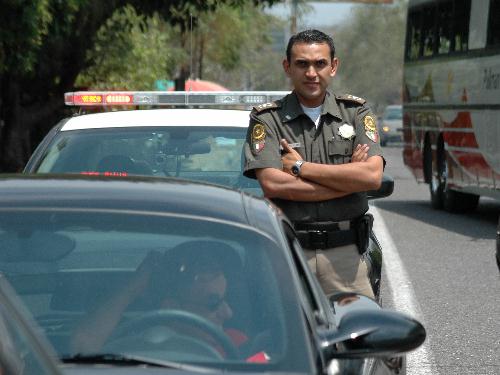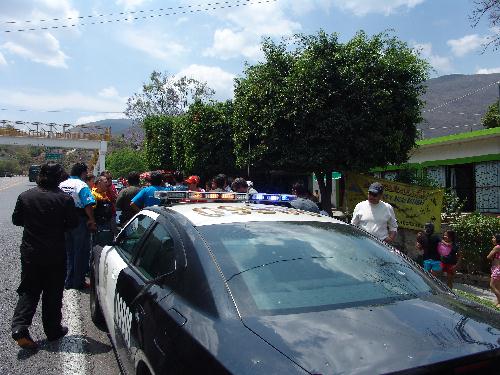 Running at the rate we were it was only a matter of time before we would get in trouble with the law...

..ready to write 24 tickets and impound over 3 mill in cars? don't think so...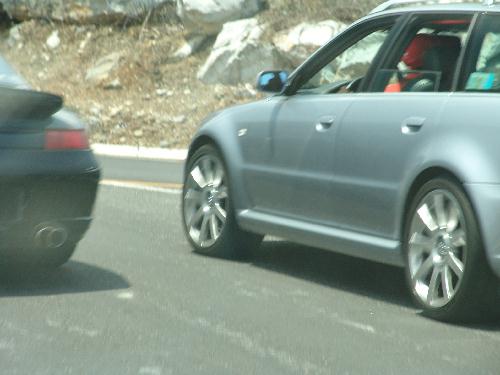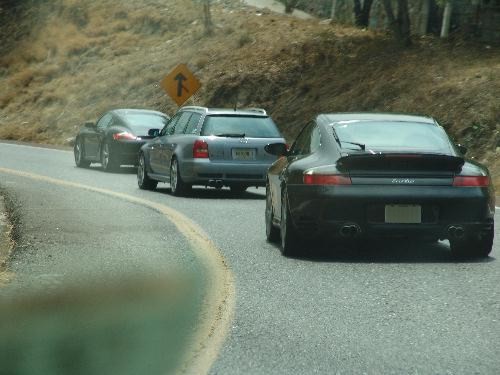 ...close action continued through out the route...

... is that your mom's grocery getter? I had to make the joke c'mon!!!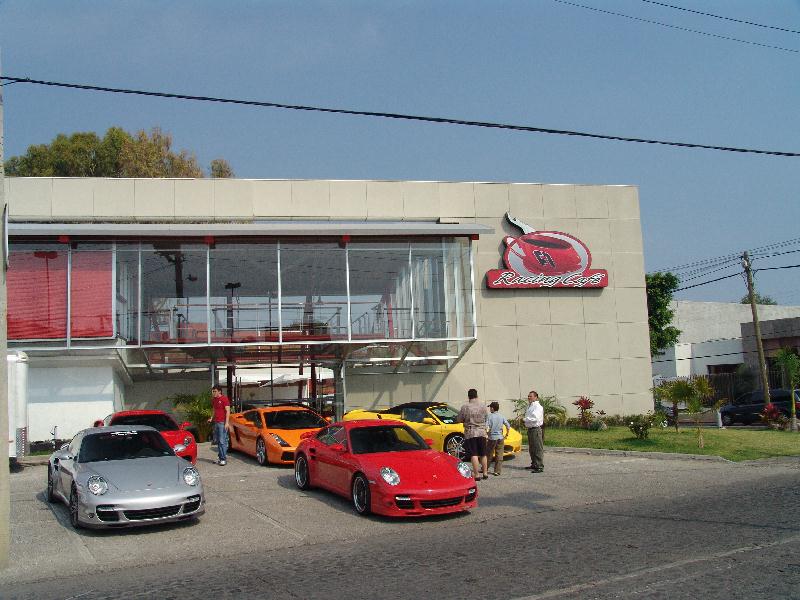 For lunch we stopped at the F1 Racing Cafe. This place is amazing, specially for Mexico. We seriously recommend it and would like to thank the F1 Racing Cafe @
http://f1racingcafe.com
for their hospitality, outstanding service and enthusiasm.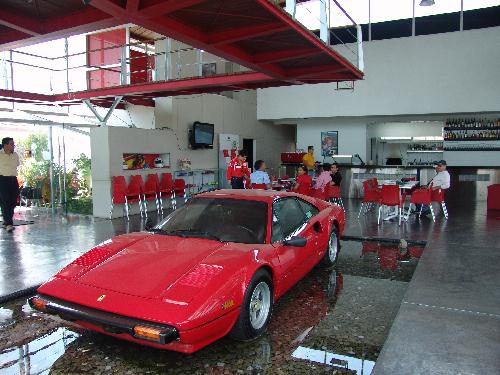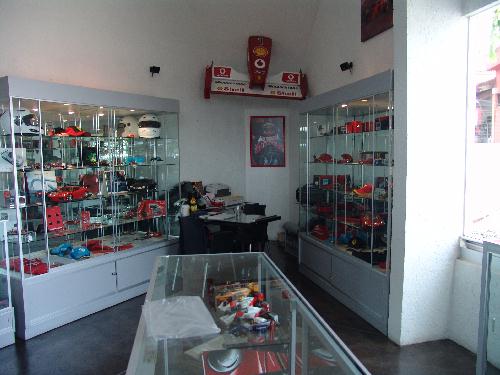 The F1 Racing Cafe served lunch for us in the lounge & coffee bar... they have full restaurant menu with breakfast, lunch and dinner. The menu is great you have to at least read it when there, gelatto and capuccino well recommended too...

Their boutique is filled with nice stuff... from memorabilia to the latest gifts from Maranello and the F1 Circuit... be sure to bring your Master Card you will need it...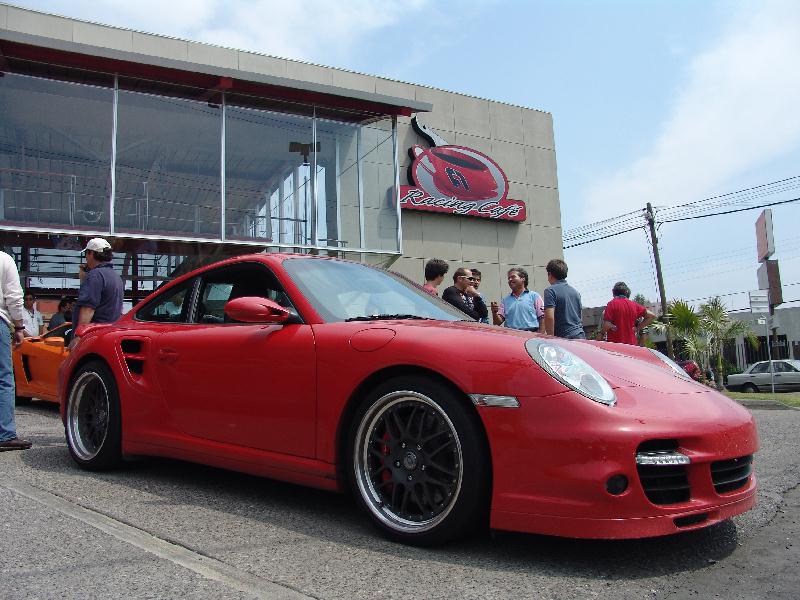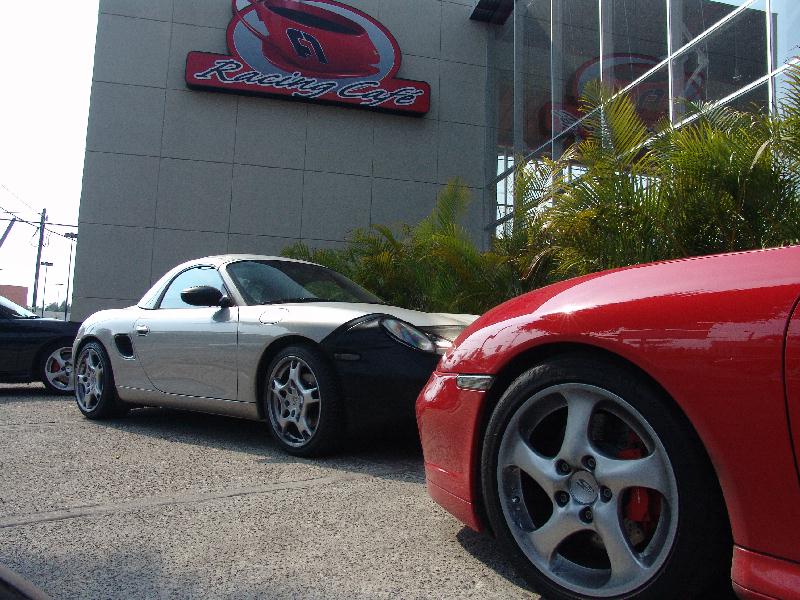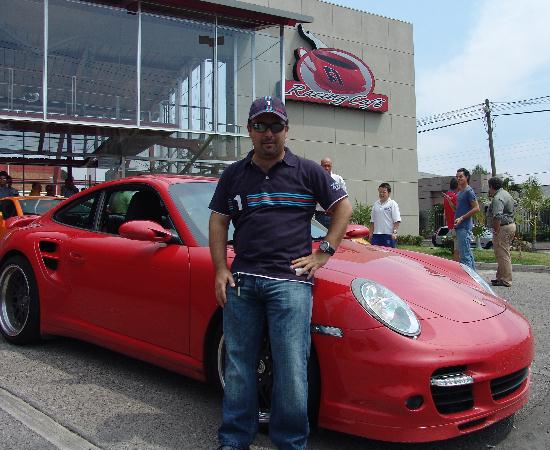 Autodynamica sourced and installed an AWE Tuning exhaust with Evo headers that not only increased hp and reduced lag but also increased driveability. Wide HRE wheels not only look good they keep the 997TT planted on the road. Work in progress supervised by Frissen Gutierrez Porsche Specialist and Tuning Expert...

Time to head back home...

The drive back home was lots of fun and one shot down to Puebla, no cameras, no stopping, just pure fast driving !!!

What a day we had !!! Lots and lots of fun !!! Impeccable organization, everything was right on time, tremendous comradery among members, fantastic driving and awesome display of power and speed.

I would like to thank everyone who joined us today, those who made it possible.

We look forward on the next event, joining forces with the Ferrari Club Mexico and continue on our quest for great events... all for the love of cars...

once again thank you and until next time...

Frissen Gutierrez

Porsche Specialist & Porsche Owner since 1992

also President of the Puebla Region of the Porsche Club Mexico

and owner of www.trackdaysmexico.com

Photos by: Frissen Gutierrez & Ricardo Madrigal

Thanks to:

Fernando Bayo & Manuel Torres from the Porsche Club Puebla.

The F1 Racing Cafe.

The Ferrari Club Mexico.