IPOC INDEPENDENT PORSCHE OWNERS CLUB

Newsletter 67 Panamera Presentation Mexico

Porsche de Mexico presented the new Porsche Panamera to the Mexican press and first customers in the best way possible, with a full driving on road and track test.

The new Panamera is Porsche's first production 4 door sports car, some may tag the new Panamera as a mere sedan due to its configuration yet Porsche made sure its first attempt into the 4 door car segment is a true sports car, simply put, Porsche Panamera.

Porsche de Mexico had a tremendous presentation where we could touch, feel, drive the new Panamera at will and of course we took full advantage of the occasion and we gladly bring it to you with our own opinion of the new Panamera...

Andreas Jessa was in charge of the welcoming words...

The actual presentation was done by Porsche de Mexico Director, Fernando Flores Beristain.

Porsche de Mexico had an extraordinary event for the Panamera presentation, the Panamera itself proved to be on top of its segment delivering tremendous performance and prominent luxury.

Special thanks goes to Porsche de Mexico and its remarkable staff, for more info on the Panamera, Porsche Dealers in Mexico or exciting driving events please log on to:

¡¡¡ VIVE TU PORSCHE AL MAXIMO !!!

Frissen Gutierrez

Porsche Specialist & Porsche Owner since 1992

Mr. Gutierrez, your Panamera is ready...

Well here it is, my very own Panamera for the day...

Before the blink of an eye I was already driving the crap out of the new Panamera...

Porsche de Mexico did not leave a single detail in the air, as usual the event was full luxury and fun.

For starters a nice continental breakfast a prelude to the press briefing...

A covered Panamera and everything ready for the presentation...

Finally the moment all have been waiting for... the new Porsche Panamera...

Porsche de Mexico had an army of new Panameras for us to look at, touch and enjoy...

Frissen behind the wheel...

We catch a very busy Fernando Flores doing interviews for the Mexican media...

...certainly a very busy Fernando Flores...

Other members of the Porsche de Mexico staff were on a more relaxed mode like Pedrito here who had more than enough time to chit-chat with the girls and take pics... actually Pedrito proved to be a key element in the PdM staff, we found him everywhere during the event and everytime he asked us if we needed anything, when we actually did need something, he came quickly with solutions to our various requests... thanks Pedro!!!

At the other side of the track we found our very own Fernando Bayo, President of the Porsche Club Puebla test driving a Panamera 4S...

Time to meet the Panamera...

Full media coverage for the new Panamera...

Undistinguishable Porsche...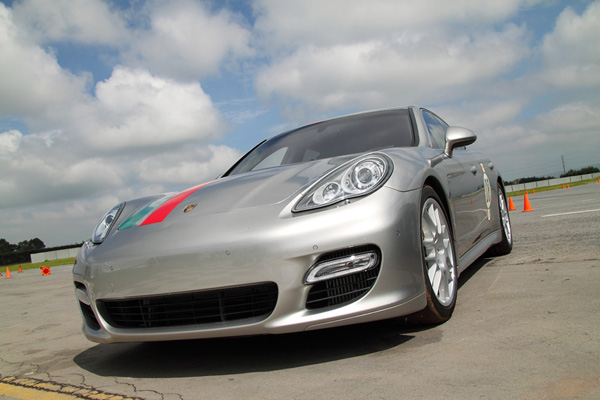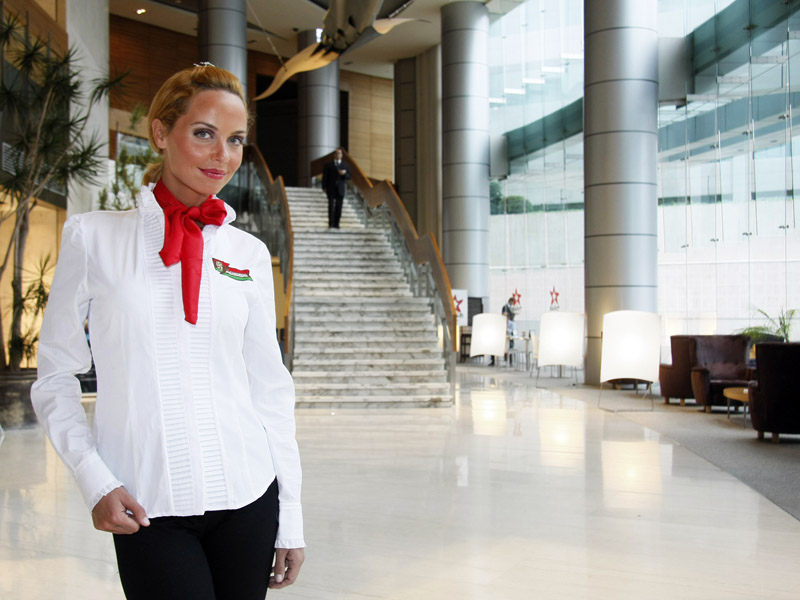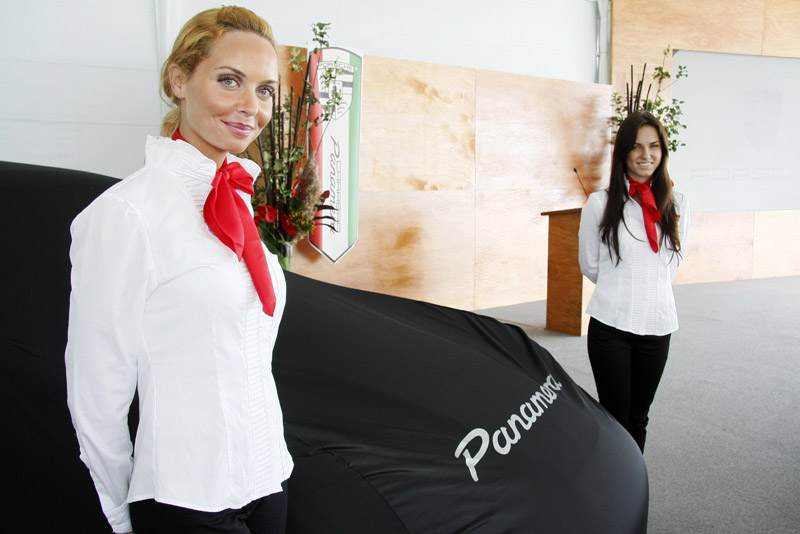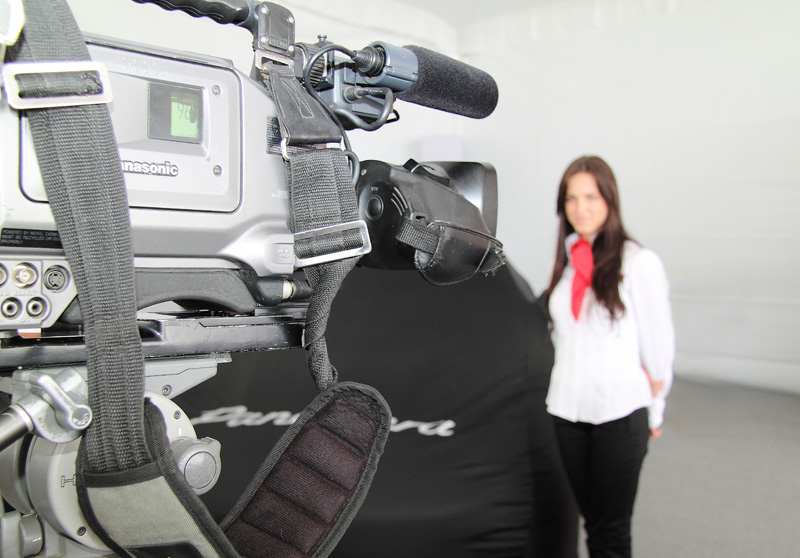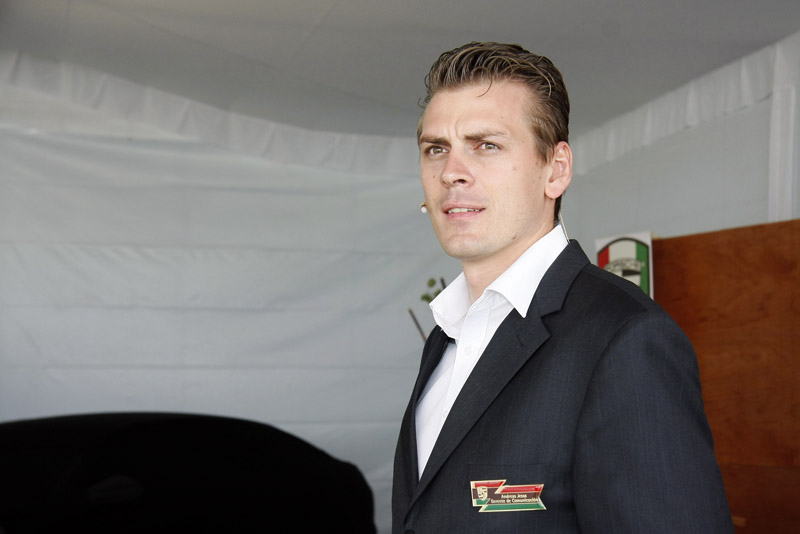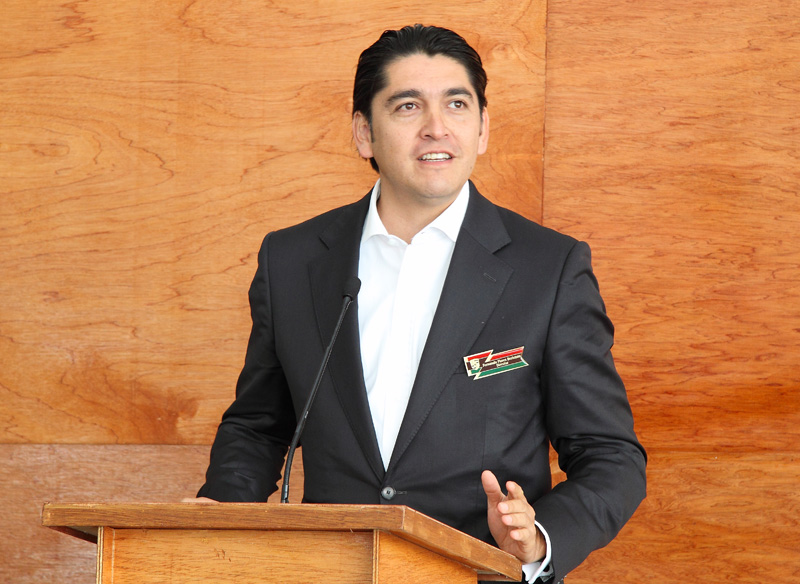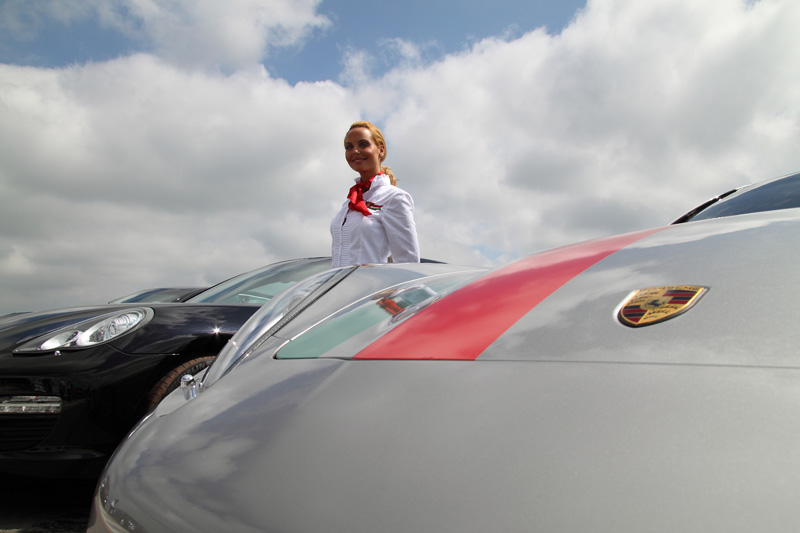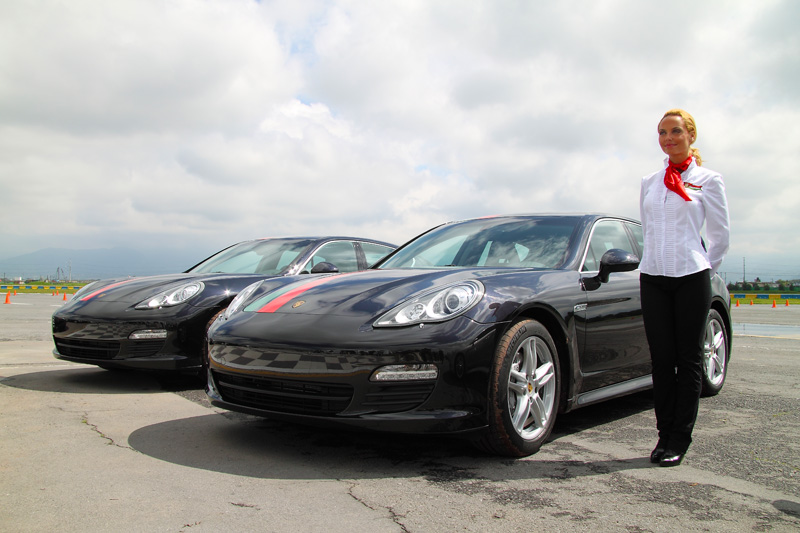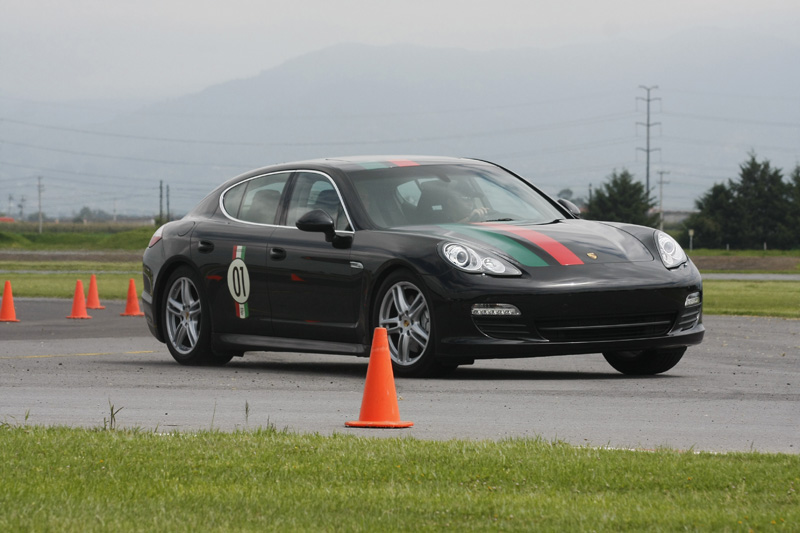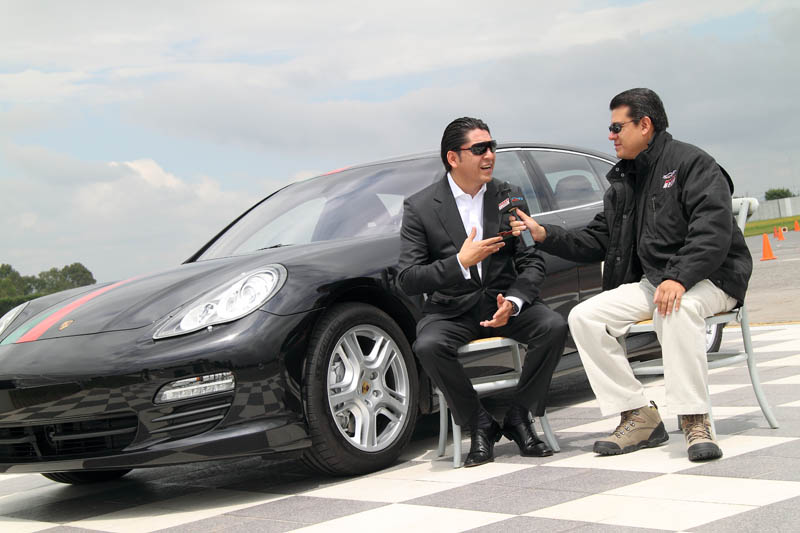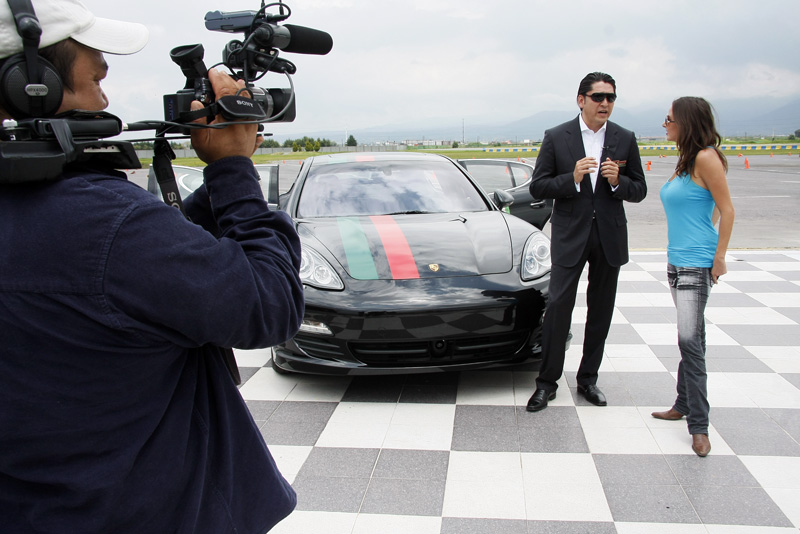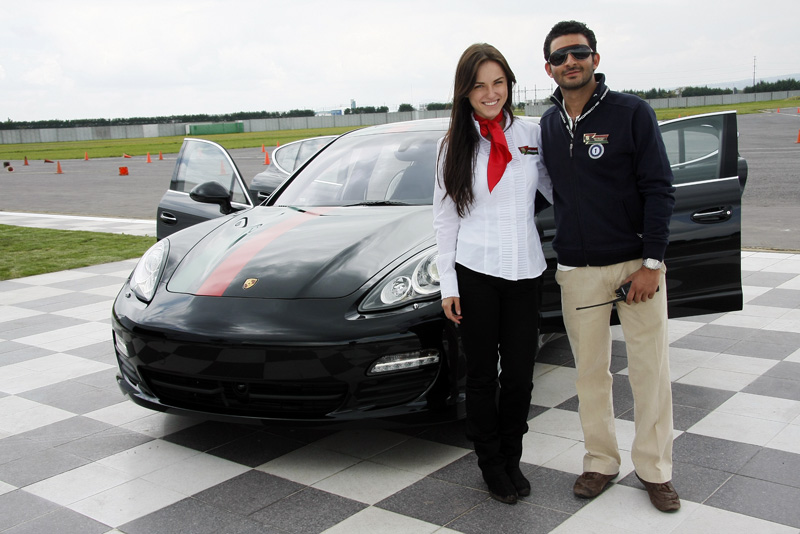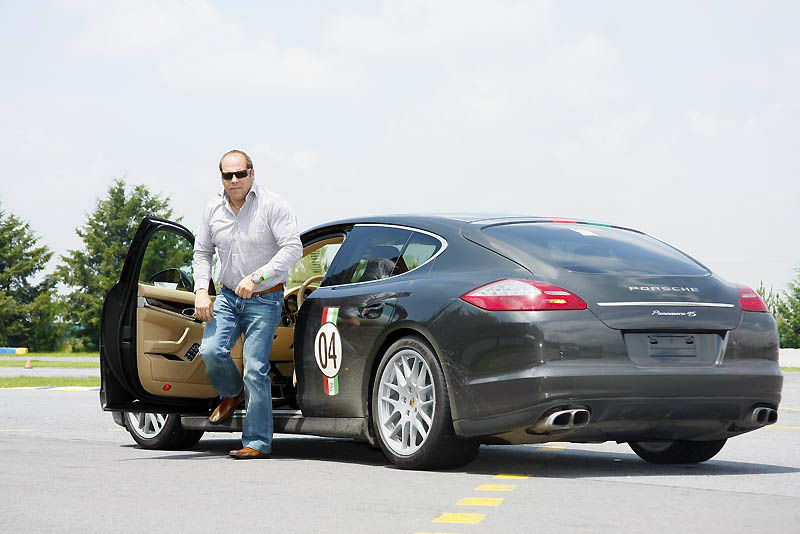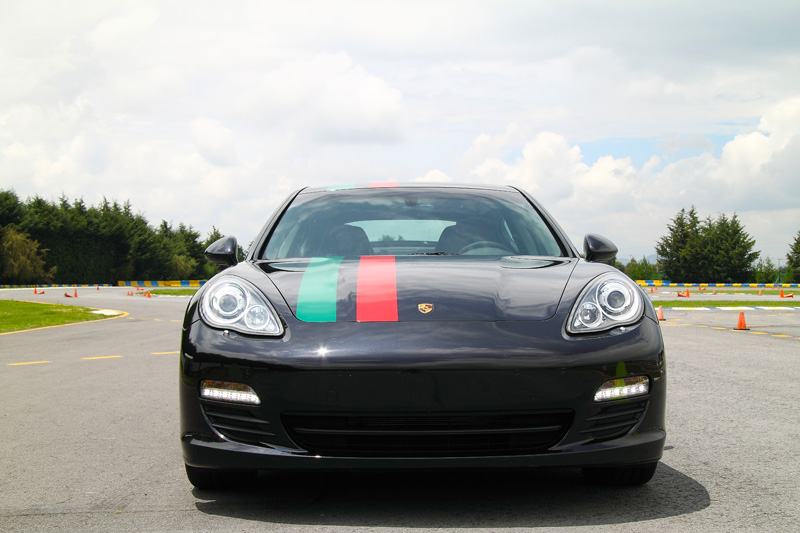 One of the main points of the presentation was for us to enjoy every angle of the new Panamera, so I drove mine to the north end of the track to view my Panamera from every angle, from the front is definitely a Porsche...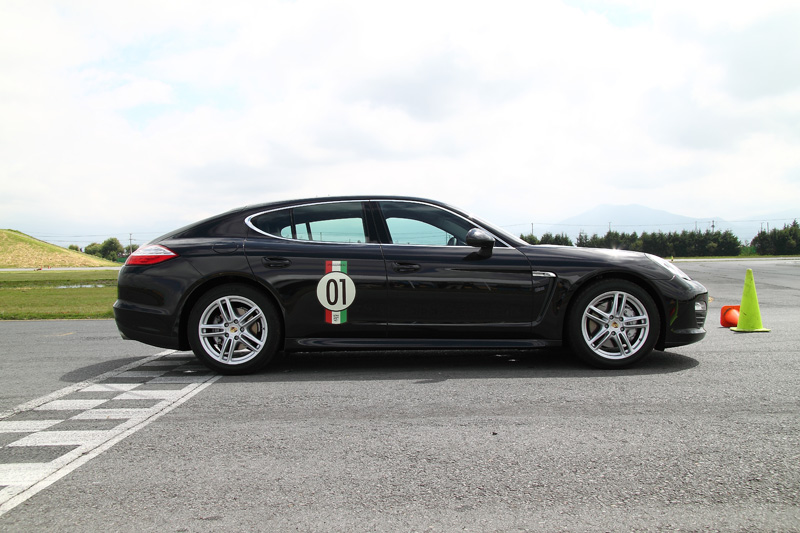 For the side view I decided to drive to the south part of the track and view it from the side, its long, low and very Porsche...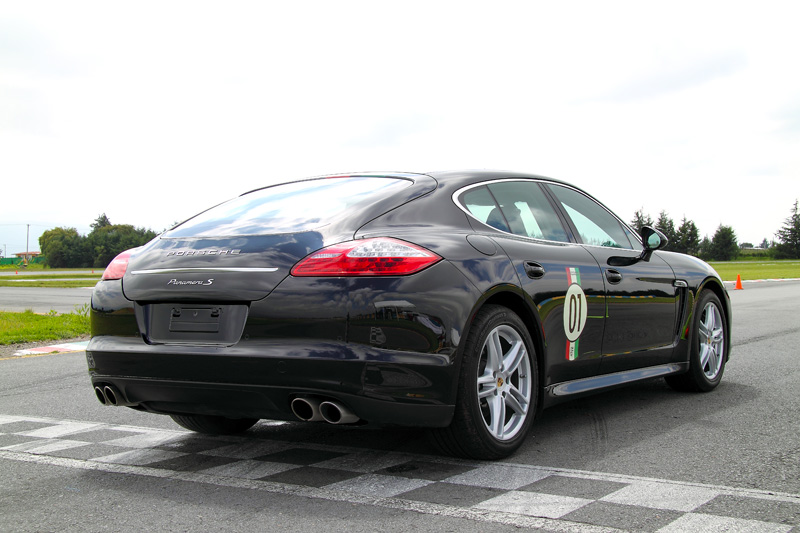 The rear is tall and its got a tailgate unlike anything else in its segment, along with the taillights its a very Porsche rear end, don't you think?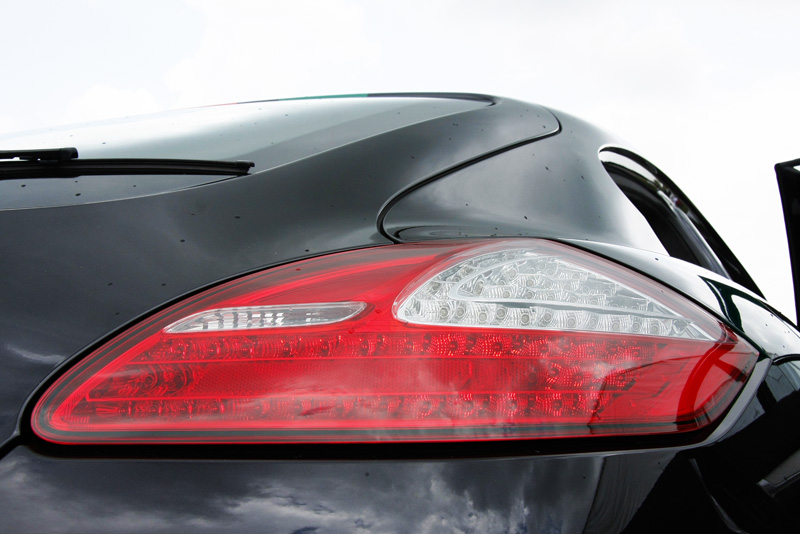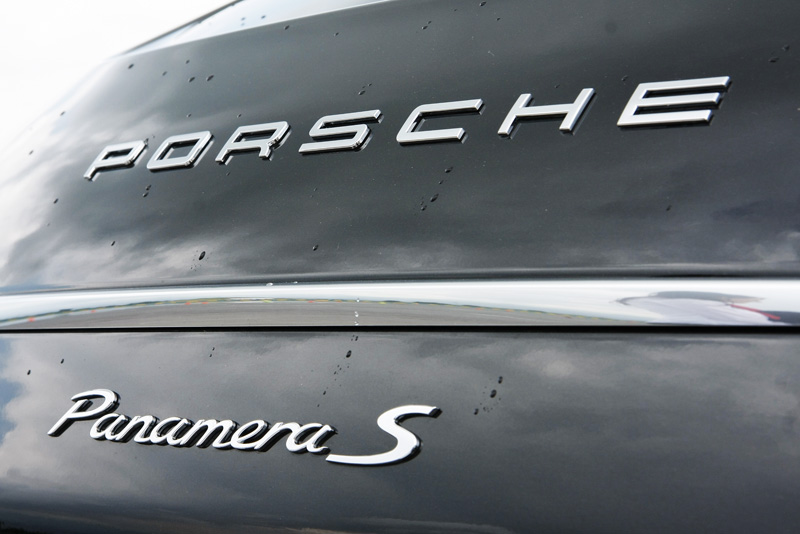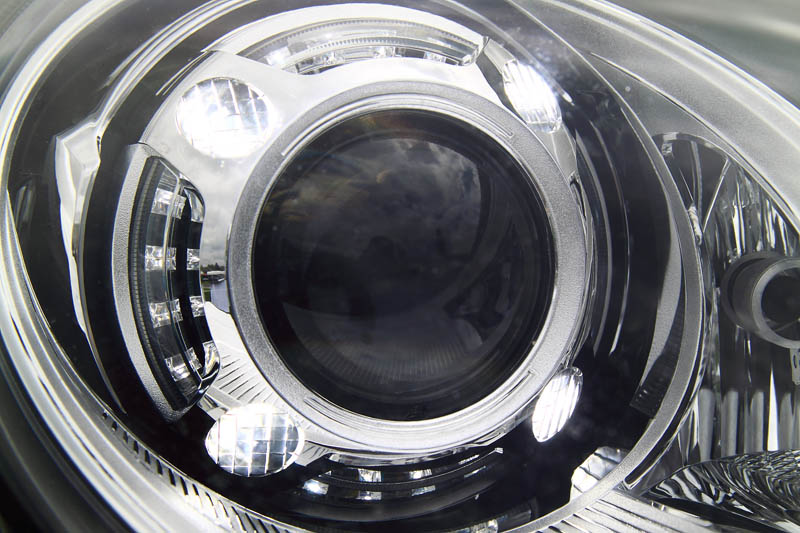 The taillight is all Porsche... curvy rear a Porsche tradition...

Its been a while since we see a "Porsche" lettering in the back of a Porsche... yet with the Panamera badge underneath makes the rear end look quite busy so we would ditch the "Panamera" logo for a cleaner look... personally I think I will order one of those "Porsche" lettering badges for my fridge I think it will look fantastic...

Various led lights surround the xenon projector with 4 leds outstanding, simply gorgeous design...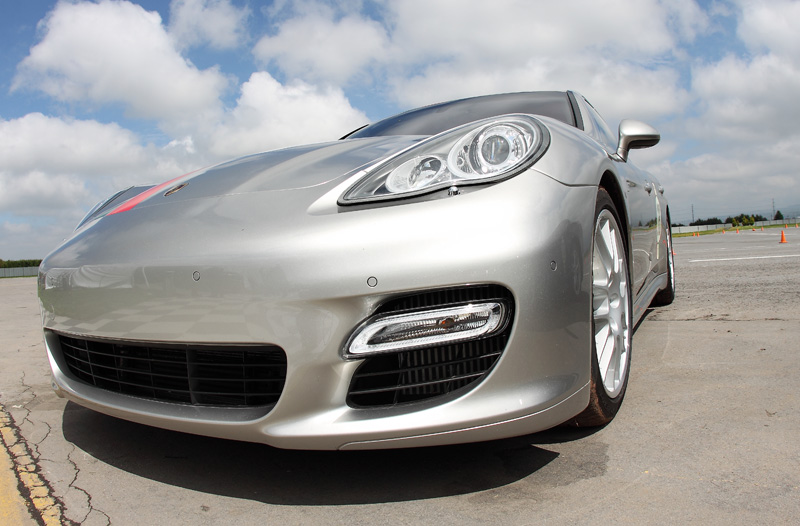 The front end is undeniable Porsche... Panamera Turbo carries a more aggressive design... impeccable fit and finish, we had notice this already on our very first Panamera encounter but once again we confirm it... the Panamera is spectacular!!!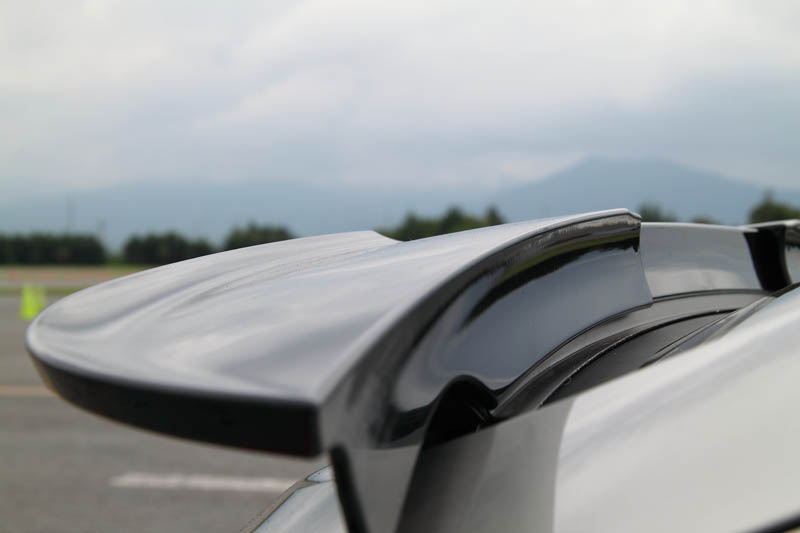 The Panamera Turbo wing expands for larger downforce...

Panamera features explained...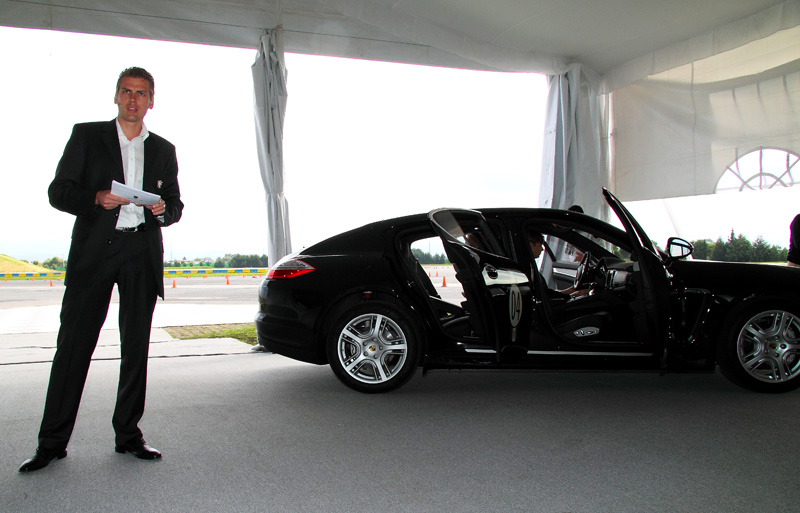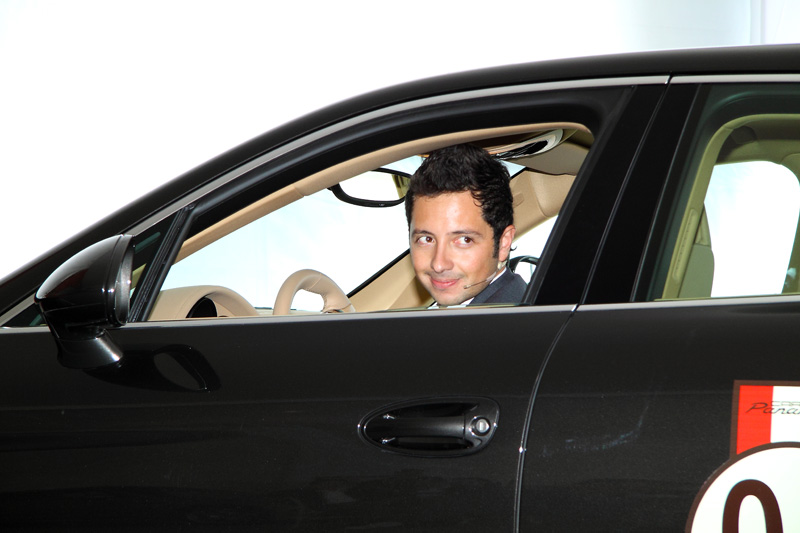 Due to the large list of features, standard and optional equipment the Panamera carries Porsche de Mexico decided to make a fun comedy to explain them and keep everyone attentive... Andreas would vouch for all luxury features in the Panamera...

where Fernando would vouch for all sports features... each would argue for their favorite... we learned all of the Panamera features in a fun way instead of the always boring power point presentations...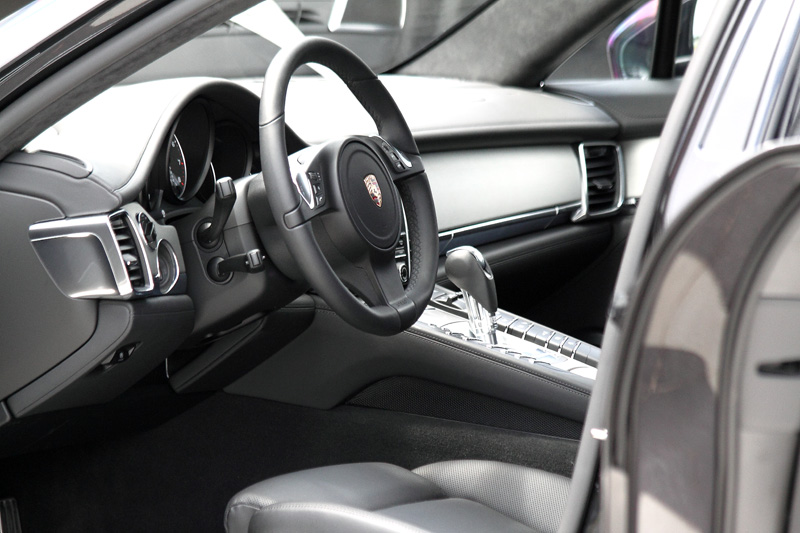 The interior is quite inviting... luxury meets sport, you may configure your interior in a gazillion ways yet it always keeps the sports allure despite luxury...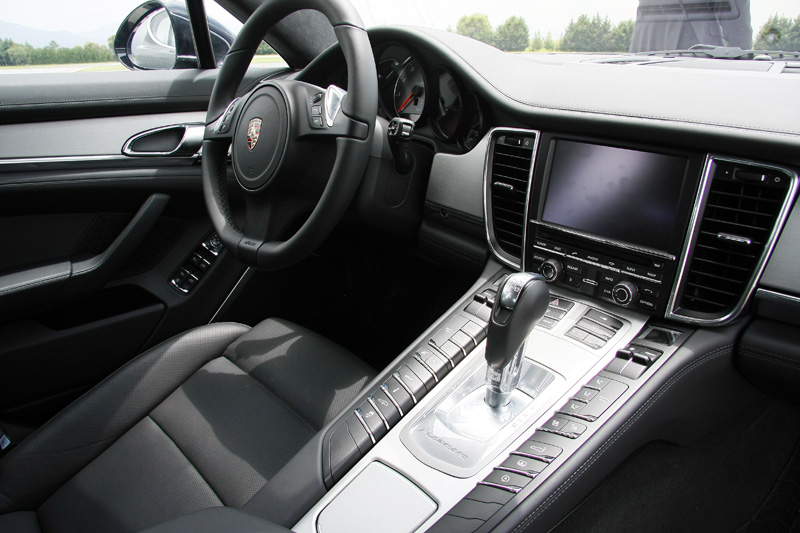 A very inviting cockpit, the Panamera is definitely not the chauffeur's car. The Panamera is a very personal car like every other Porsche.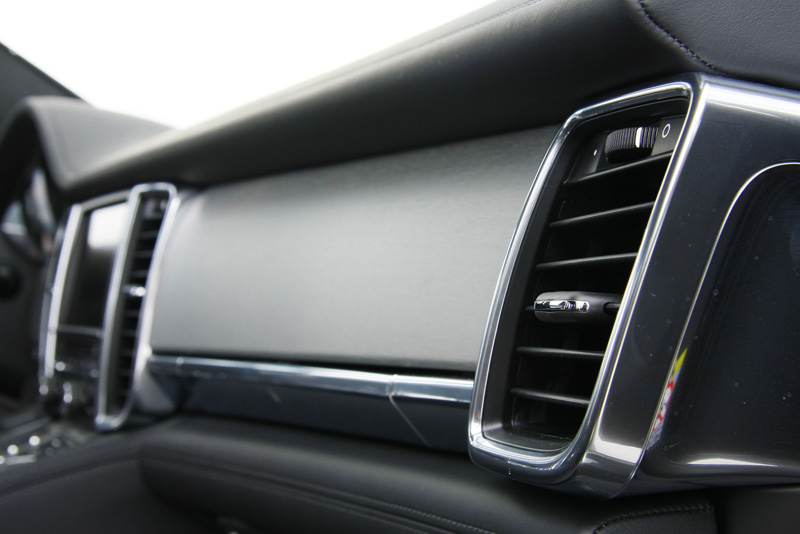 Fit and finish of the interior is simply magnificent. From the ergonomical point of view is impressive as well. The almost infinite choice of interior finishes could confuse anyone, our suggestion is to keep it simple, alu works tremendously well with all color interior and makes the interior alive as well...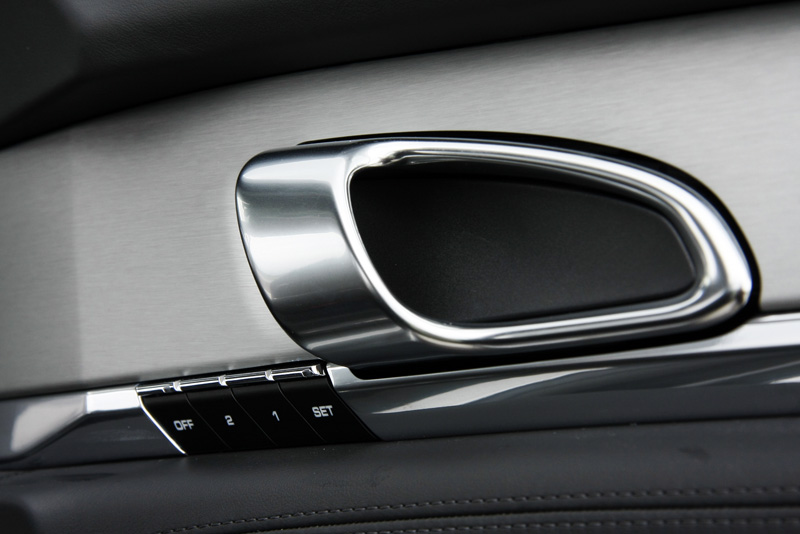 Purist think its all bad and wrong with the new range of Porsches, actually these quite complicated exercises will bring higher allure details to the brand, I can only imagine fitting these fit and finishes to an special edition 911 or Boxster...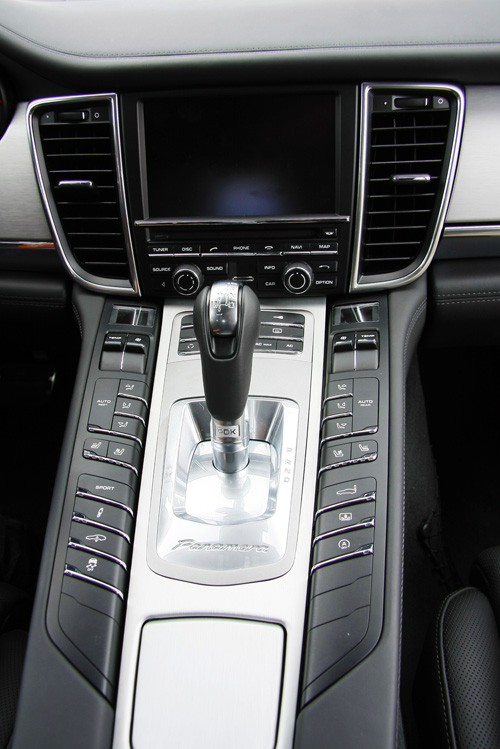 When you hear the words "Grand Complication" added to any watch you know its good and expensive yet it seldom applies to a car, well this console may look complicated yet works wonderfully well once you get used to it... really...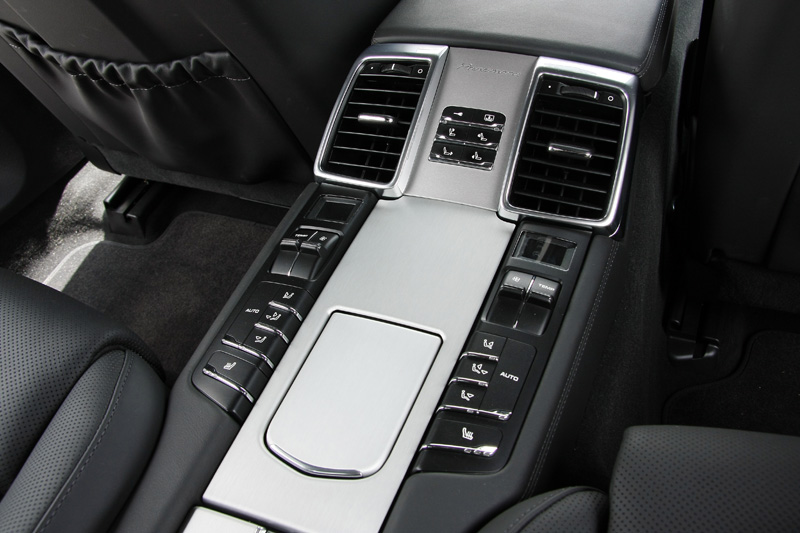 Porsche did not leave rear passengers unattended prove is the rear console with all sorts of adjustments, like this or better?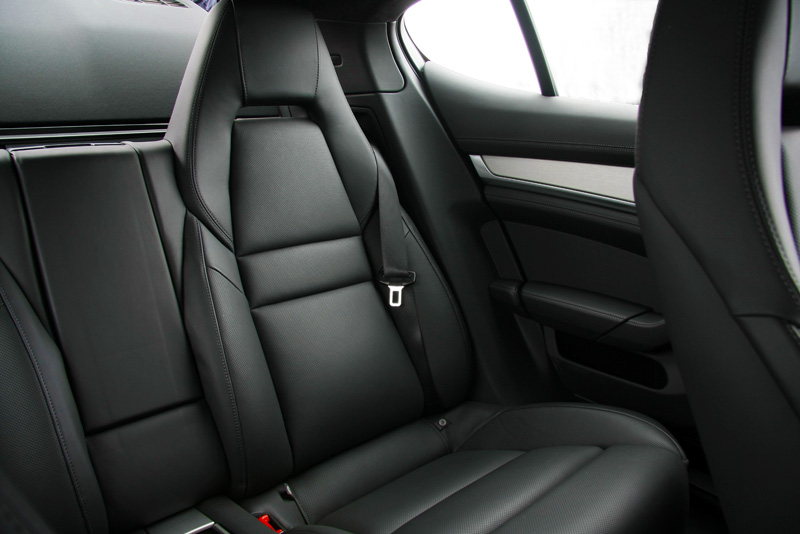 Rear seats are comfortable, supportive and individual... Porsche, there is no substitute!!!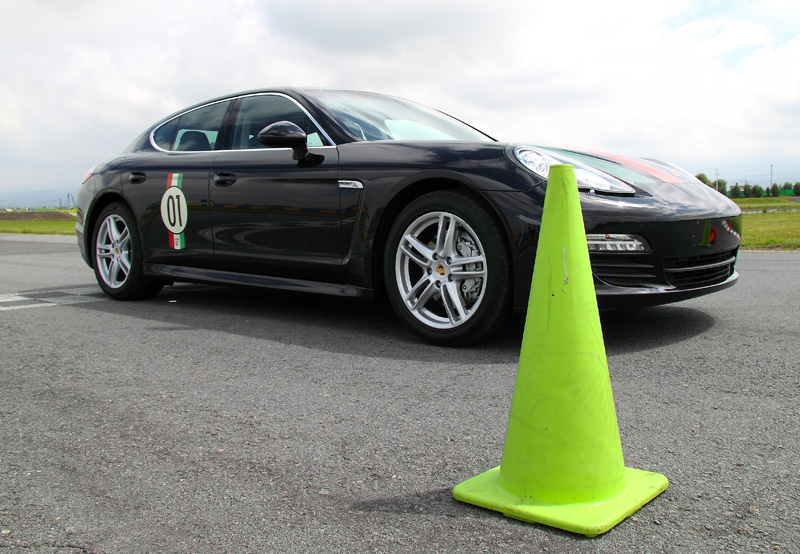 Well, here it is, the brand new Porsche Panamera in all its glory. This view makes quite obvious that tuners like Gemballa, Techart and Mansory will have a field day adding all sorts of spoilers, splitters, wings and of course wheels to the new Panamera. The standard looks are quite simple and tuners will rapidly find ways to make the new Panamera look more aggressive. Of course in very tuner mode, lowering will become a must,  for the standard coilover suspension we will see all sorts of replacement parts from H&R and Bilstein and for the more complex air suspension a "module" from the likes of Cargraphic. Engine tuners, well there are not many out there anymore, ok lets simplify this and call them ECU tuners like GIAC and EVO will certainly come up with remaps of all sorts specially for the turbo not to mention all sorts of louder exhausts. All in all the Panamera is going to be for sure a delight for all tuners out there, we have seen already sketches from Gemballa, Techart and Mansory and even spotted a green Panamera with Ruf wheels on the net. Obviously Porsche will counteract with a GTS version already in the works as we speak with all the looks and performance we want but with factory warranty. But there are many other aspects to analyse about the Panamera. From the "purist" point of view the Panamera doesn't sound like a Porsche, doesn't drive like a Porsche, is not nimble like a Porsche should be, so is it a Porsche? Well it is a Porsche, as far as we can see but it is not a Porsche, if you know what I mean. What the Panamera certainly is, and in very Porsche fashion, is the best in its segment. The Panamera is a very high performer, is very fast, nimble for its size and weight, brakes right (amazingly with PCCB's, should I add) handles very well. So it brings all of the Porsche aptitudes right? Yes, they are all there. But more importantly is above the competition, many say its closest competitor is the Maserati Quattroporte, could be, but the Panamera does everything better in very German fashion. Unfortunately it arrives late in a very competed segment where it will have to share it with the likes of S-class and 7 series owners who are already in a car, and this segment is not necessarily expanding as we speak. But the largest problem of the Panamera will be at Porsche showrooms where it will cause a split decision among Porsche customers. If Porsche thinks the Panamera will have the Cayenne luck, they are wrong, the Cayenne brought in a new segment of customers who are not really, say Porsche enthusiasts. Its proven that more than 50% of Cayennes were bought by people who don't own another Porsche or who have never owned a Porsche ever. This new market brought a new idiosyncrasy, well suited with the Cayenne, thus high sales. Although the coming of the Cayenne was suffered by the entire customer broad as service bays were clogged and most customers couldn't get their Porsches serviced at the dealer in a timely manner, thus service prices went up by dealer greed. Fantastic, what will happen now with the Panamera. Any number Porsche plans to sell of the Panameras is not matched of increasing or expanding service centers and or service bays, is it? But service aside, the Panamera will certainly bring a split choice at Porsche own showrooms, and I am not talking about the GT3 RS and the Panamera but perhaps between the 911 Turbo and the Panamera and certainly the Cayenne. Customers will enter the Porsche showroom and will start thinking, "perhaps I don't need that big SUV if there is a capable 4 door vehicle from the same brand... mmmhhh..." or "hey, I can't really afford that new 911 Turbo, perhaps I can trade in my S500 for that desirable Panamera and seek a used 3.2 (by 3.2 I refer to a 911, ok)... mmmhhhh, perhaps" so it is without a doubt going to cause a split choice at the showroom. But certainly the Panamera will attain new customers from the segment, because its new, is high performance and its a true Porsche. All in all the new Panamera is here, its is fast, its good and its a Porsche.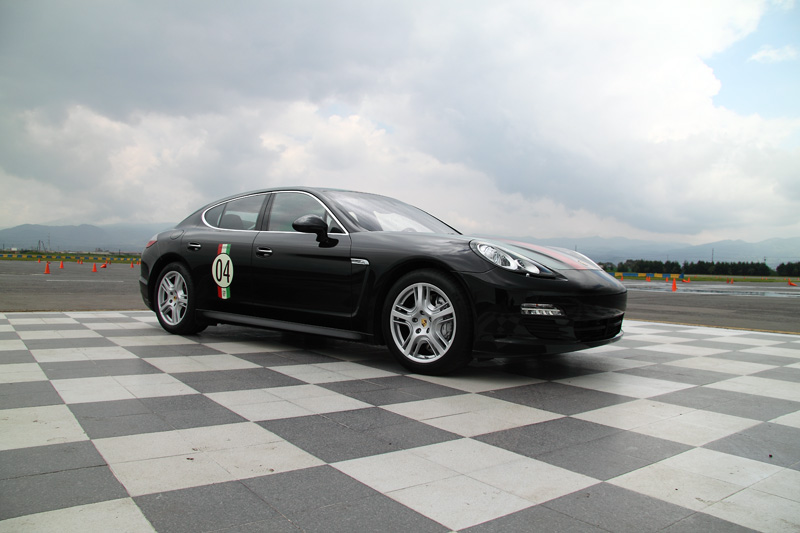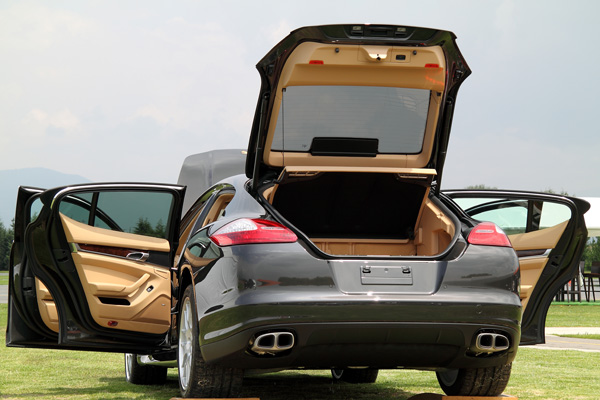 Photos by:

Frissen Gutierrez

Porsche de Mexico

...let's check out the action...

When we drove the Panamera Porsche was at the brink of buying VW yet when I wrote this report VW had absorbed Porsche completely. This made some enthusiast very nervous, yet the deal is done and VW now controls Porsche. Mr. Wendenlin Wiedeking was discharged as head of Porsche and Mr. Ferdinand Piech appointed Porsche veteran Mr. Michael Macht as the new head of the brand. Enthusiasts should not fear, Mr. Piech carries the Porsche DNA and the power to bring good things to Porsche, Mr. Macht is an avid enthusiast and Porsche veteran who understands the brand from within and is committed to Porsche. Soon after the takeover we started to hear statements from VW management, firstly we heard that VW sees Porsche as a sports car company. I translate this as all efforts will be focused on serious sports cars, perhaps a Carrera GT replacement which is seriously needed because exotic-to-money ratio nothing tops the CGT or maybe a mid engine F458 contender because lets face it, the 911 is great but a mid engine super car is seriously needed in the brand. Secondly we heard that the new Panamera and Cayenne will be axed at the end of their life cycle, wow, marketing departments at VW as well as Porsche must had had a panic attack, je, je, je. I can see how the Panamera and Cayenne become redundant in the VW spectrum yet the Cayenne is not going to be easy to vanish as it has been a success in upcoming markets and as we mentioned it has brought a new customer base to the brand, in markets like the USA if customers, who we know are not Porsche enthusiast don't find a Cayenne replacement at their dealer's showroom they won't necessarily will go next door to the Audi dealer looking for replacement, as we know these customers are not enthusiasts and may as well go across the street to the Lexus dealer, so the Cayenne will be a hard product to vanish. The Panamera is another story because we already saw the sketches of a Panamera based coupe and that may as well replace the 4 door intent at Porsche. Thirdly we heard that Porsche will have to surrender its platforms to VAG, well I hope not to see a rear engined Audi TT any soon but we already saw a Panamera based Bugatti and I hope that's that as the Cayenne is already a shared platform with VAG in form of the Touareg and Q7. Instead of being tragic and catastrophic lets try to find some positive sides to the take over, imagine the purchasing power and leverage Porsche now has with parts manufacturers? I can only hope this drives down the price of parts. With the takeover Porsche has one less thing to worry about about, emissions, with all those Golfs puttering around the average for the brand leaves some room to breath for Porsche and continue to develop solutions to the flat six. Certainly VW has no easy job integrating its now 11 brands, but Porsche integrates seamlessly to VAG. Under VAG, Porsche has great opportunities to bring the very best, Mr. Piech understands and cherishes Porsche too much to mess it up, Mr. Macht knows Porsche deep within and understands the needs of enthusiasts, so the future should be bright and with lots of coming surprises. We recently saw the Sport Classic a marvelous 911 that shows that Porsche engineers know how to deliver the goods, a new GT3 RS that is nothing but exciting with tremendous aerodynamics and chassis work and finally a new 911 Turbo with breathtaking power, with these Porsche shows it is committed to its customers and more importantly to its enthusiasts and perhaps the only wish not granted yet is to see Porsche back in racing and doing a major attack on LeMans but with the now conditions this is may not be too far, so hang on tight and lets enjoy because the future can and only will bring good things, including the new Panamera.