IPOC INDEPENDENT PORSCHE OWNERS CLUB

Newsletter 69 Carrera Panamera - Road Test

Porsche de Mexico decided to make the road test a bit more interesting by presenting its "Carrera Panamera" a fun rally where participants would have to do special tasks during the test drive.

This road test gave us a much better idea how the Panamera handles on the open road, the route would takes us from highway to narrow twisty roads in a variety of conditions, but don't take it from me and...

...let's check out the action...

Porsche de Mexico did an extraordinary effort organizing this wonderful event, the route was magnificent, the stops splendid and finally the Panamera proved to be a tremendous grand tourer with all the Porsche attributes of performance and luxury...

special thanks to:

¡¡¡ VIVE TU PORSCHE AL MAXIMO !!!

Frissen Gutierrez

Porsche Specialist & Porsche Owner since 1992

Porsche Girls holding the numbers for each Panamera team...

After dinner we had a few cocktails to chat about the first leg of the Carrera Panamera...

The Westin SLP is a nice hotel with tremendous colonial architecture...

Panameras were ready early in the morning to start the second leg of the Carrera Panamera...

Here we go... nice Panamera convoy...

On the open road is where the Panamera performs best... the Panamera is capable of eating kms and kms of road with no problem at high speeds... tremendous handling, speed and comfort...

After Cd. Valles we started to climb and the twisties started... here chasing a Panamera Turbo at full speed...

wow!!! the Panamera displayed excellent handling and speed through out the twisties...

An incredible road full twisties... no traffic we headed at full speed!!!

This no Disneyland ride, this is a real river in the middle of the Huasteca Potosina, I never had imagine we had to cross such river to get lunch, yet we did and it was exhilarating...

We stopped for lunch, I made nothing of it but a surprise was to come...

This place is simply amazing... just the view paid off the trip but a special menu made things even more special...

I chose a table by the rail and this was my view... amazing I would say...

I used my 70-300mm to get a closer shot of the fall, nice isn't it?

Panameras back on the road...

After lunch we headed back to our Panameras and continue to enjoy the twisties...

Our next stop was at the surrealist castle of Edward James... this place is enclaved in the middle of nowhere...

My surrealist shot of the Panamera Turbo...

This place is crazy as it is wonderful... another view...

Photos by:

Frissen Gutierrez

Porsche de Mexico

Factory Team composed by none other than Fernando Flores Beristain, Director of Porsche de Mexico, Andreas Jessa, Marketing Director for PdM and last but not least Mr. Roberto Solares in charge of sales training at PdM...

Andreas Jessa proudly displaying his lucky number 8...

Panameras lined up and ready to start the Carrera Panamera...

The Carrera Panamera box included a book with route and all clues to be found, an instant camera was also provided to fill the book and last but least a lunch box with lots of nice goodies was given at the start...

There I go driving Panamera 03...

Here we go... on route and at speed...

We left all navigation chores to the on board system... it took us a while to figure it out all but it was of big help at junctions and stops...

It didn't take long for Panamera 08 to catch up with us, the Panamera Turbo is really, really fast and on the road it shows...

First stop, Italian Coffee...

The first stop contemplated in the route was at well known Italian Coffee where after figuring out some stuff from the menu the shop provided the crew with some refreshing cold moka cappuccinos... Panamera 4S, S and Turbo on display...

We found our good friend Fernando Bayo at the gas stop... nice sombrero!!!

At dinner we found our friends from PdM, Katja, Fernando Romo and David Tiscareño...

Haute Mexican dishes were served...

From SLP we headed to Cd. Valles... amazing open roads!!!

Out of focus due to speed yet I think this was a tremendous shot... Panameras in action!!!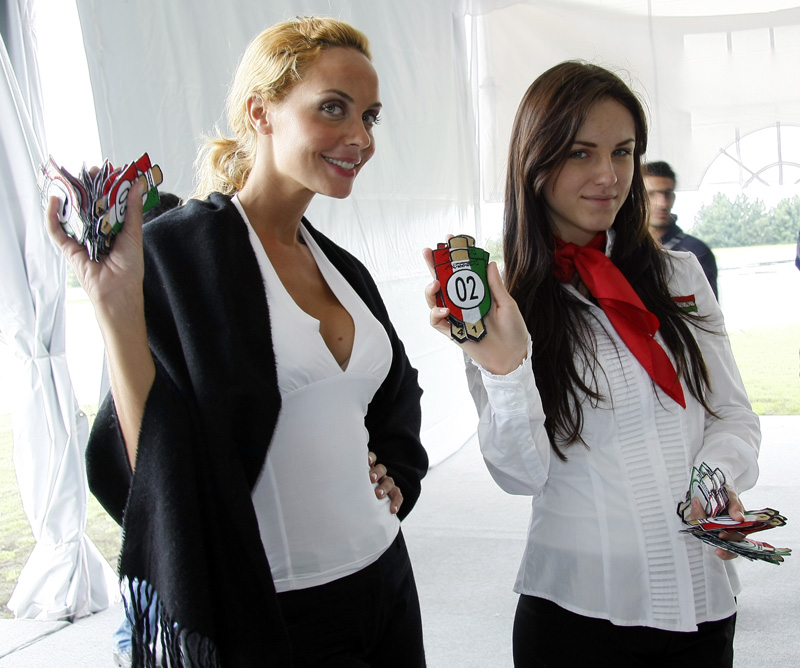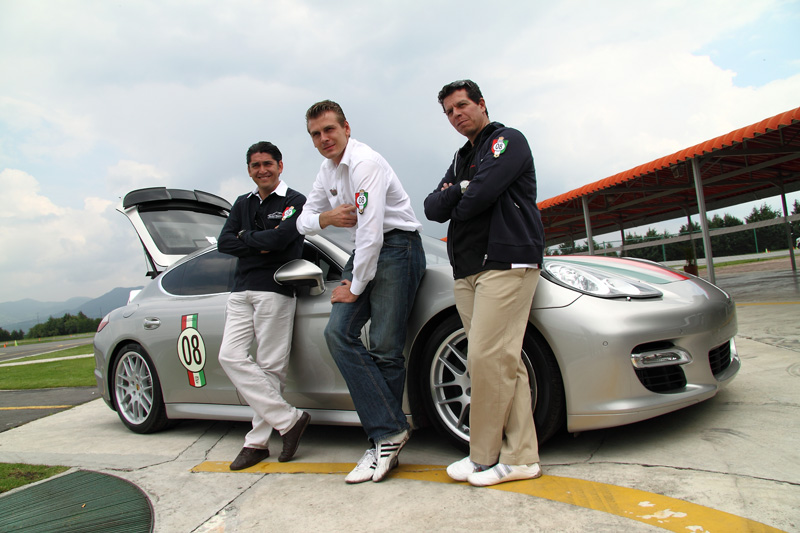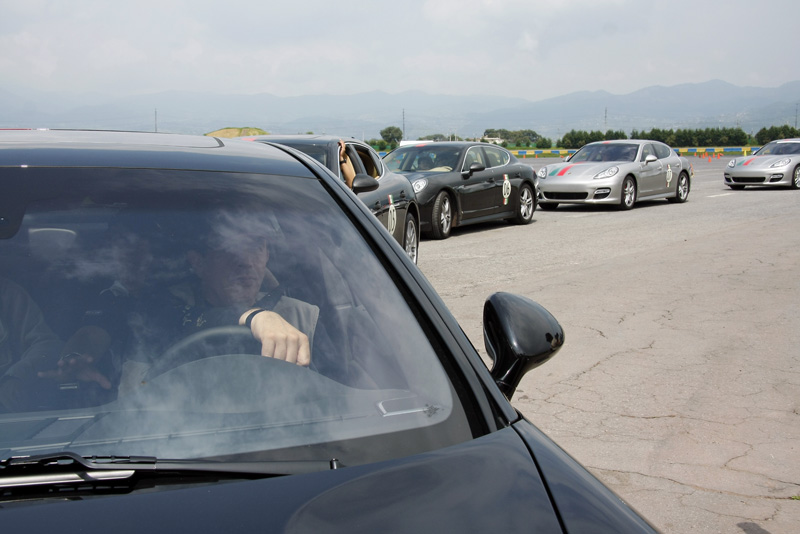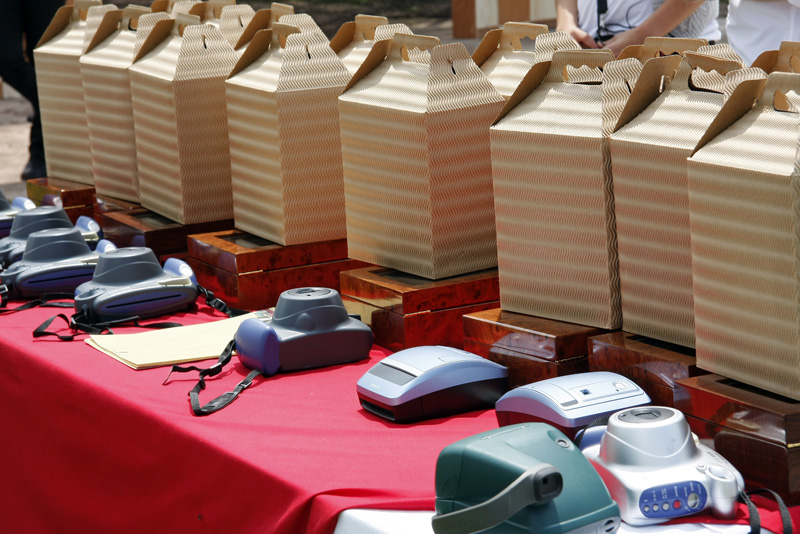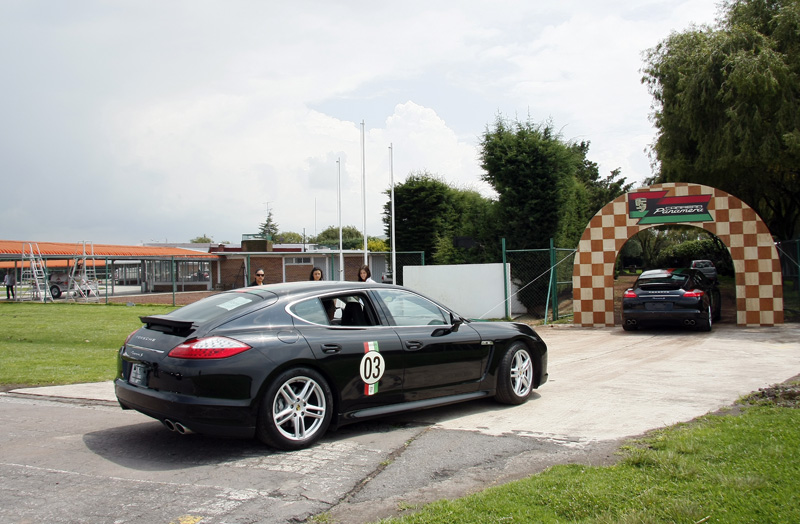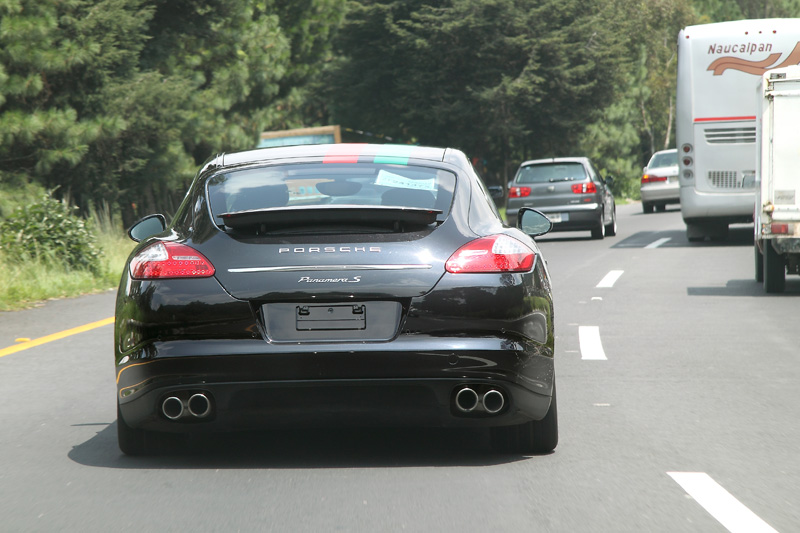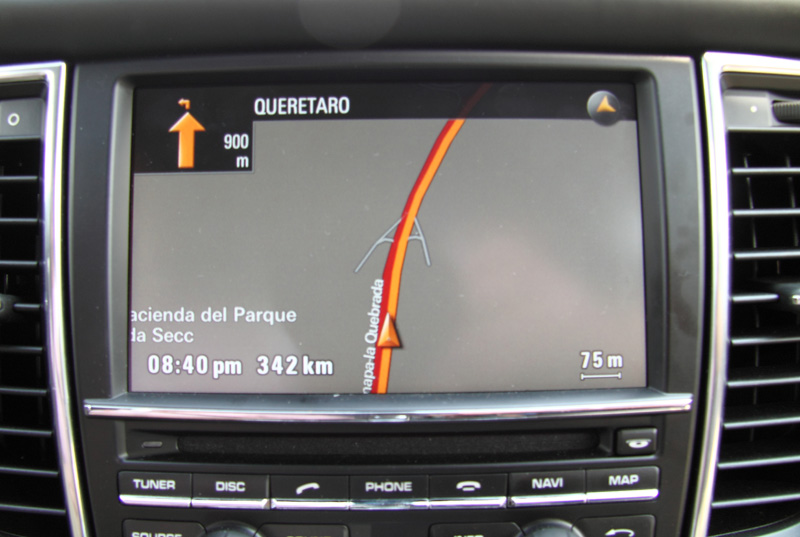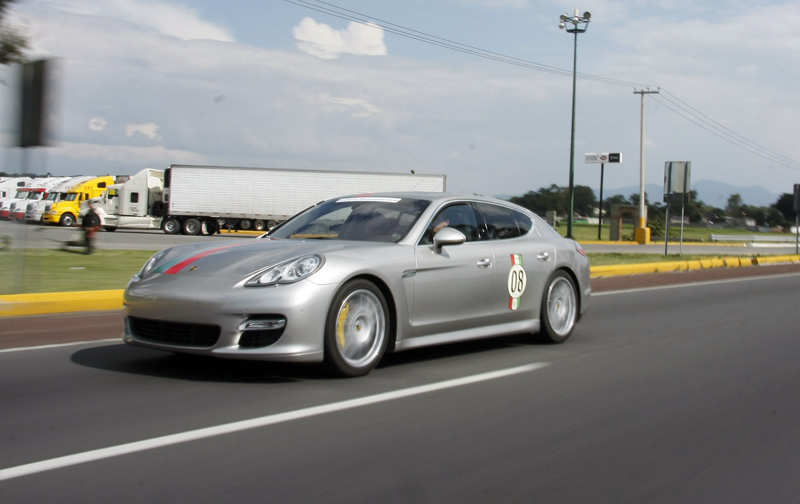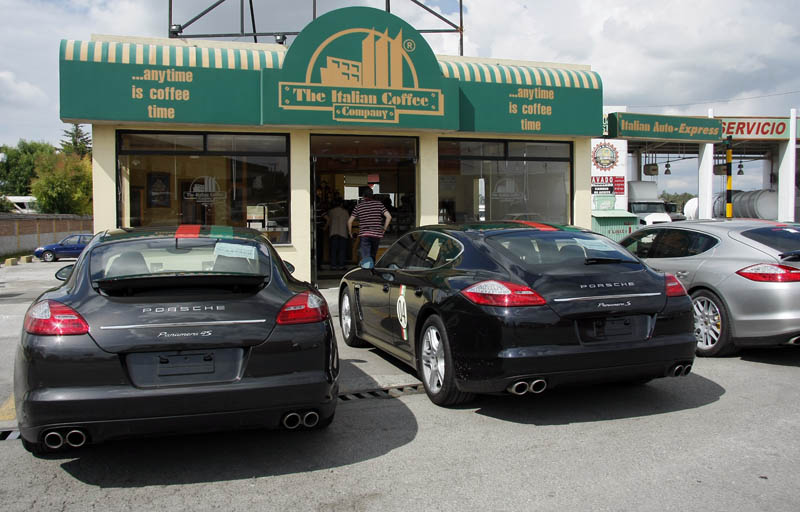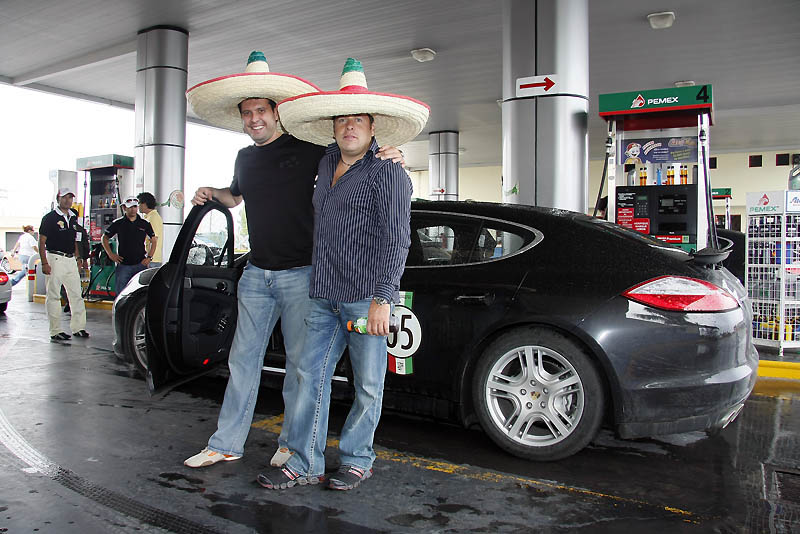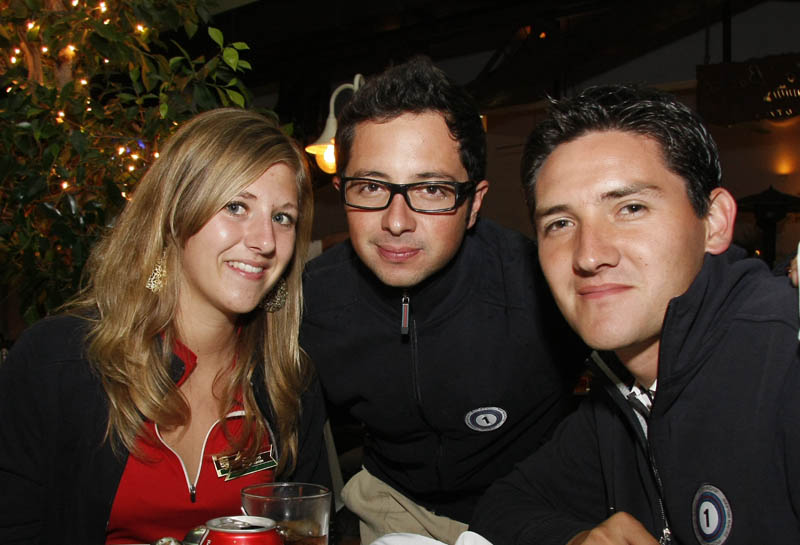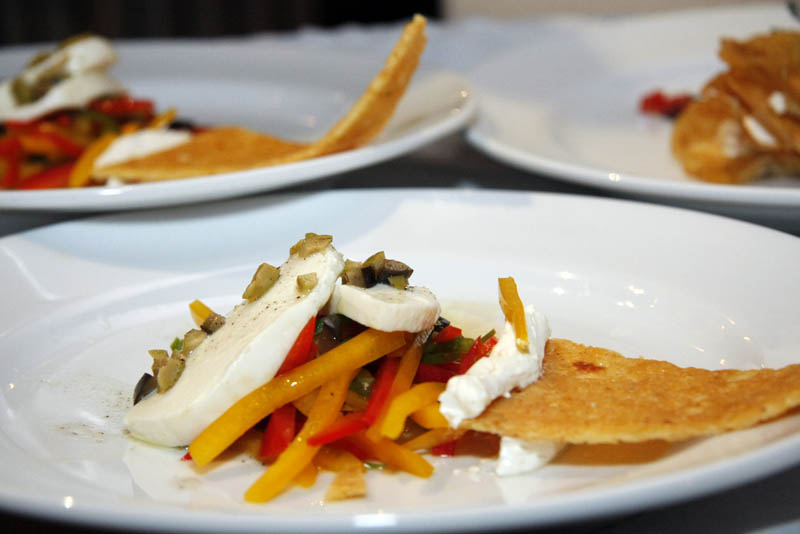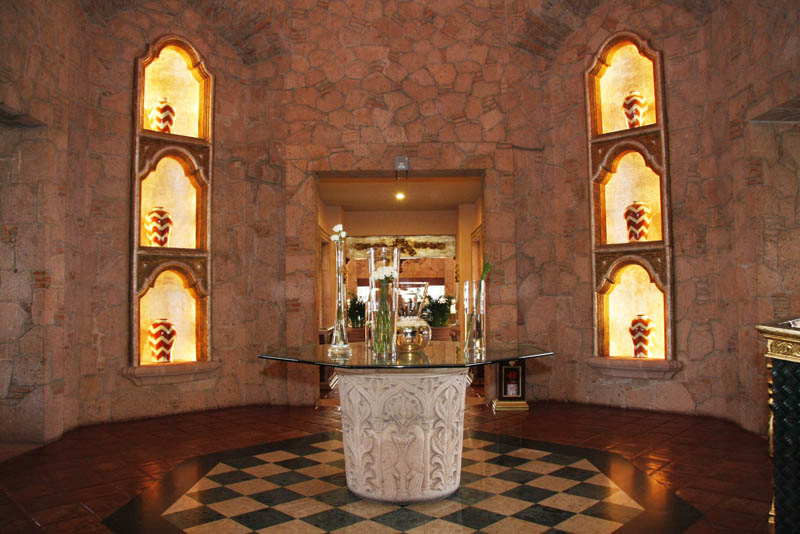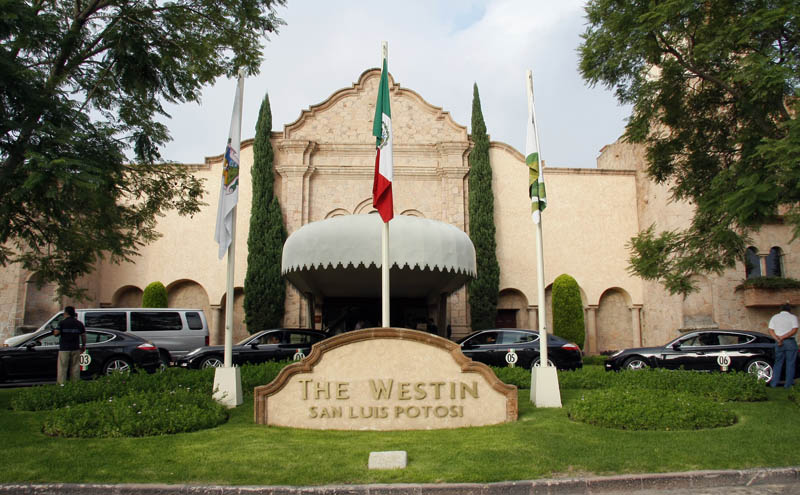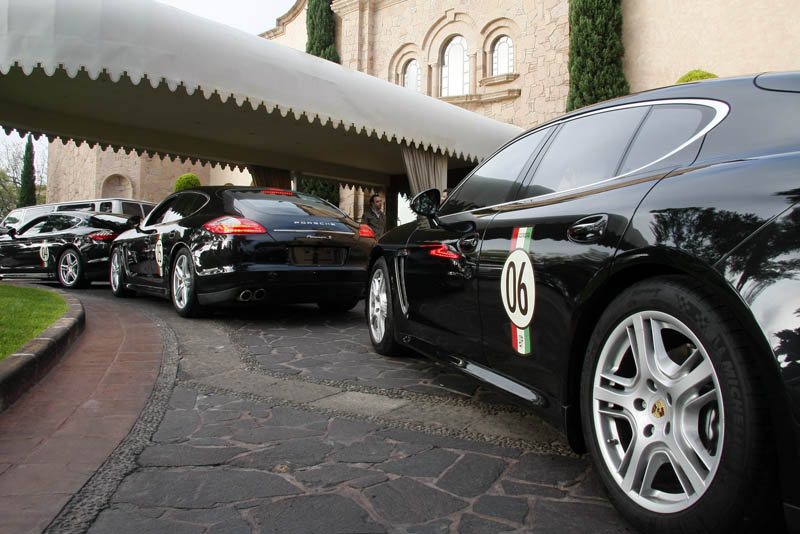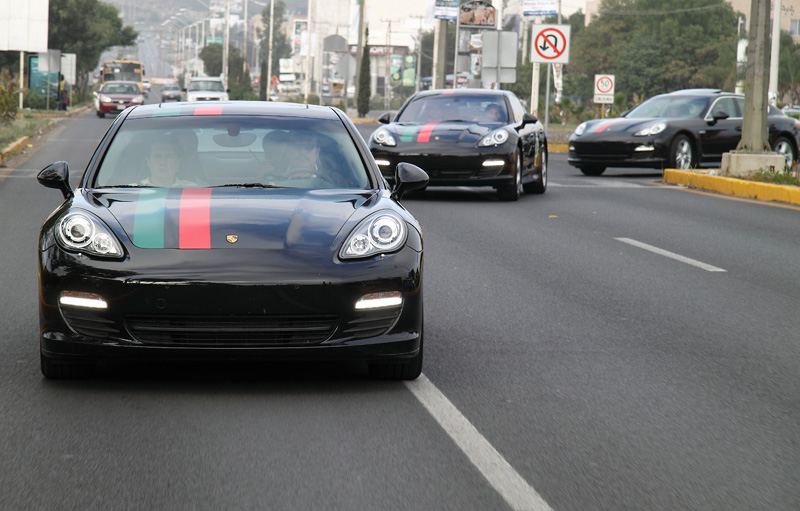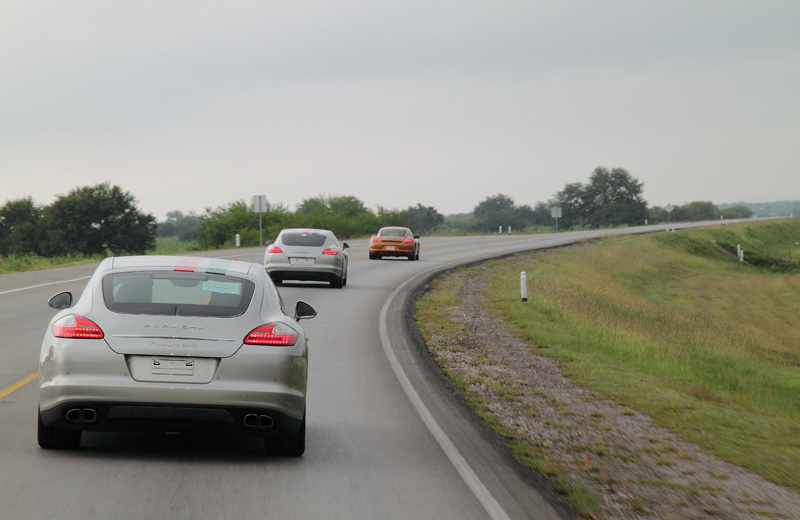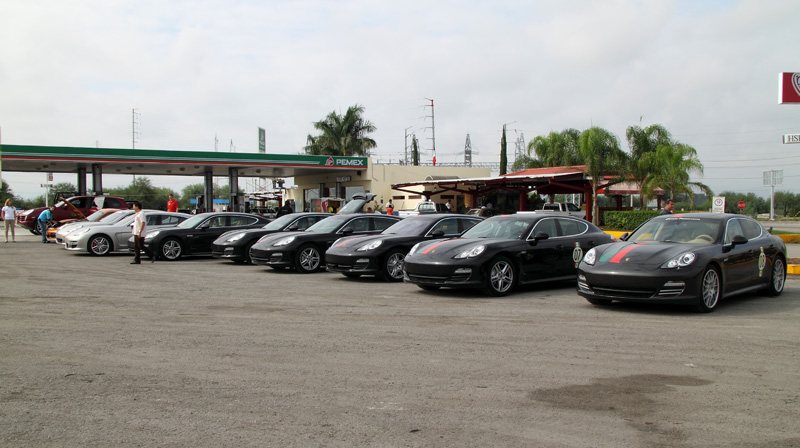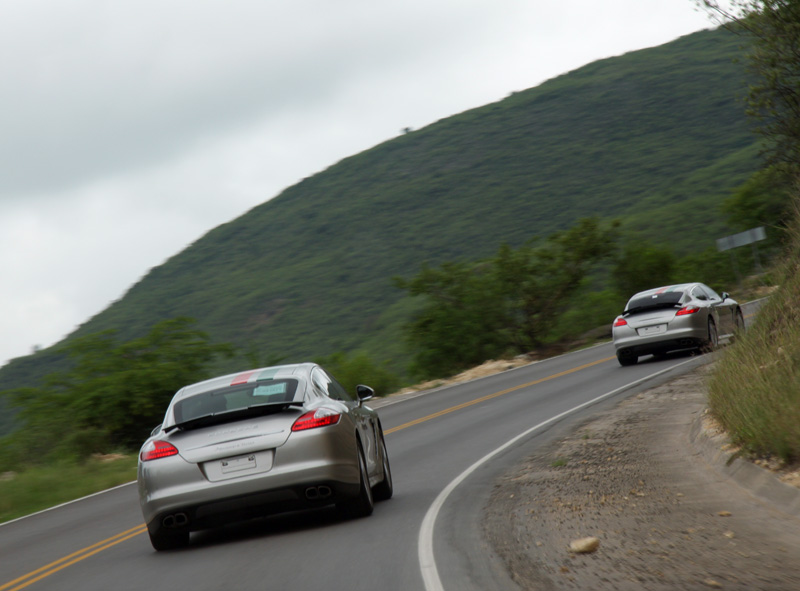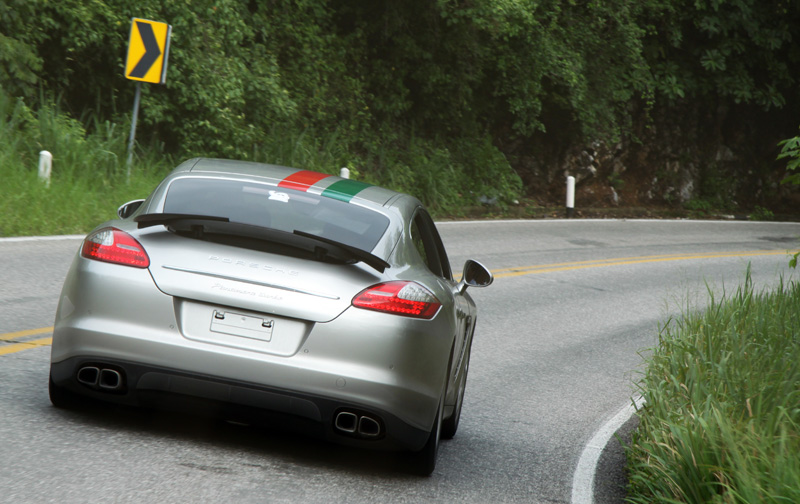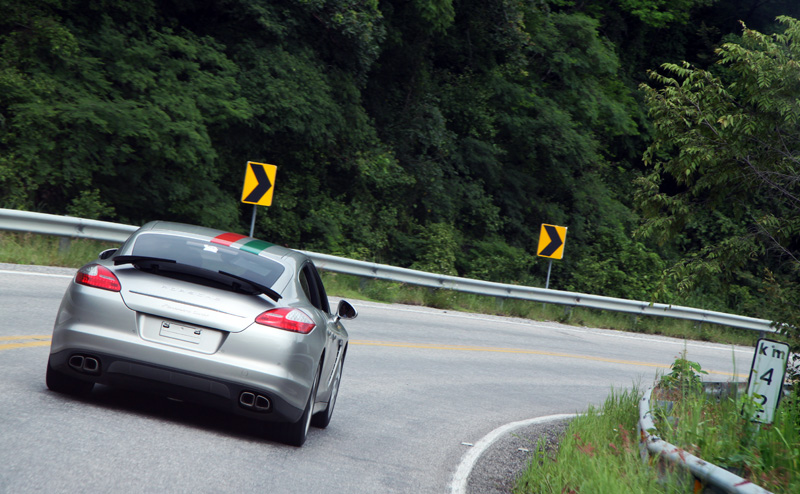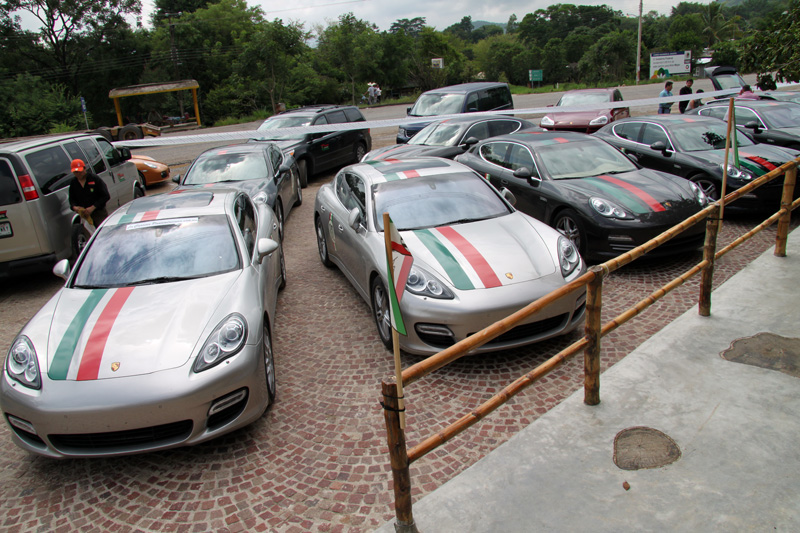 Our place in the clouds...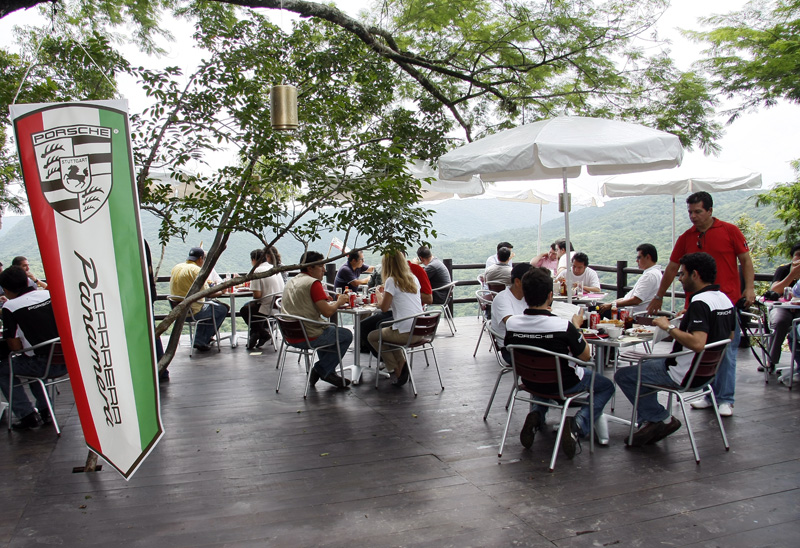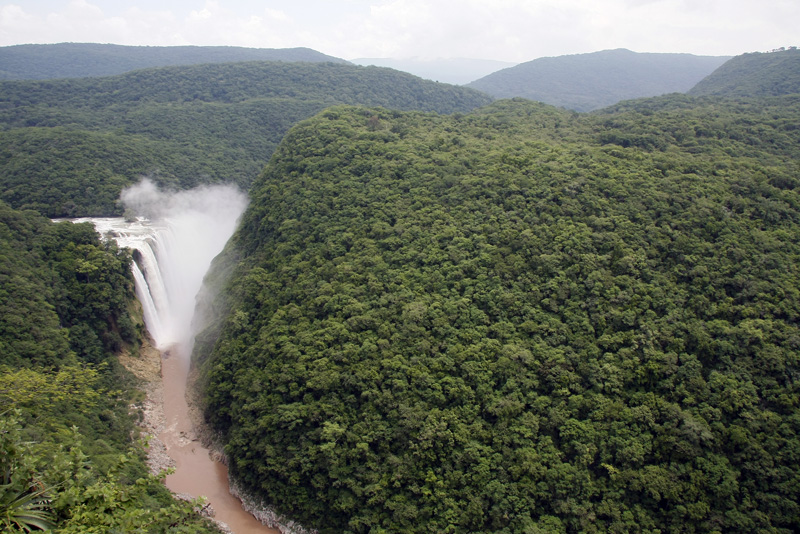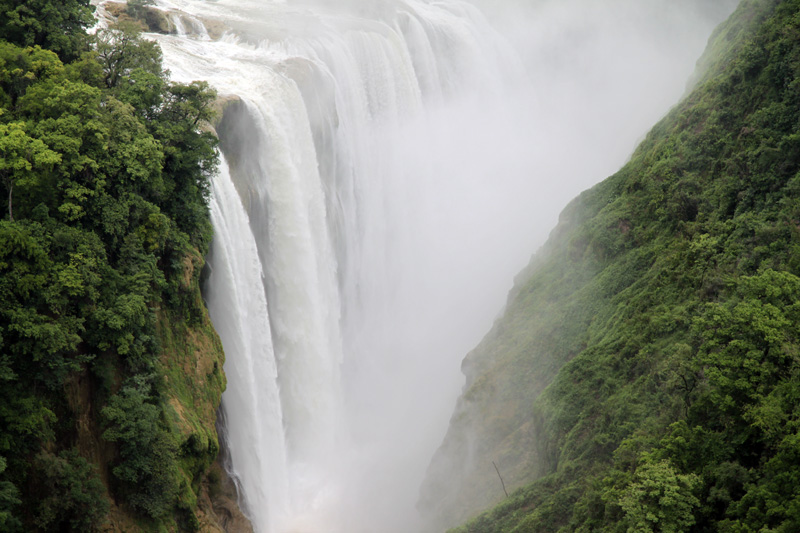 PdM did a magnificent job organizing this event...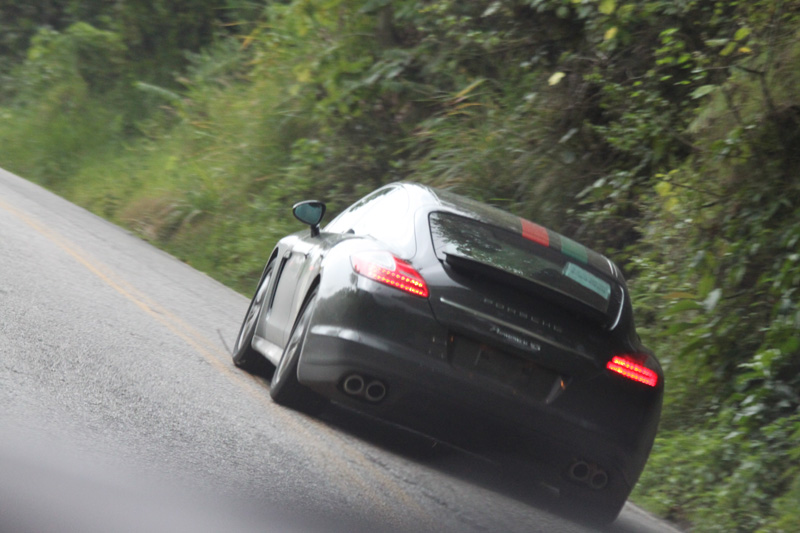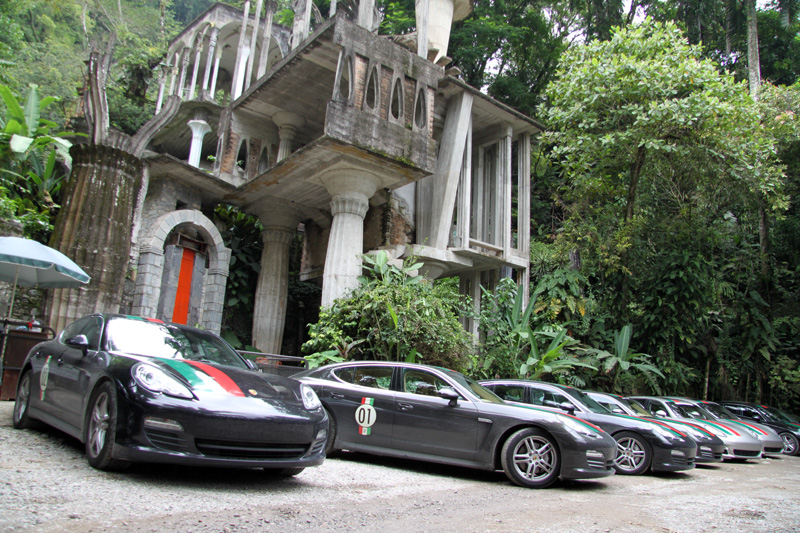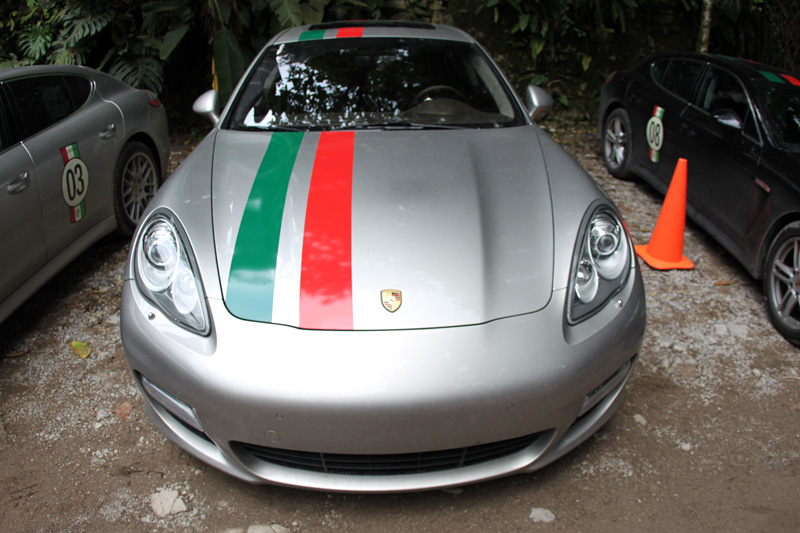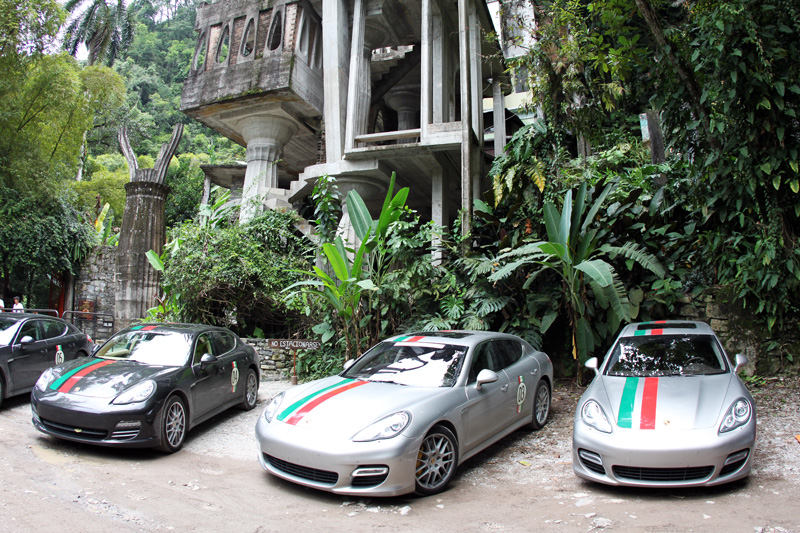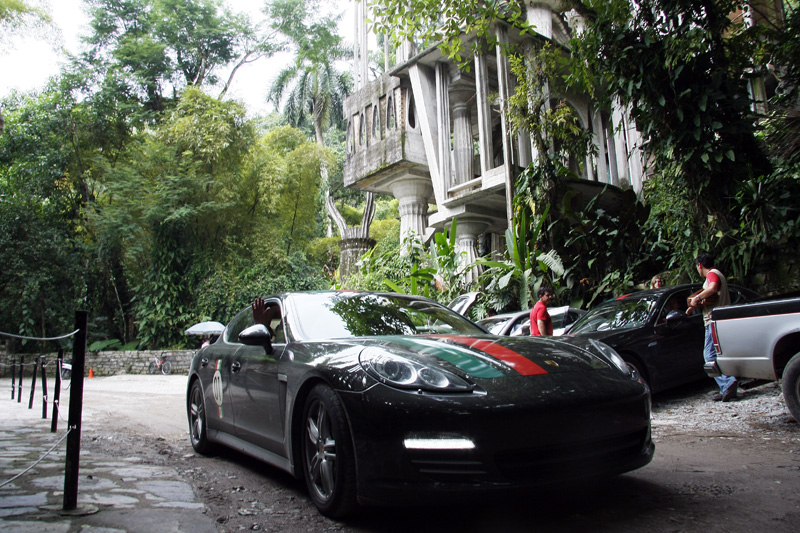 Time to continue our journey...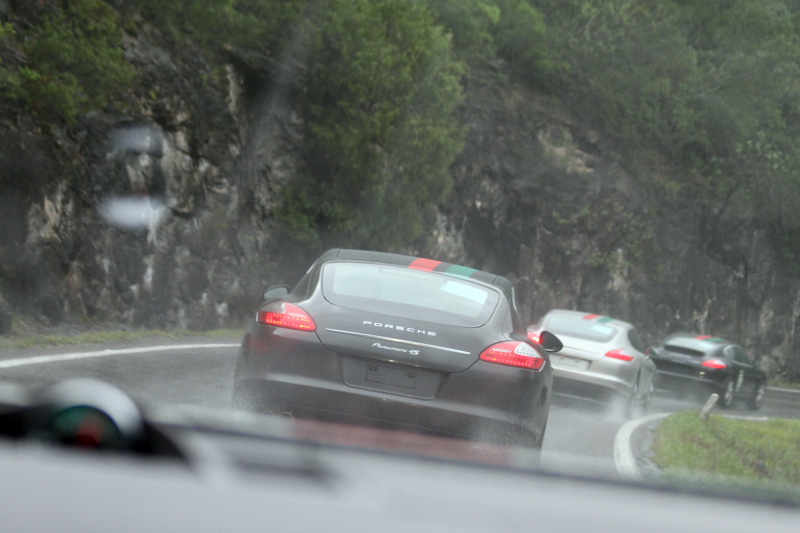 I little rain made things a lot more interesting, we started to push real hard and we can only conclude the Panamera is an amazing grand tourer...

The new Porsche Panamera is a grand tourer of extraordinary capabilities, handling is superb, speed is exhilarating and abundant, comfort is extraordinary... the Panamra proved to be a very personal car, for the individual who enjoys driving yet has the need of a four door car... the Panamera is at top of its segment and its going to be a tough act to follow for the luxury car manufacturers.