IPOC INDEPENDENT PORSCHE OWNERS CLUB

Newsletter 7 Porsche 997 Presentation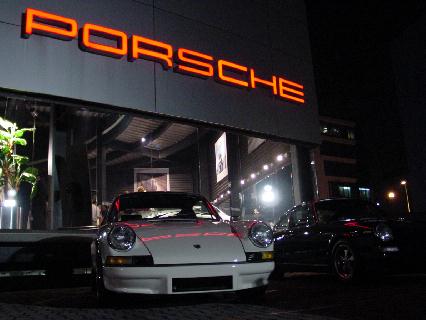 Welcome to our Newsletter 7 where we report on the Porsche 997 Presentation at Porsche Interlomas in Mexico City.

Porsche Interlomas is a outstanding multimillion dollar facility secluded in a high end residential neighborhood in Mexico City. Certainly the largest Porsche Dealer in LatinAmerica and probably within the top 5 in the world.

October 21st, 2004 was the launching date for the new 997 to the public as per Porsche de Mexico and Porsche Interlomas throwed a tremendous party where the IPOC was invited and present, now, lets check some of the action...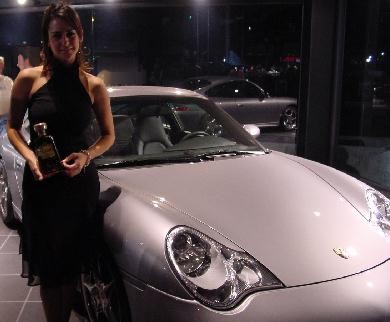 Beautiful women, plenty of Tequila and fast Porsches. The night started pretty good !!!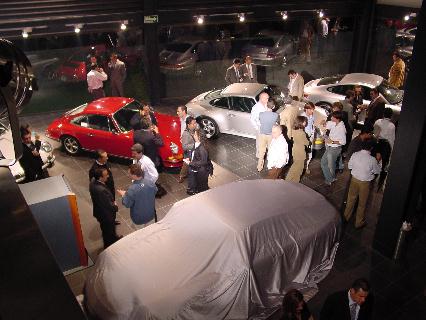 The ambiance at the party. 997 covered to be presented later on.

The party was just part of the fun, for every Porsche enthusiast fun was found at any of the other 5 levels of Porsche Interlomas, lets take a look at what we found...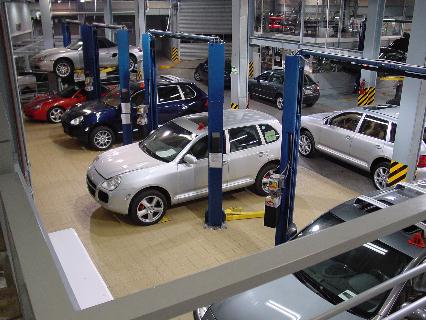 State of the art Service Facility. Simply incredible just to think this shop is well sinked below ground level, just the ventilation system must be a few hundreds of thousands. Zanzibar Boxster, quite rare in Mexico, I must say.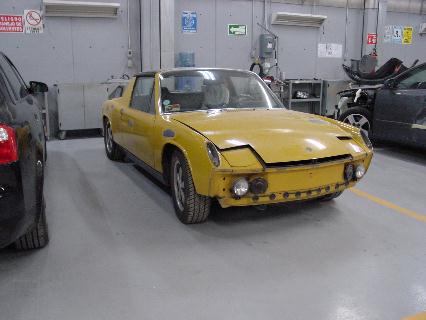 Porsche Interlomas attacks restoration projects as well. Owners are avid Porsche Vintage racers and collectors. So it is no surprise to find this project here as also employees such as Alejandro Segui are well known in the Porsche Vintage circuit.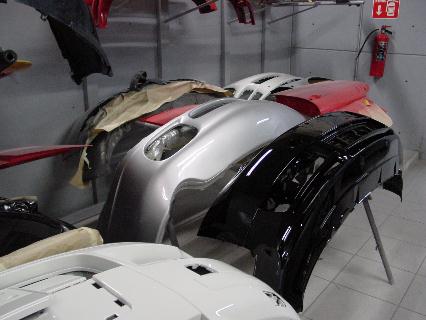 Body shop open late. What came to my surprise is that the body shop continued well into the night. I guess in a city of 25 million a 24hr body shop is a must.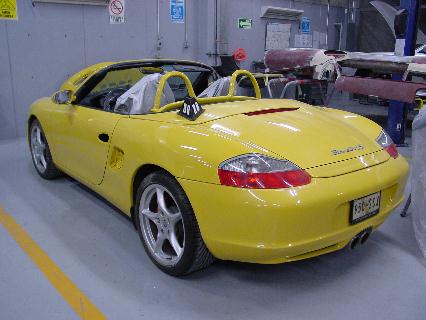 Boxster Hoops. Not a bad idea I might add, to get the roll bar hoops painted while car is in for a door repair. This type of ideas only come from people who work with cars and who know the brand, such people is found at Porsche Interlomas.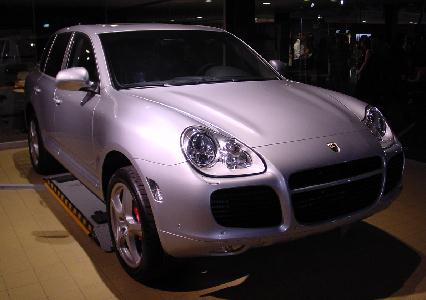 Ground Level, Service Area

The Porsche Cayenne was present for the 997 presentation. Here in Turbo form with "20 Sport Techno wheels, nice, nice, nice.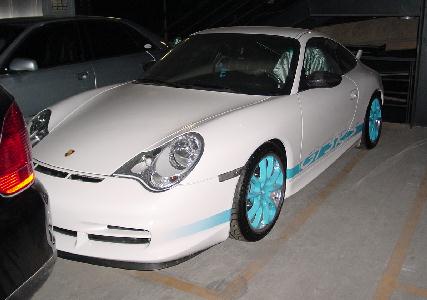 Look here, a true GT3RS found well hidden among the dozens of Porsches found at the top levels of Porsche Interlomas. I have to say this, really comes to no surprise now that among Mexican enthusiast you may find a GT1 owner or a mundane 959 enclosed in a collection. GT3RS just the cherry the cake.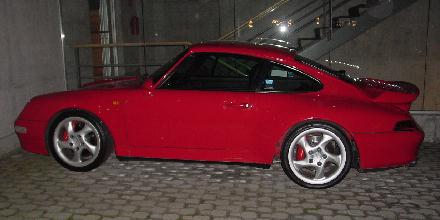 Owners Car? Well chosen 993TT hidden in a corner next to a private entrance. Plenty of Porsches parked outside, from  914 to 996TT and of course a couple of 993TT both Guards Red.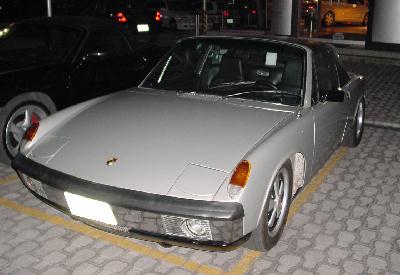 It was time to go back to the party and check out the new 997. And there it was !!! WOW 911 re-born...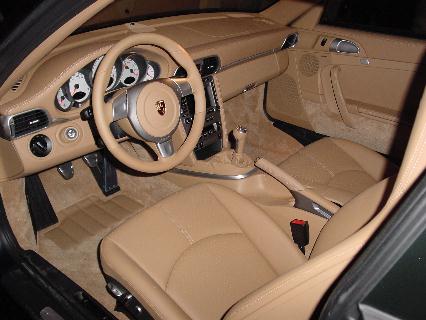 The interior is tremendously well excecuted. Well improved over the 996 are the now better spaced dials, wider well supportive seats and overall interior architecture. Dislikes still to be tested, weak plastic feel shifter and crowded with black buttons center console, simply confusing.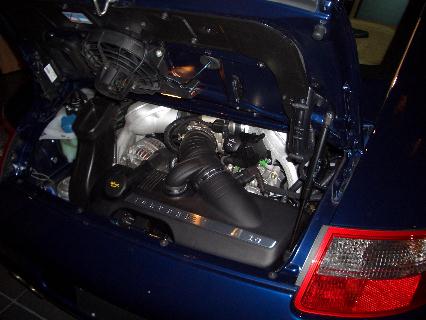 Engine sporting new airbox with Porsche letters, looks nice.

355hp for the S out of its 3.8L of displacemnt. 325hp from the 996 carry over 3.6L for the Carrera. The choice comes quite obvious, right.

Avoid the lethargic and antiquated 5 speed Tiptronic, yet another carry over and buy a manual 6 speed. Why Porsche? When other German manufacturers are already offering 6 and 7 speed autos as well as Sequentials and DSG's, Porsche decided that for its 21st Century 911 a 5 speed obsolete Tiptronic is just good enough. Here once again the choice is quite obvious.

The sound, all 911, simply an orchestra for your ears.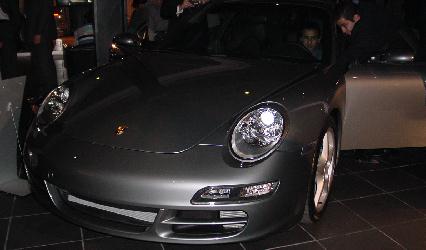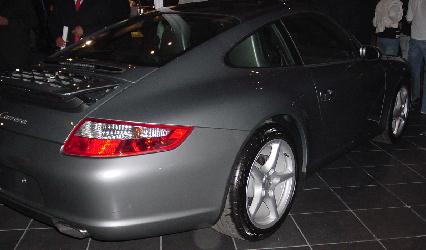 The front, nice and all 911. Photos don't do justice to the new 911, 997.

Rear, wide. As wide as a 996widebody. Well excecuted all 911.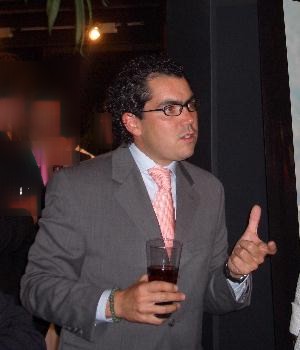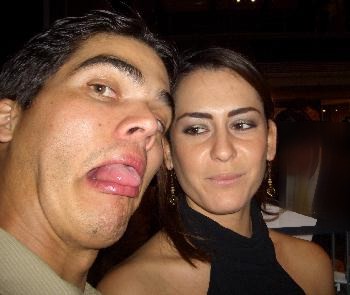 Show me the Money !!! The man of the hour, Victor Ortiz, General Manger of Porsche Interlomas, closing the deals, 997's SOLD !!!

I think "Fast Keke" Cortes found a new girlfriend...

Photo: "Fast Keke" Cortes

Photo: "Fast Keke" Cortes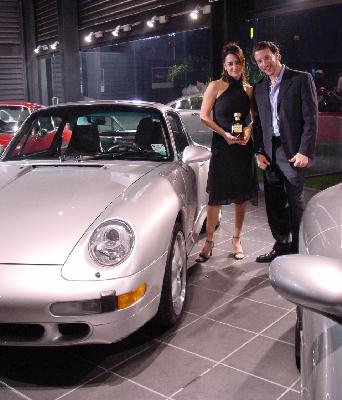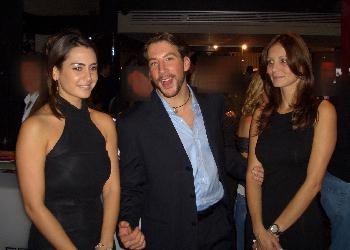 Our RennLister friend decided to jump in the action and used our model for a nice photo with his unique in Mexico 993 C2S.

Photo: "Fast Keke" Cortes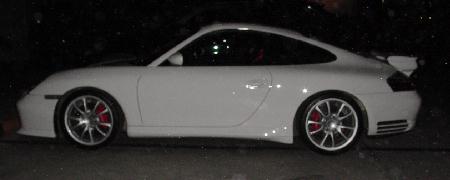 The evening ended with an impromptu IPOC gathering in the Burger King across the streets where we talked about Porsche's for yet another two hours.

IPOC members talk fluent Porsche.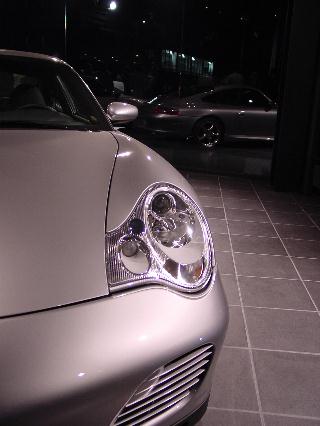 I would like to thank the Uribe family, Owners of Porsche Interlomas for having us.

To our Host for the evening, Victor Ortiz. Thanks Victor we had a great time, you did good.

To IPOC members for showing promptly, we had a great time together talking about Porsches.

All in all a great evening enjoying Porsche cars, good food, plenty of Tequila and beautiful women.

Photo: "Fast Keke" Cortes