IPOC INDEPENDENT PORSCHE OWNERS CLUB

Newsletter 81 Porsche Boxster Spyder - Presentation + Shoot

The Porsche Boxster Spyder was presented in Mexico during the Speed Day 2010. This new limited production iteration promises exciting driving experiences as weight has been reduced, power increased and Porsche engineers have worked their magic throughout the chassis.

Many magazines think this is the continuation of the Speedster as presented back in 1989 in wide form and in 1994 in 964 narrow body but as the name itself explains this is an Spyder not an Speedster. The Speedster theme has the low windshield as central theme on the car, the 1989 version was presented on a widebody iteration ala 930 and not much more was done aside the cowl cover in the back for the 1994 964 narrow body version weight reduction was part of the game and lightweight items such as the Recaro buckets seats and RS door panels were included, of course a low windshield was present as well as the cowl cover, both of the Speedster were and are a highly coveted models.

Back now to our current Spyder based on the 987 Boxster it presents itself with a reduced weight, higher power output and chassis magic worked by the engineers at Porsche giving as result a tremendously exciting iteration of the current Boxster. Speedster is not as it presents the regular windshield. Spyder is as it is practically roofless. See it the way you want to see it the new Boxster Spyder is light, fast and fun...

...let's check out more of the Boxster Spyder!!!

We would like to thank David Tizcareño from Porsche de Mexico for helping us organize this shoot in such short period of time, this shoot was actually improvised and very last minute but in the end I think everyone enjoyed it and the photos coming out of the shoot are simply great, so thanks David as we also thank Andreas for going with the idea and helping us getting everything ready for us to shoot.

As always we had great fun at the Speed Day and the Boxster Spyder shoot was the cherry on the cake, thanks and until next time...

¡¡¡ VIVE TU PORSCHE AL MAXIMO !!!

Frissen Gutierrez

Porsche Specialist & Porsche Owner since 1992

...classic 987 architecture with some nice details...

...RS door handle is superb!!! superb!!!

How about a few more shots...

Photos by:

Frissen Gutierrez

Manuel Caballero

Here it is, Boxster Spyder...

We missed the actual presentation as we were shooting the Speed Day inside the track so upon arrival we found an empty white box with a Boxster Spyder in it, all to ourselves... we started shooting...

Showing us how the top works... this would be our catalog pic.

...directing and shooting....

...wait a minute, what's that on the door?

...ok let's try another angle... ooohhh nooo again!!! a background distraction...

...something is in our shot...

...our girl liked the Boxster Spyder so much she wanted to take it home with her... sorry this one is already sold...

...we manage to convince Andreas Jessa, Marketing Manager for PdM to pose for our camera and managed a great shot...

...we took a small brake and the girls decided to review the shots done so far... Spyder & Girls.

Lightweight wheels, big brakes...

Time for a small break...

...nothing too special really but wanted keep it on record... nice shot BTW...

...our girl seems interested in the interior let's take a look...

...let's do a few more shots... enjoy...

The Boxster Spyder shows its big brakes through the very nice and lightweight wheels...

Certainly the Boxster Spyder promises to be a high performer just standing still looks great I can only imagine it on the road... only a few lucky owners will get to enjoy the new Porsche Boxster Spyder, to those few, congrats and enjoy :)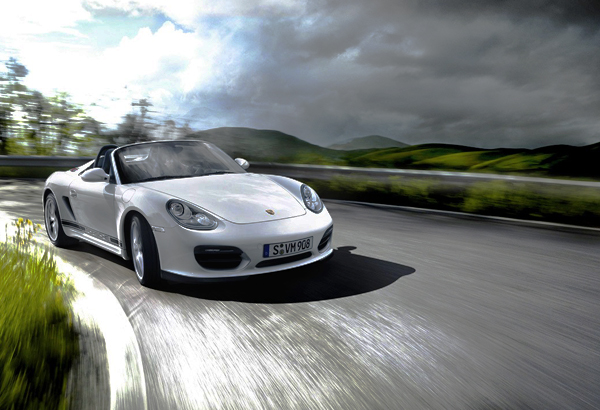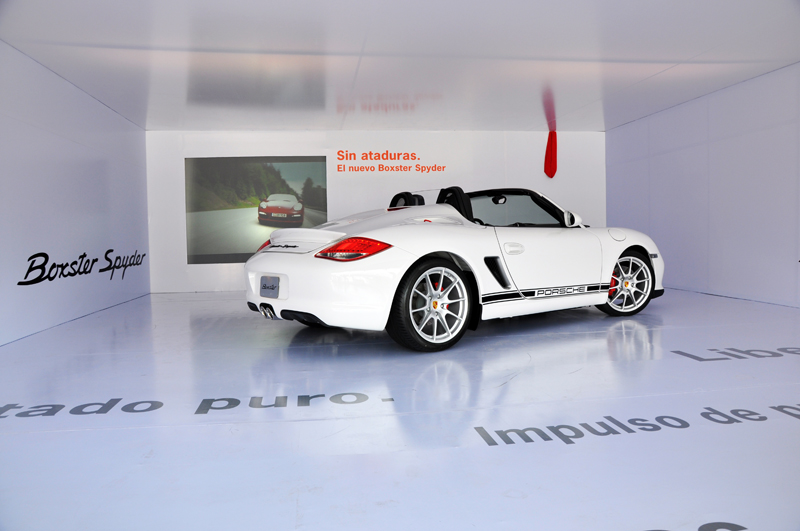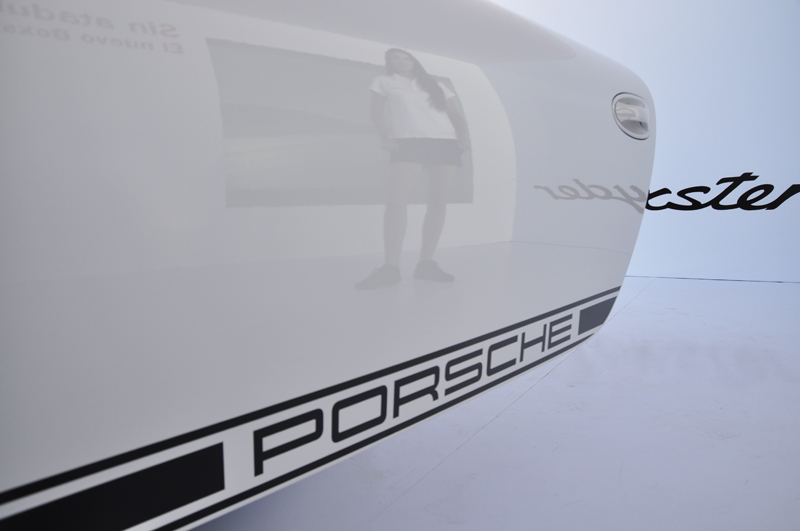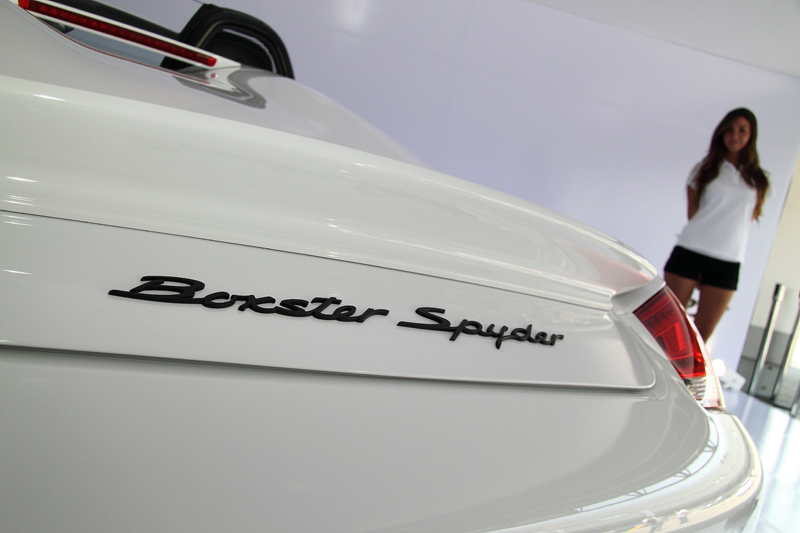 ...wait a minute, what's that in the background?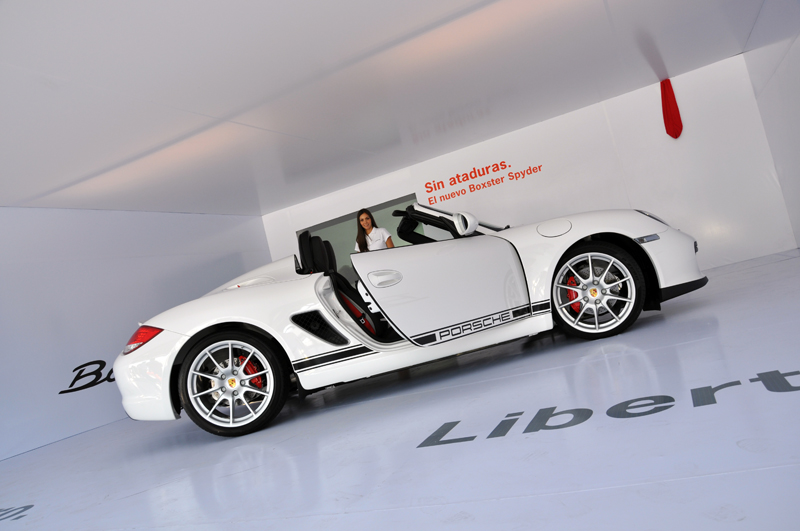 what!!! again??? can one shoot without background intromissions?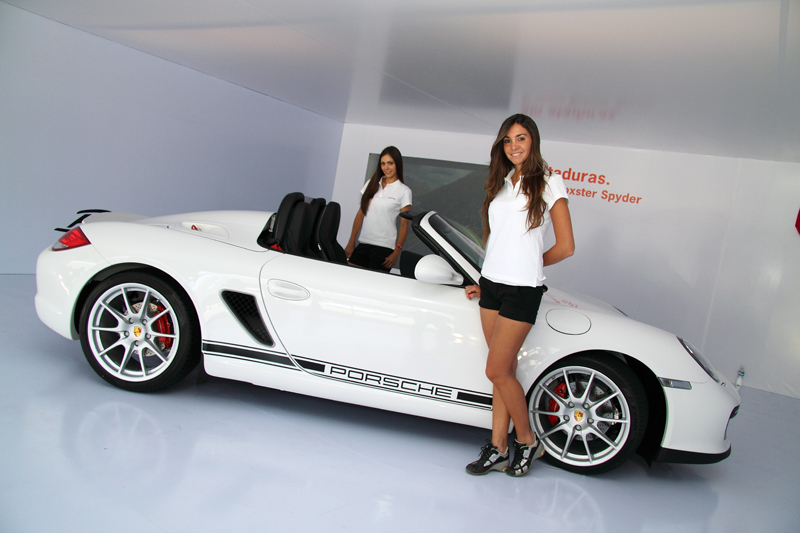 ok, let's bring the girls up to frame then...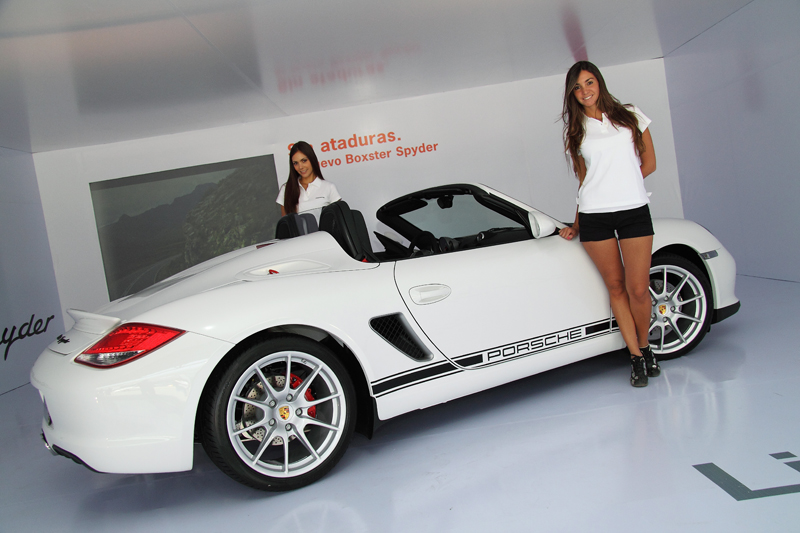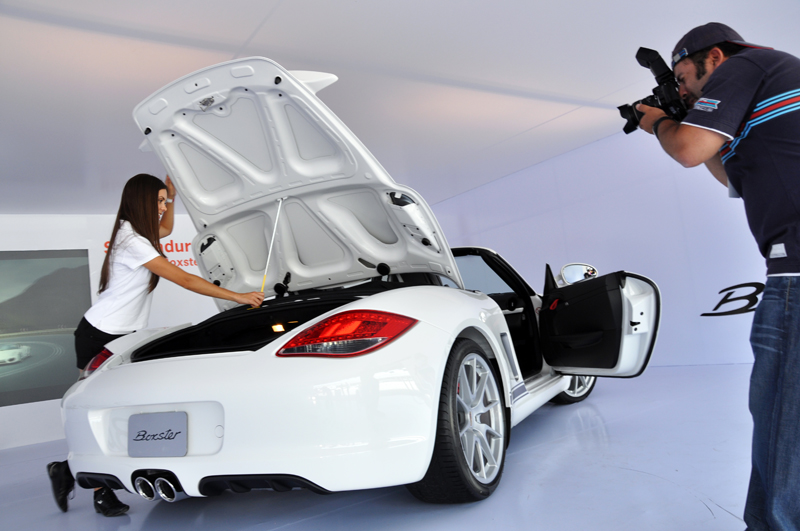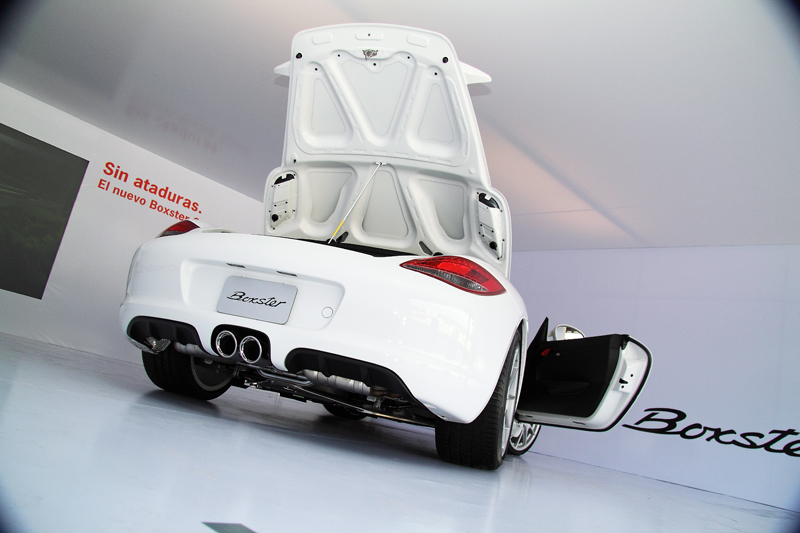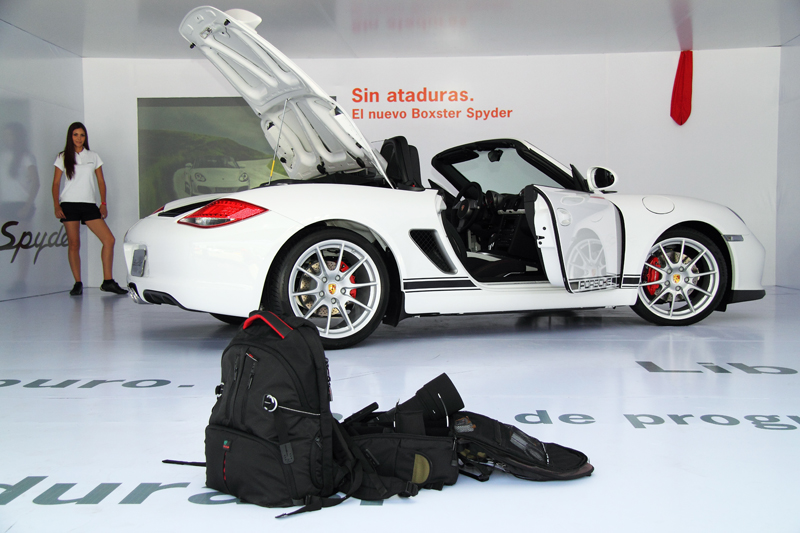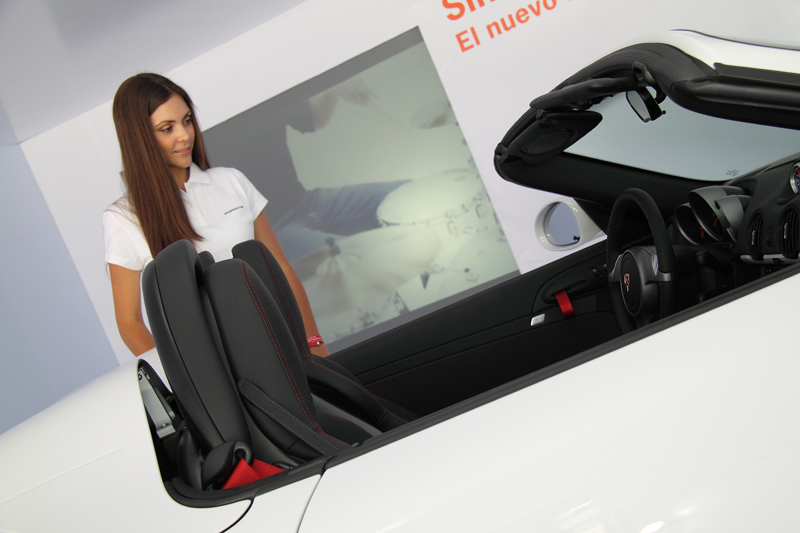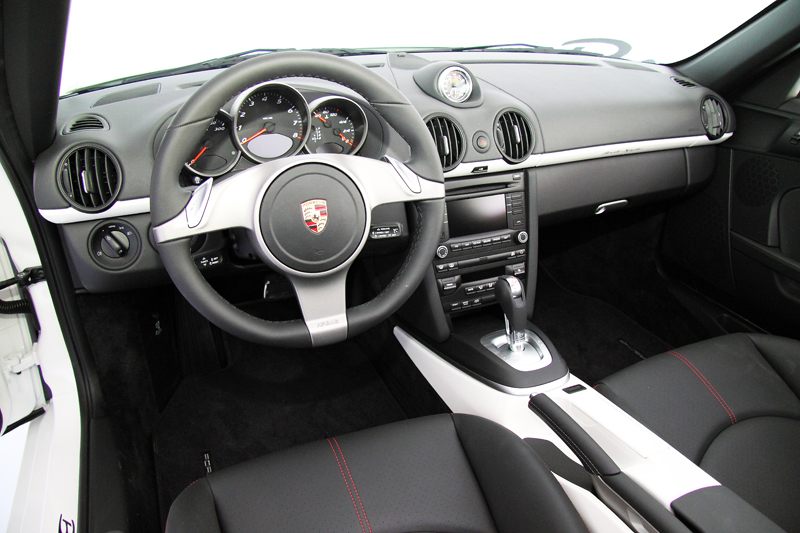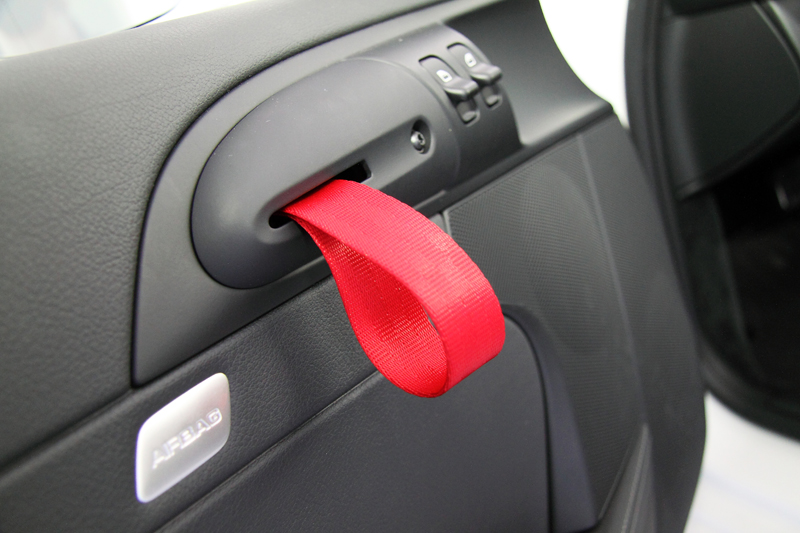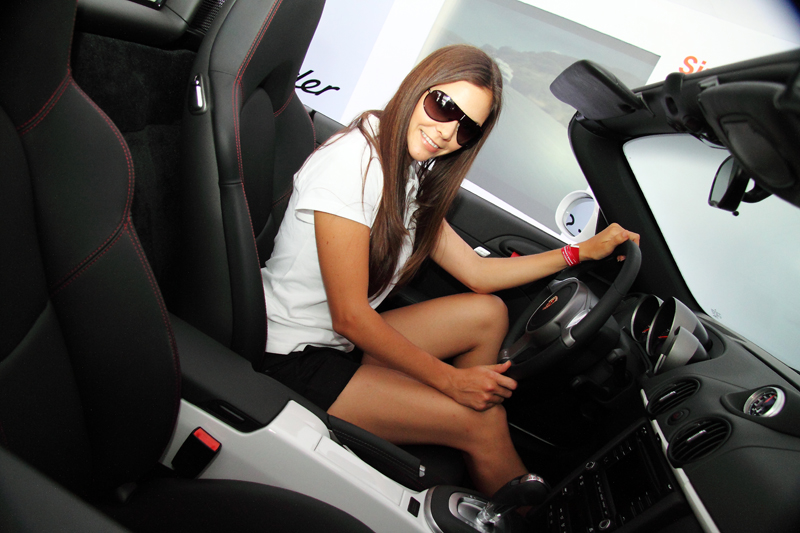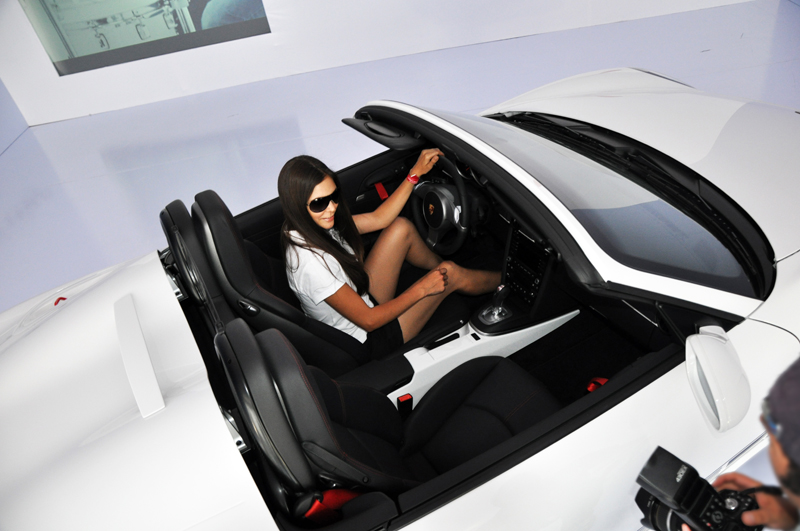 ...she like the interior, time for some shots...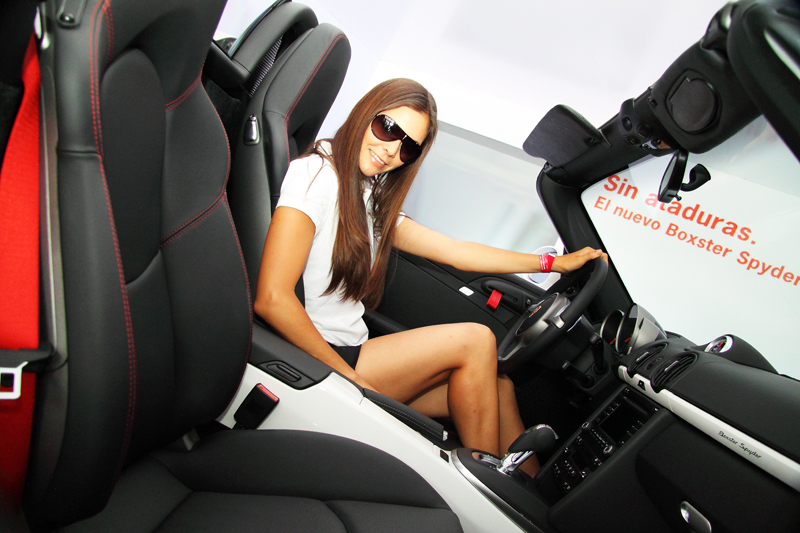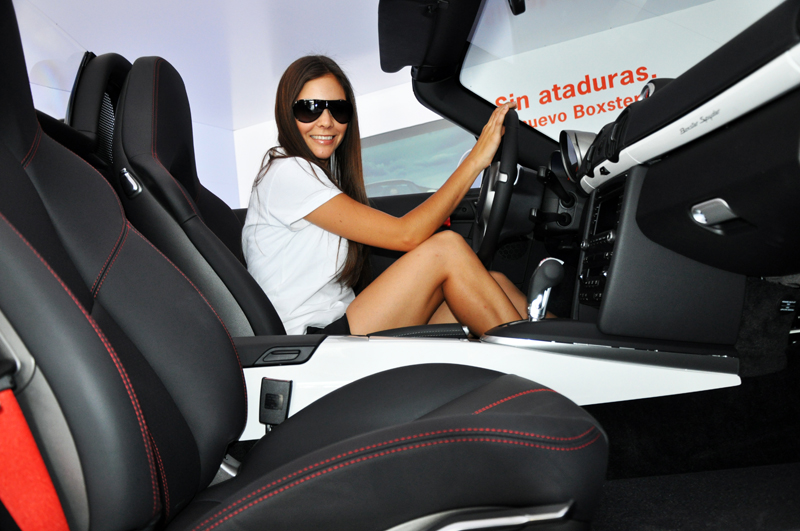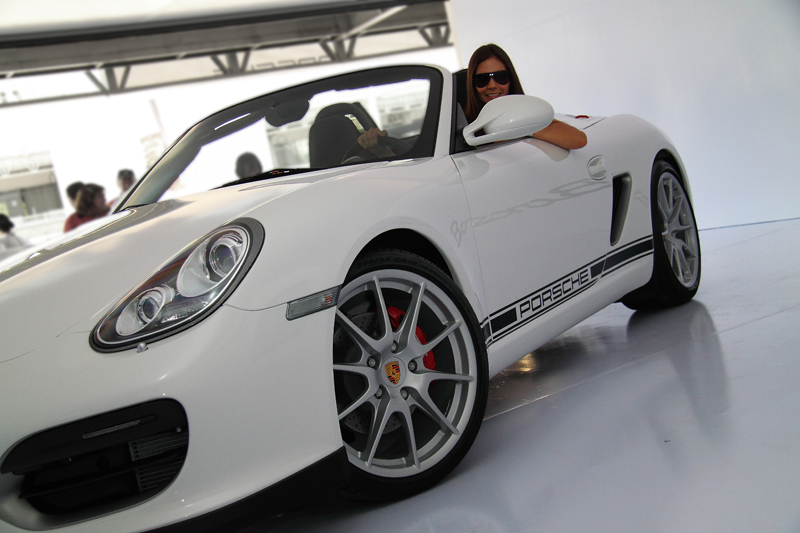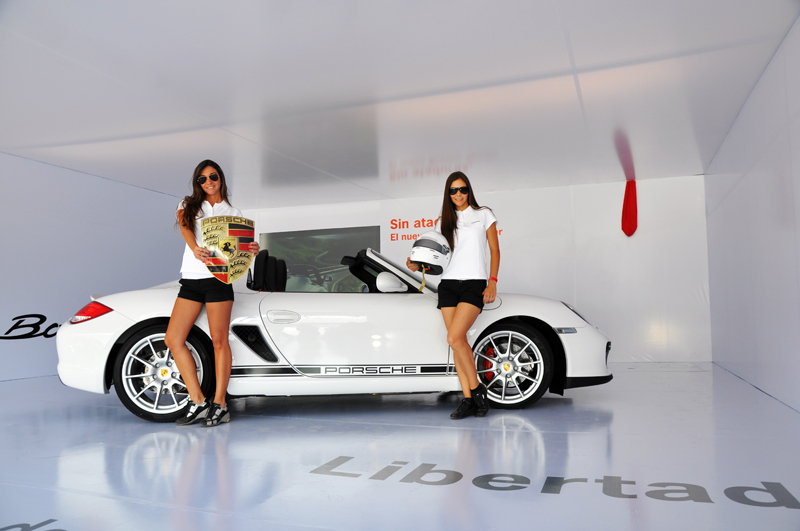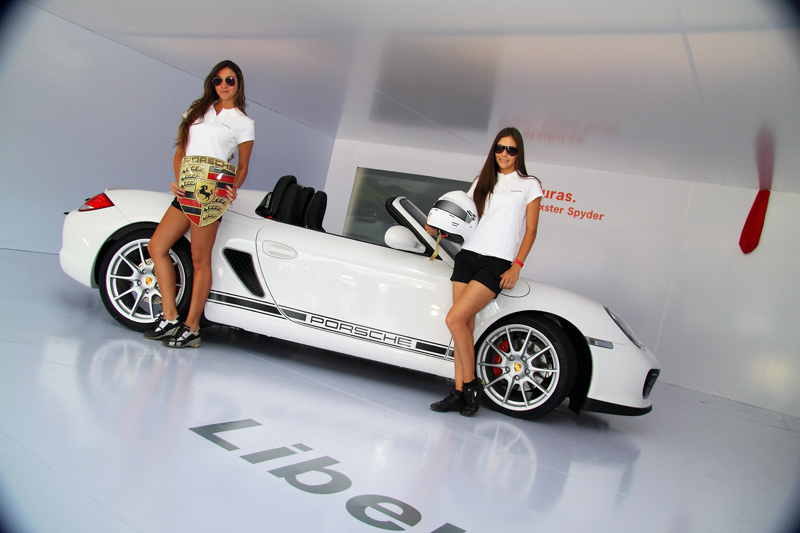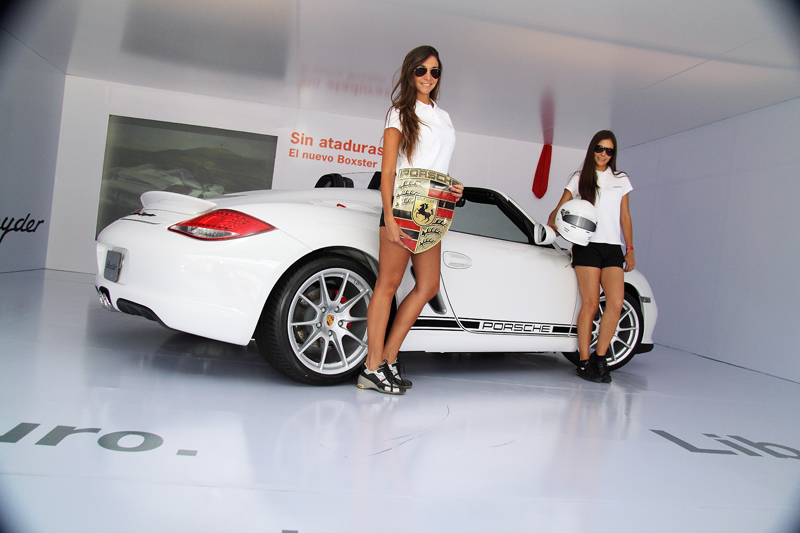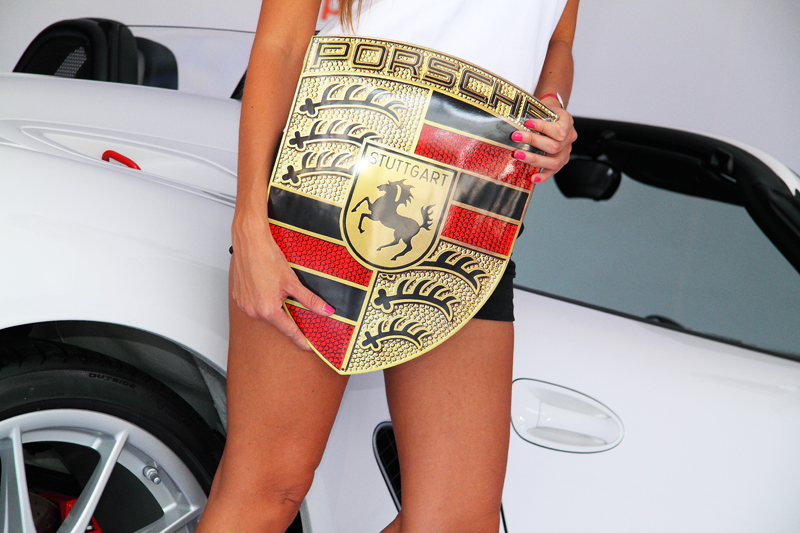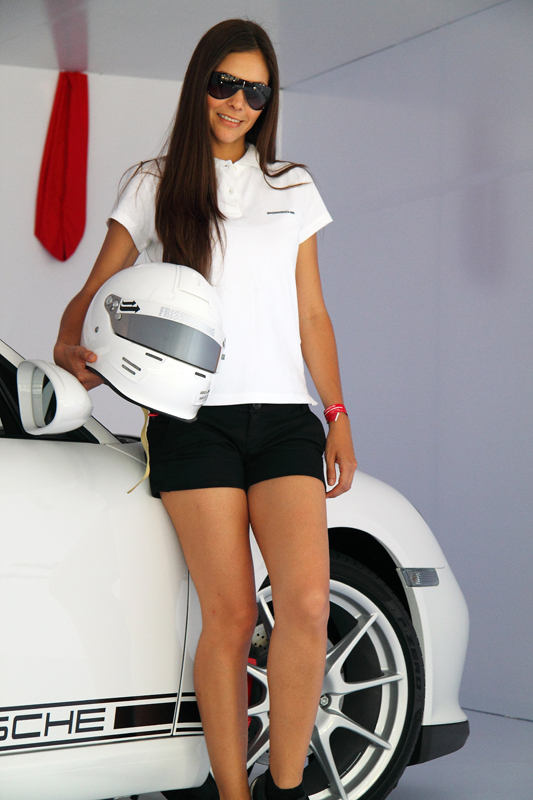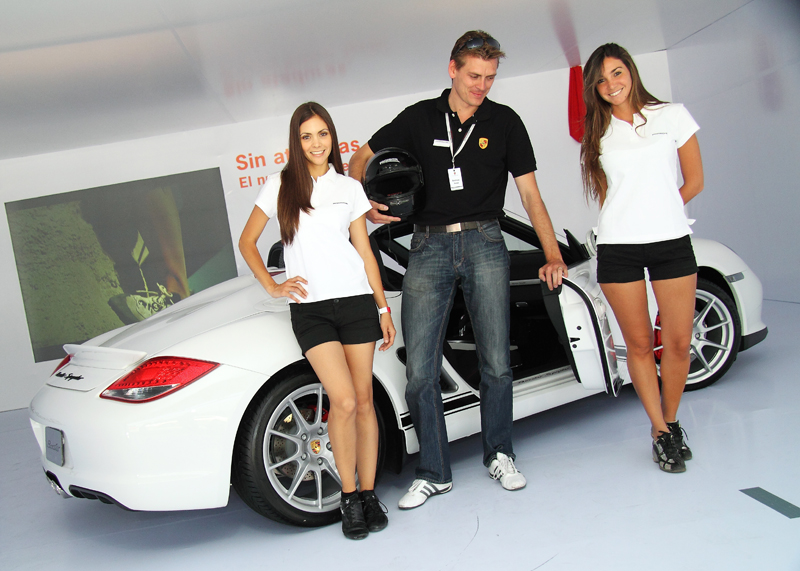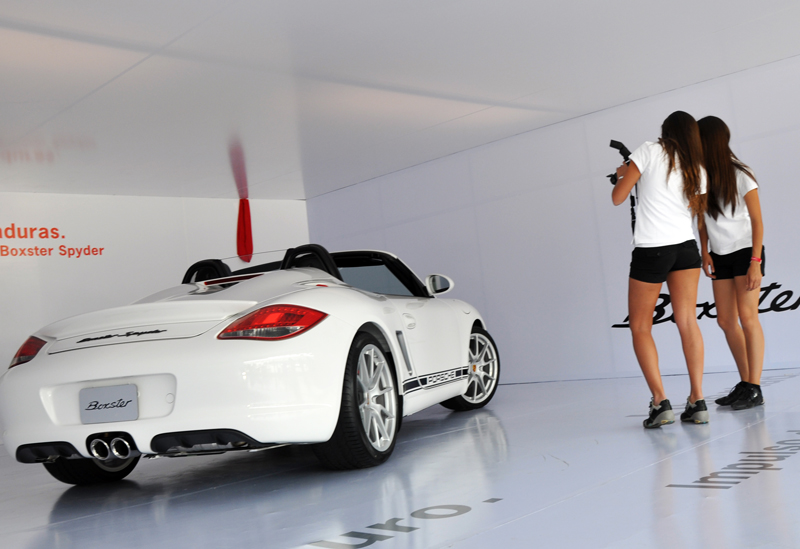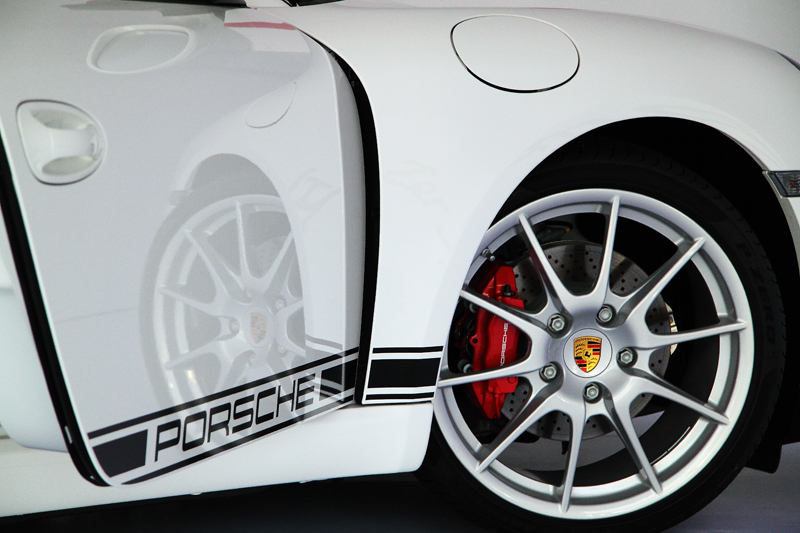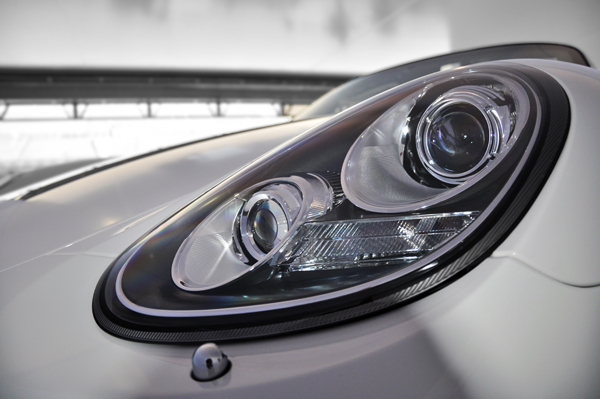 ...nicely done, thanks!!!