IPOC INDEPENDENT PORSCHE OWNERS CLUB

Newsletter 96 New Porsche Boxster typ 981 Presentation - Houston

The new Boxster typ 981 is here, North American dealers had the chance to showcase and present it to the public starting the last week of June 2012 so we headed to our local dealers to check out this 3rd generation Boxster.

The new 981 Boxster promises to be the ultimate fun roadster, after seeing what Porsche did with the 991 we can already tell without doubt that is all that and even more, SLK and Z4 get out of the way because the new Boxster is here!!! ...fast, fun and all Porsche!

We didn't want to miss a moment so first we headed to Porsche of West Houston for the presentation of this new 981 Boxster and as expected this was lots of fun... then we headed to Porsche of North Houston for the ultimate test drive... so no more words and...

...let's check out the action!!!

The New Porsche 981 Boxster is simply fantastic as expected, its got everything we ever wished on a Boxster, tremendous lines, superb interior, its hella fast and ubber composed...

We thank Porsche of West Houston/Diane Brown for the invite to their Beach Party Presentation we had a great time, Porsche of North Houston/Gerald Tito for the opportunity drive and enjoy the new 981 Boxster and last but not least Porsche Cars North America, thank you for a fantastic introduction to the new 981 Boxster.

With a new 991 and a new 981 we can only expect a year full of fun, wait for our future reports and until then...

¡¡¡ VIVE TU PORSCHE AL MAXIMO !!!

Frissen Gutierrez

Porsche Specialist & Porsche Owner since 1992

Photos by:

Frissen Gutierrez

Taken with Point & Shoot camera

Porsche of West Houston...

...and the drinks started to flow at the open bar...

...for our test drive of the new 981 Boxster we headed to Porsche of North Houston!

...North Houston is a top notch facility...

..."de rigueur" covered new Boxster, ready for its presentation... despite arriving a few minutes early everything was ready for the Party...

...service department at Porsche West Houston always ready to attend all your Porsche service needs!!!

...time to go as we had one Porsche Club Member well past his bed time... all in all a tremendous presentation party... we did enjoy it a lot!!!

...we never thought feasible to play ping-pong in a Porsche showroom... guess we were completely wrong :)

Simply pick your favorite Porsche...

...wow!!! I loved this Agate Gray with Pebble Gray combination, it really looks amazing!!!

...the refreshment center at Porsche North Houston features an Starbucks espresso machine!!! reason enough to visit Porsche of North Houston and have a FREE cup of java... allright!!! Starbucks!!!

Let's get this party started...

...a view of Porsche West Houston, white pannys everywhere!

...dj with drummer... good music is always a good start!

...checking out the features... one thing to note is build quality, the new Boxster feels solid with exceptional materials...

...what the hell happened to the bargain Porsche???!!! ...ouch :/

...keys were handed down to us and we were ready to fly...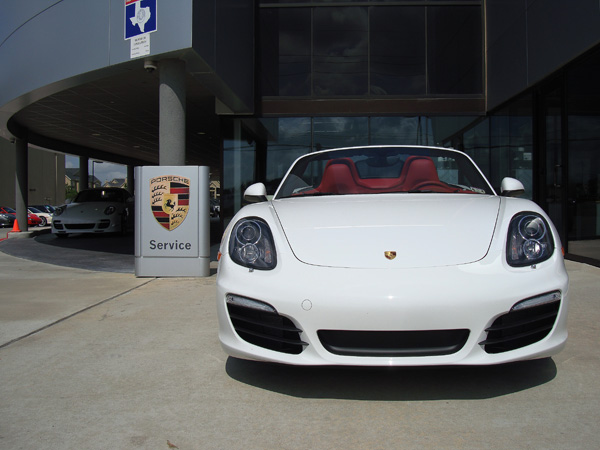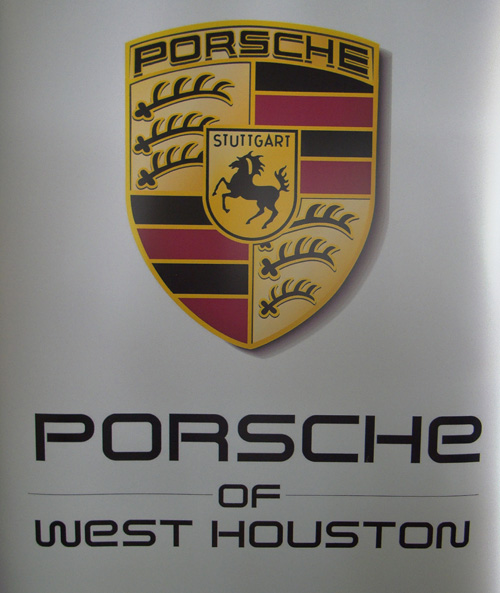 First stop, Porsche of West Houston to attend a Beach Party as part of the 981 Presentation...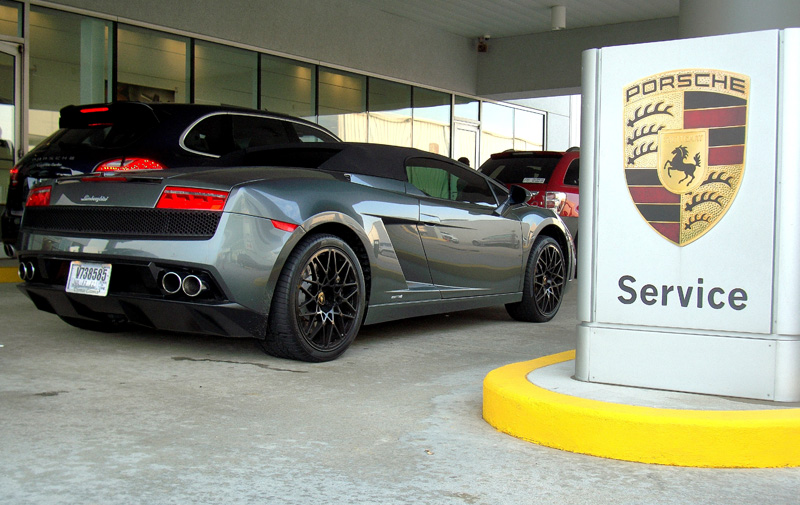 ...it is always important to arrive in style!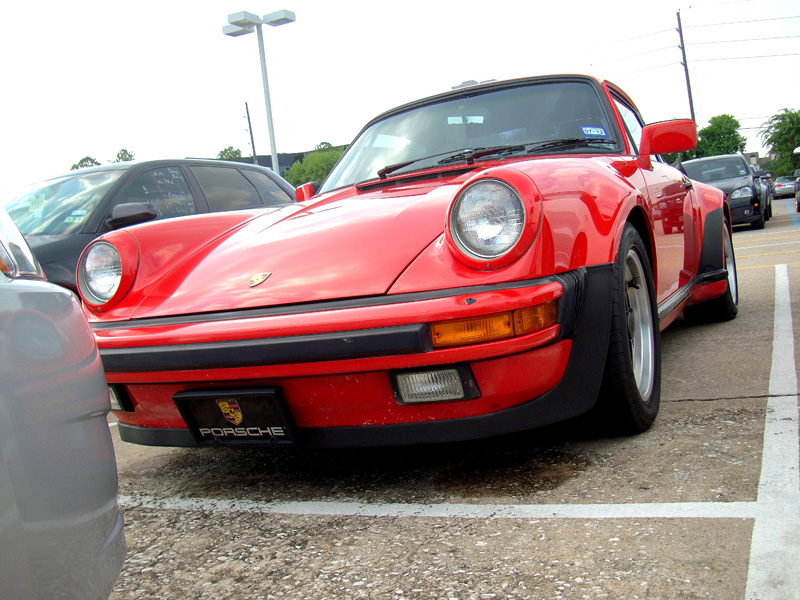 ...we parked next to a correct Guards Red 930... NICE!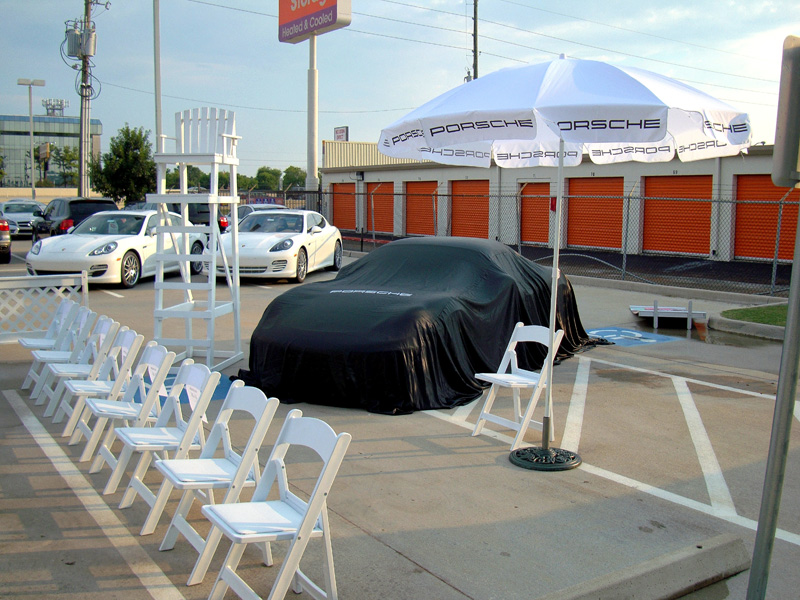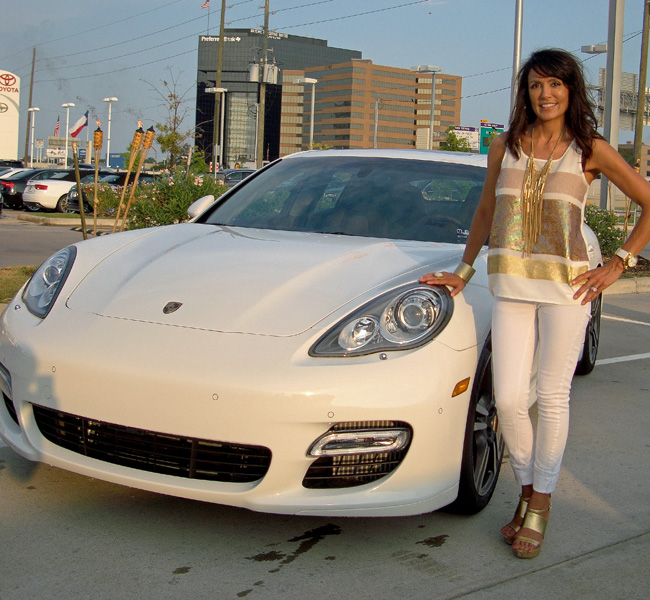 If anyone knows how to throw a party is Diane Brown from Momentum/West Houston Porsche... attention to detail was simply as expected, SUPERB!!!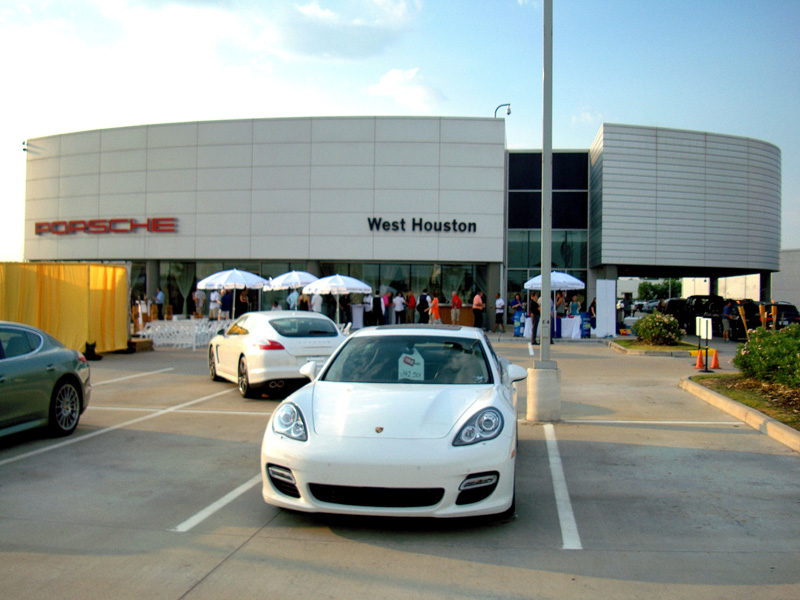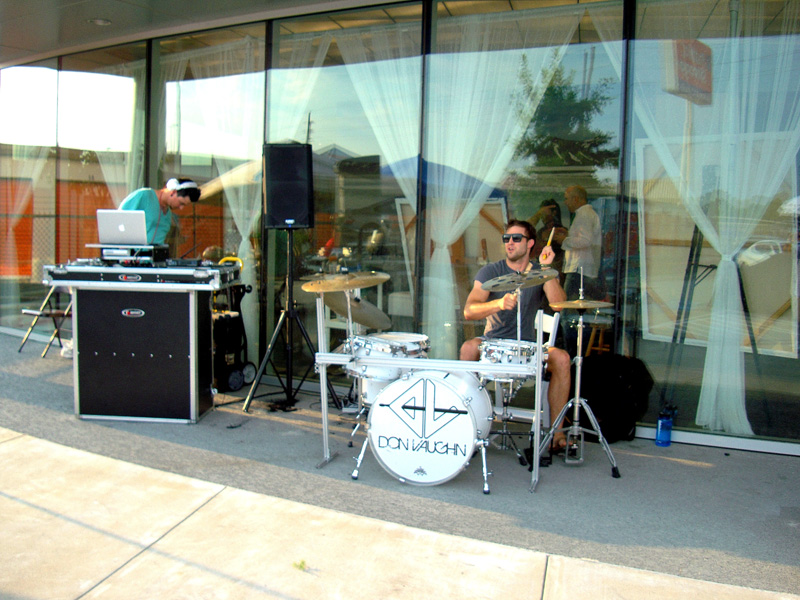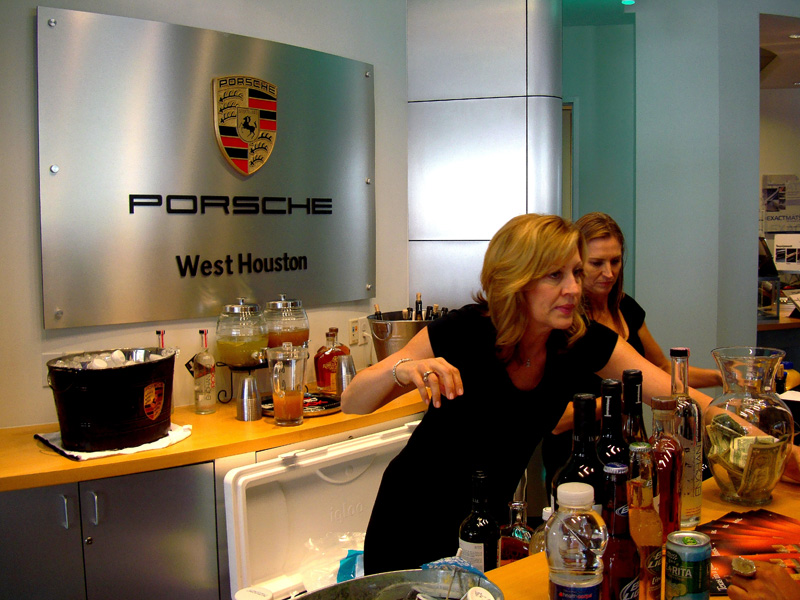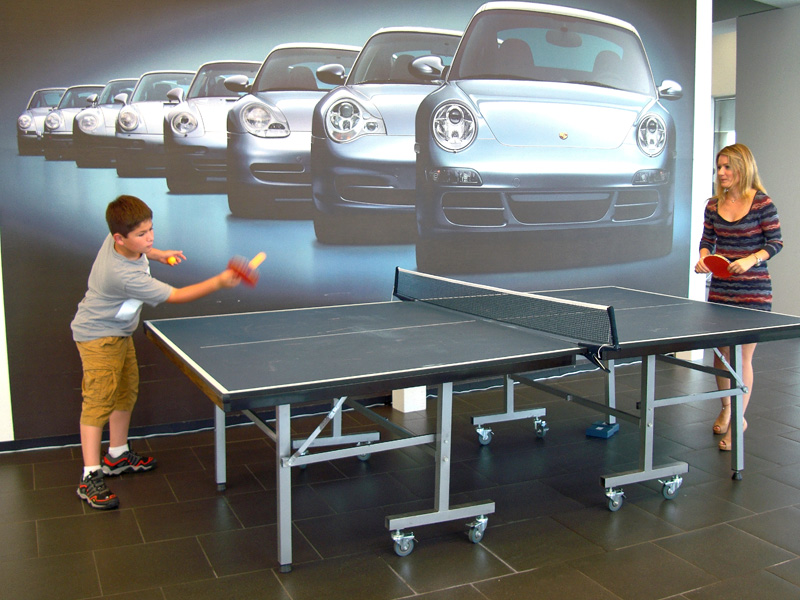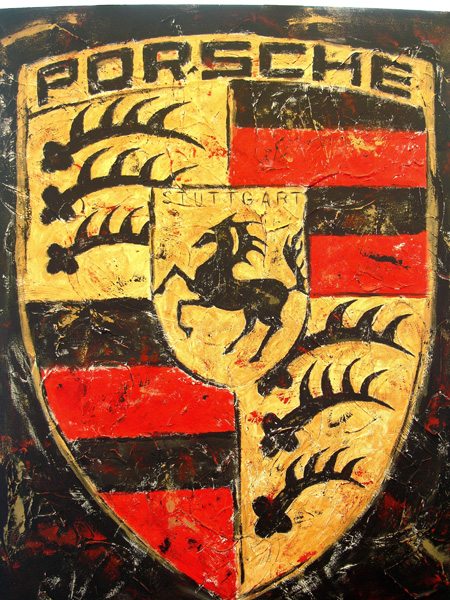 ...how about some Porsche Art live!!! the artist was there giving the finishing touches to your own likings... this one I loved!!!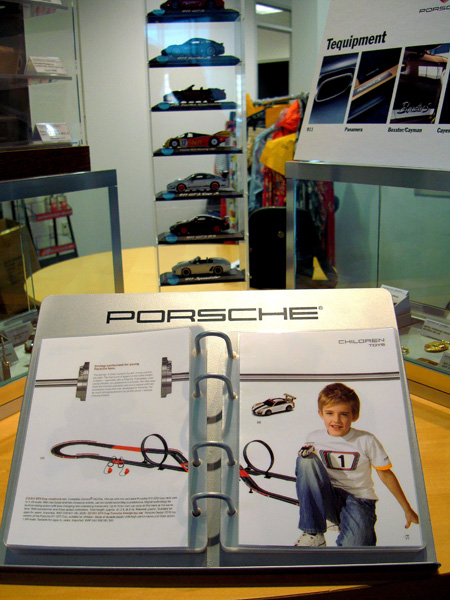 ...this is how the parts department looks at Porsche West Houston... Tequipment a plenty :)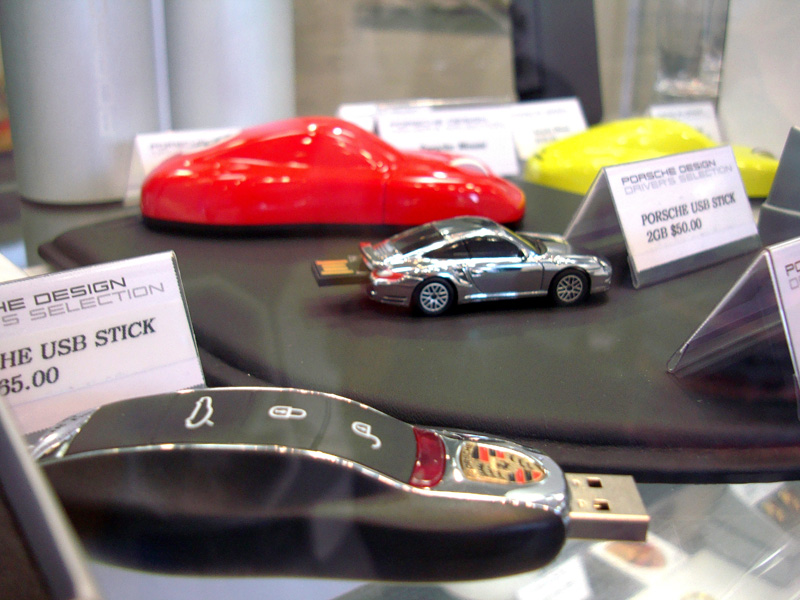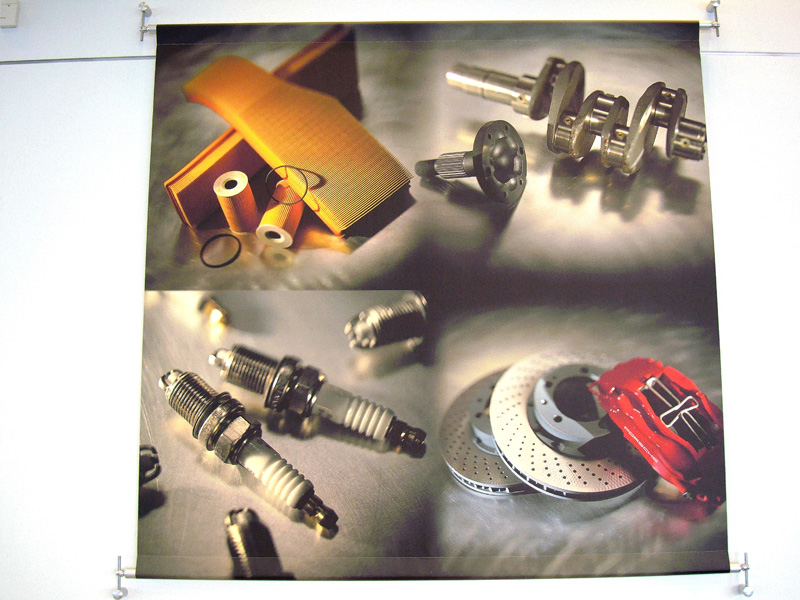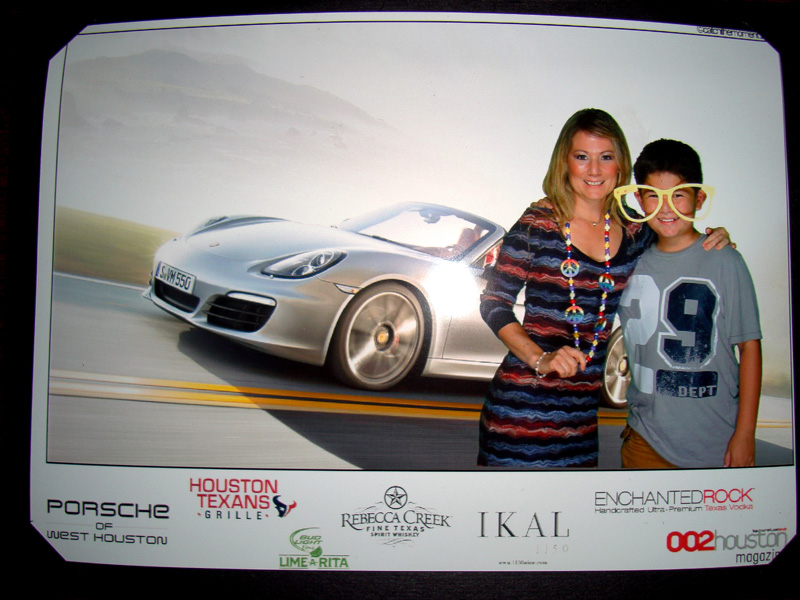 ...the photo booth proved to be lots of fun, dress up, try your best pose and have your pic taken with the new Boxster!!! everyone had fun at the photo booth!!!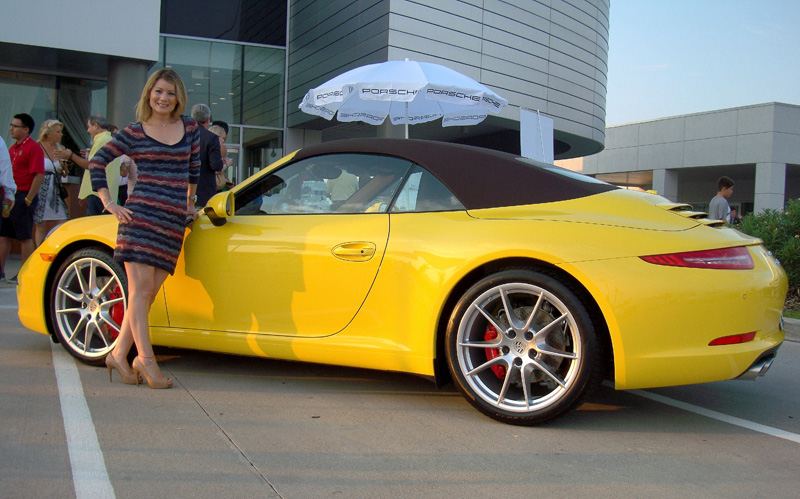 ...outside the party was going strong... open bar to pick you favorite drink or grab a freshly grilled premium burger or simply pick your favorite Porsche... who said you can't have it all :)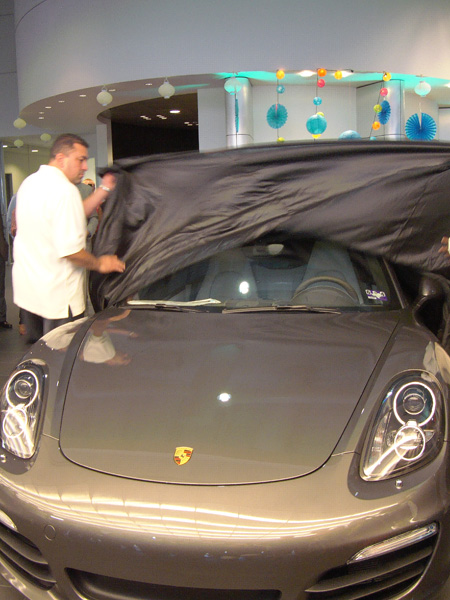 ...well the time we were all waiting for... and here it is!!! The brand new 981 Boxster!!!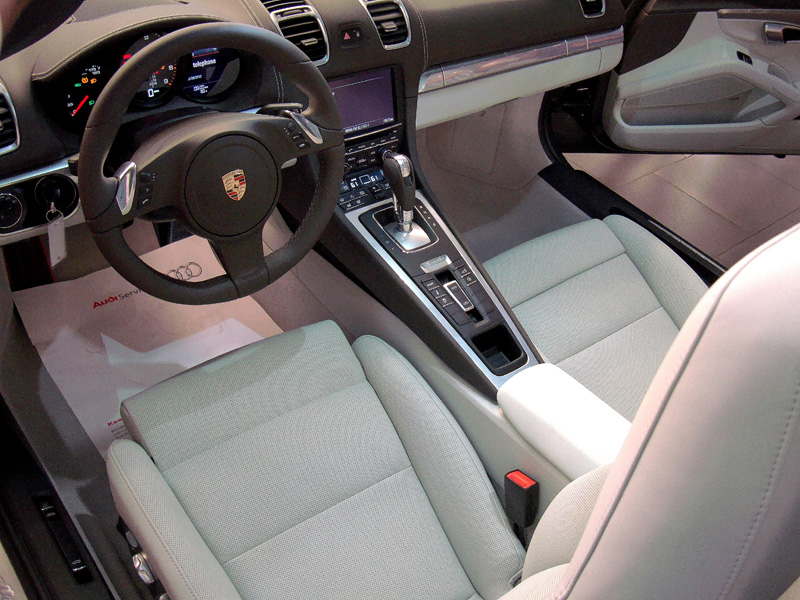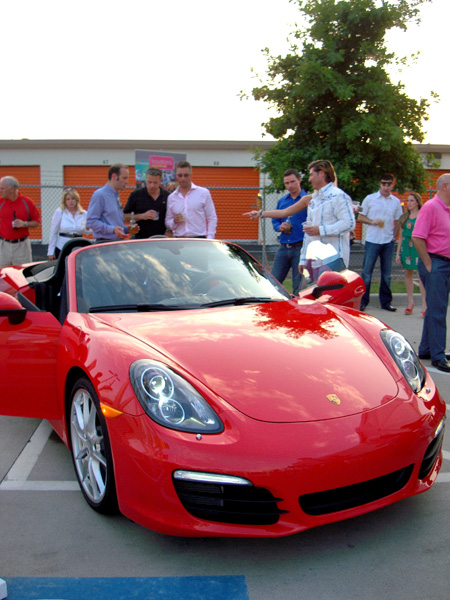 ...the new Boxster was the talk of the town... marvelous in Guards Red!!! love the deepness and tremendous shine the water based paints bring now...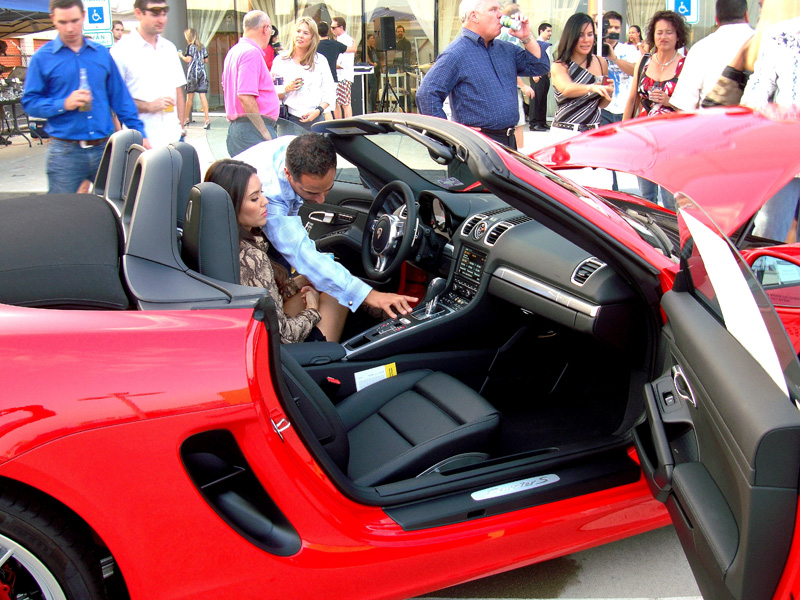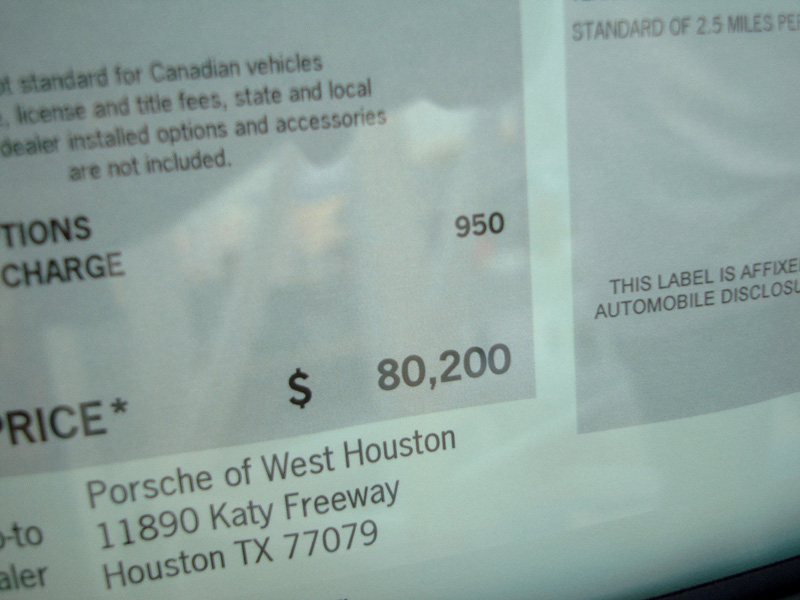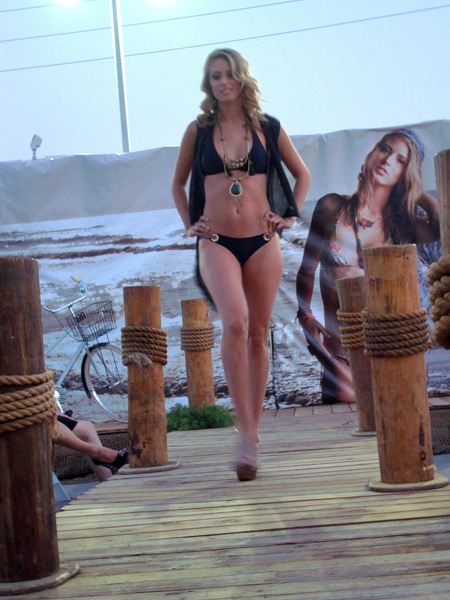 ...time to move on with the party... its now time for the fashion show!!!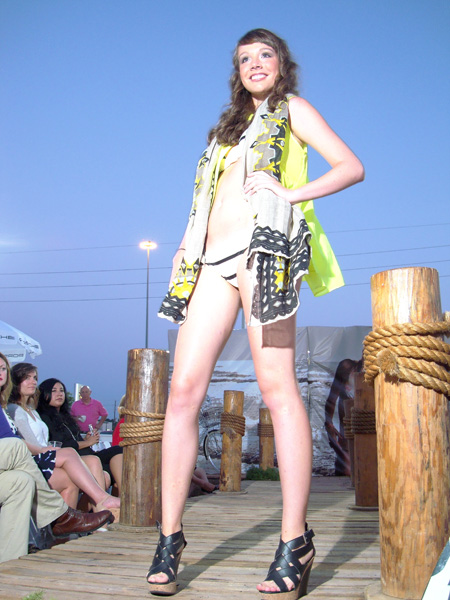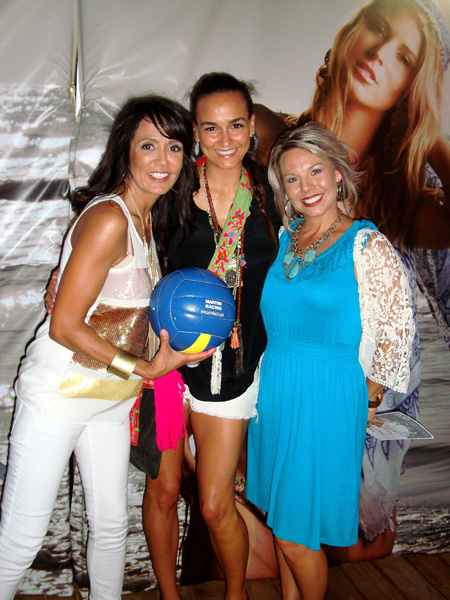 ...our host Diane Brown headed the charity raffle where some very nice Martini Racing items were to be won... Karla Valencia from 002 Houston Magazine drew the lucky numbers!!!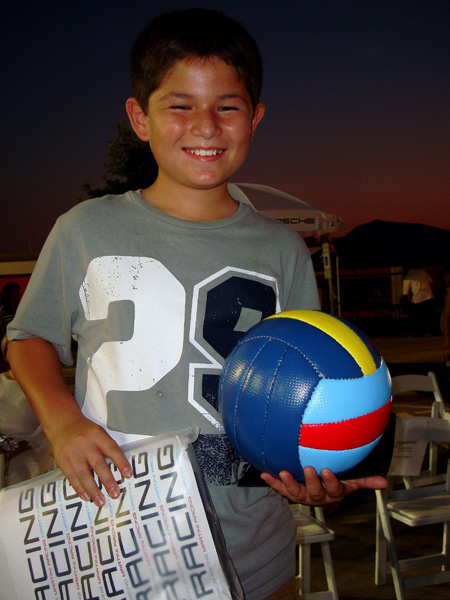 ...no other than the Porsche Club Puebla!!! fervent Porsche fan Daniel took the honors to pick up our prizes!!!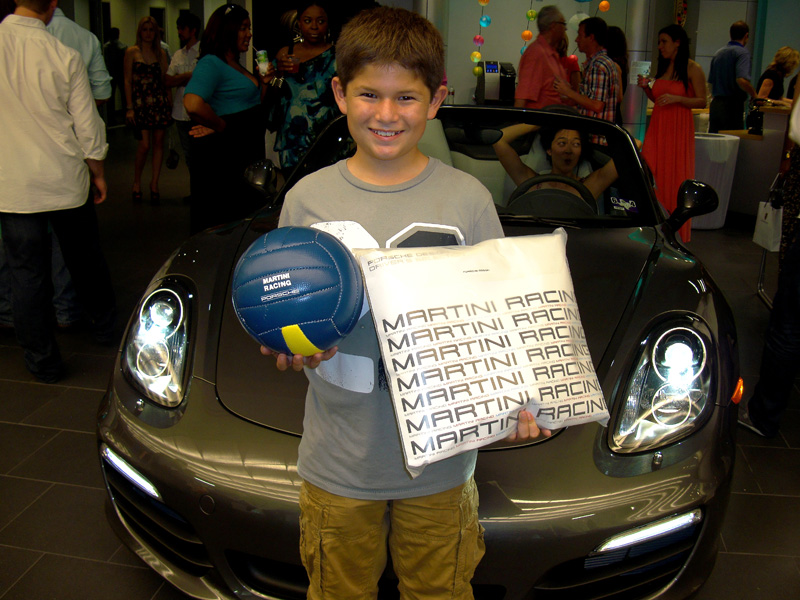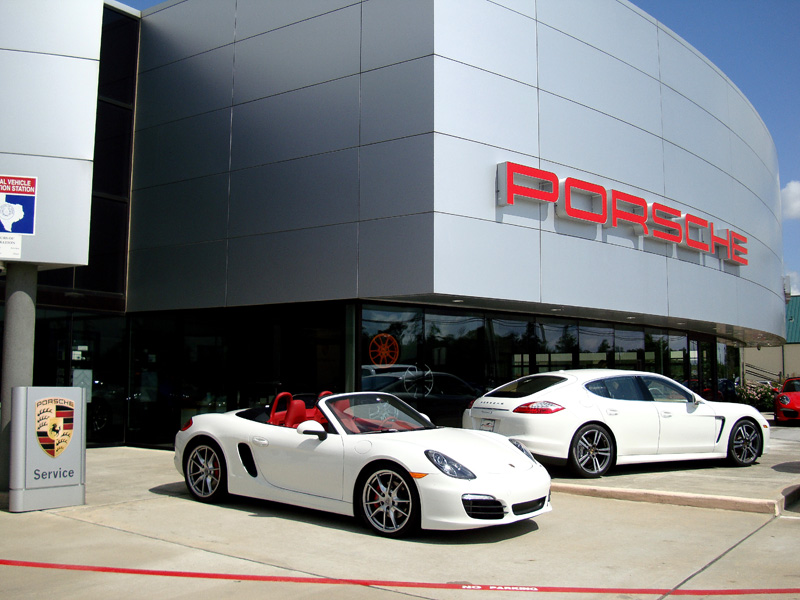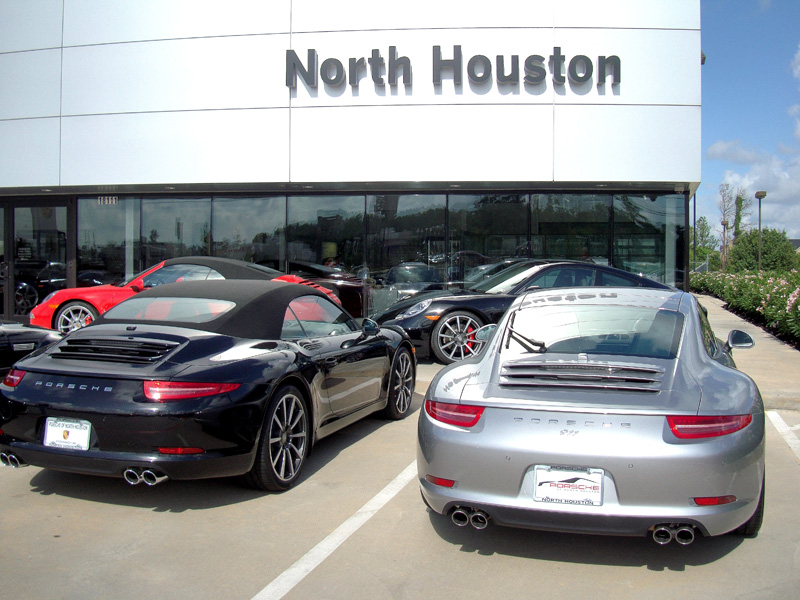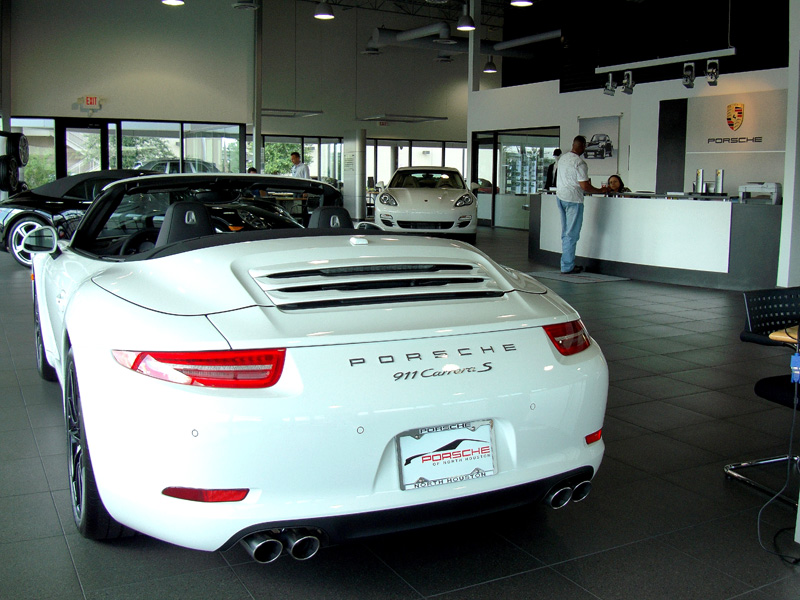 ...a look inside Porsche of North Houston...

...customer lounge at Porsche of North Houston a nice place to stay...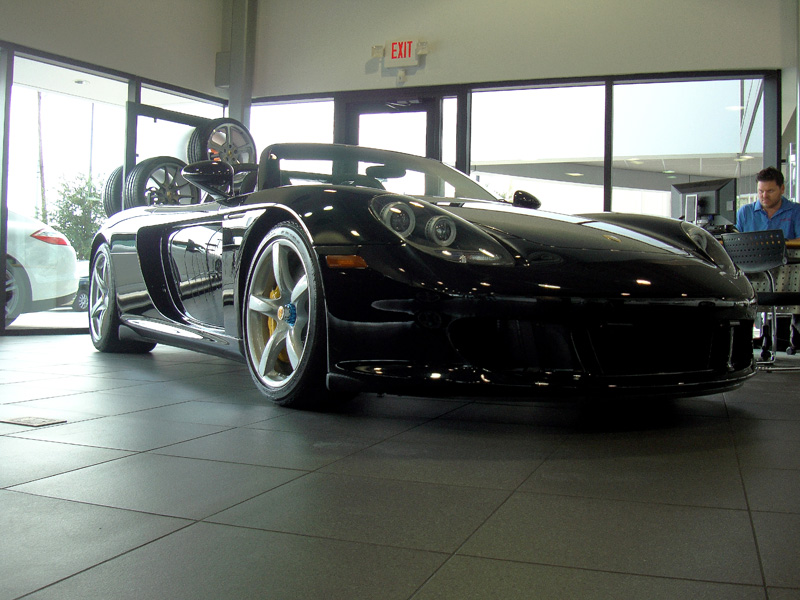 ...or take a closer look at the Porsche variety at Porsche of North Houston...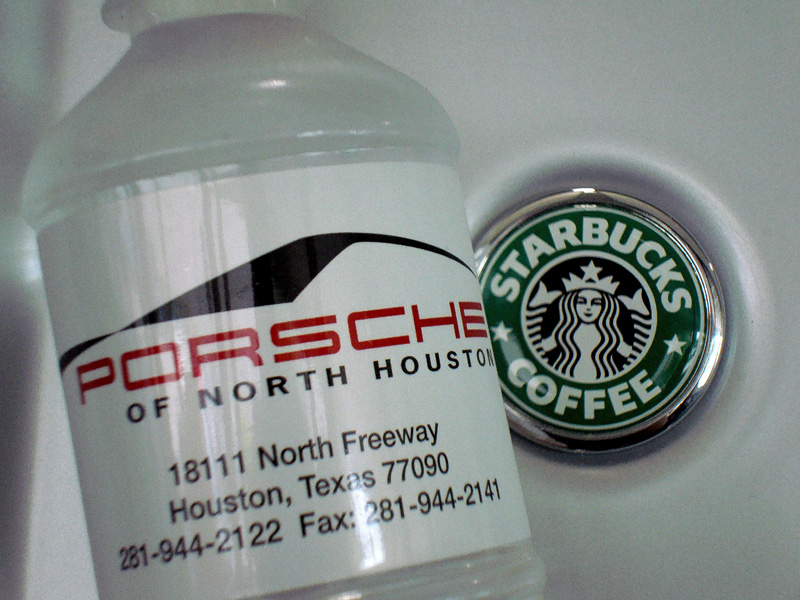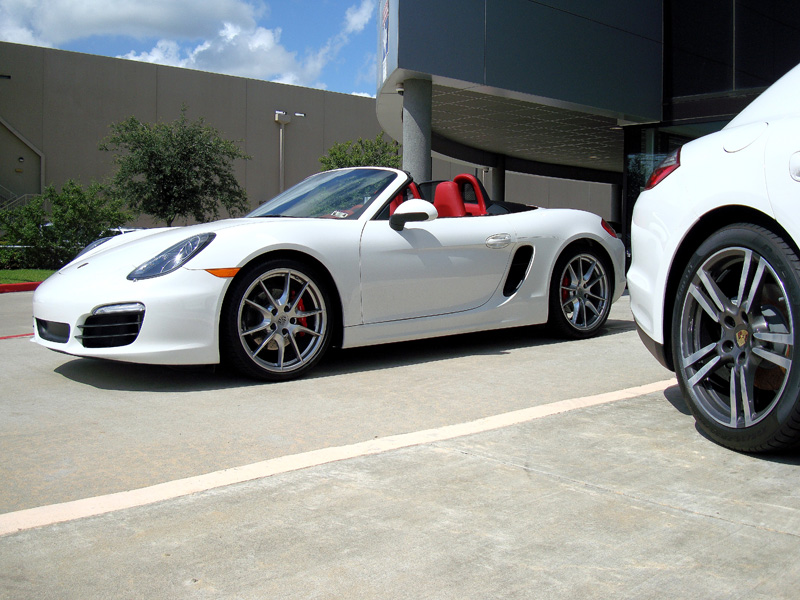 ...upon arrival Porsche North Houston already had our ride for the day ready, a brand spanking new Boxster S... special thanks go to Gerald Tito sales consultant at Porsche of North Houston who had everything ready in record time!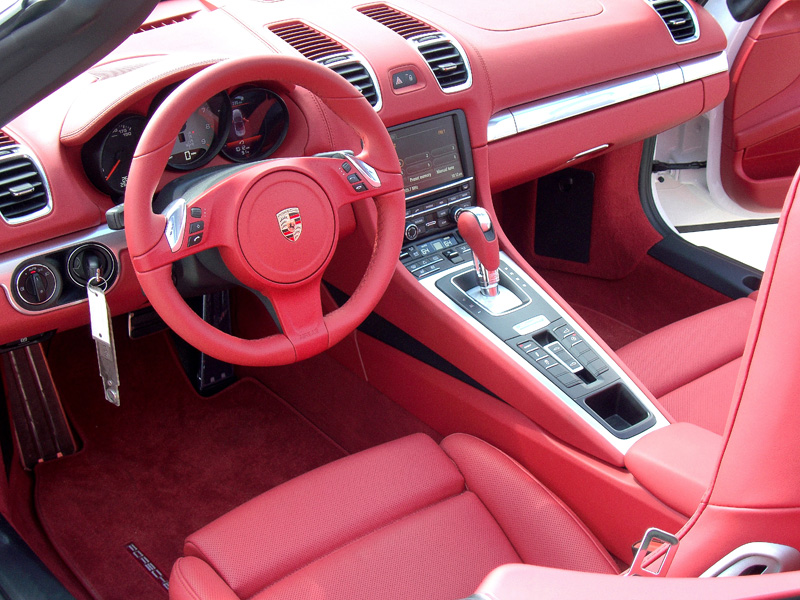 ...the interior of the new 981 Boxster is superb, fit and build quality is marvelous, raised center console ala Carrera GT not only looks good but it works!!! Our Boxster had the Carrera Red interior, I still remember when it used to be Boxster Red, I guess the Carrera gets priority now, hehehehehe... yet this shade of red works tons better than the old Boxster Red... interior continues to be very intuitive with beyond excellent ergonomics... Porsche magic at its very best!!!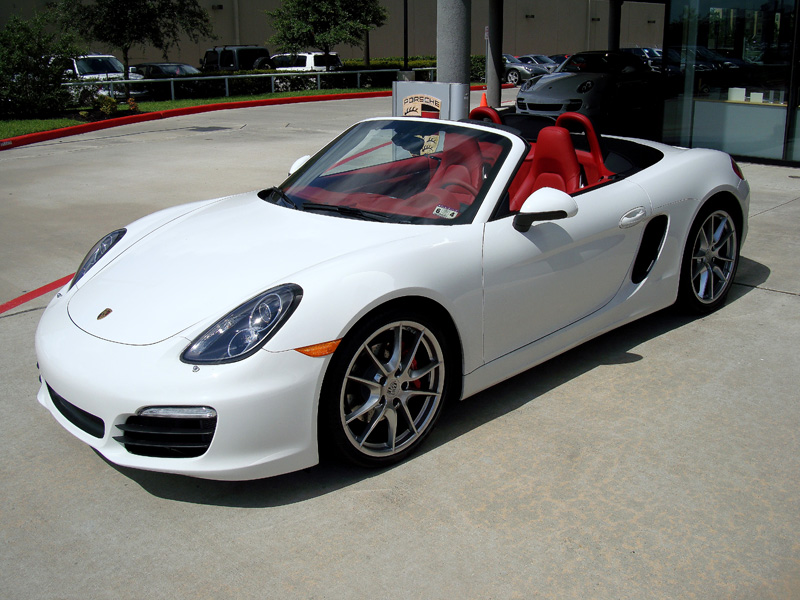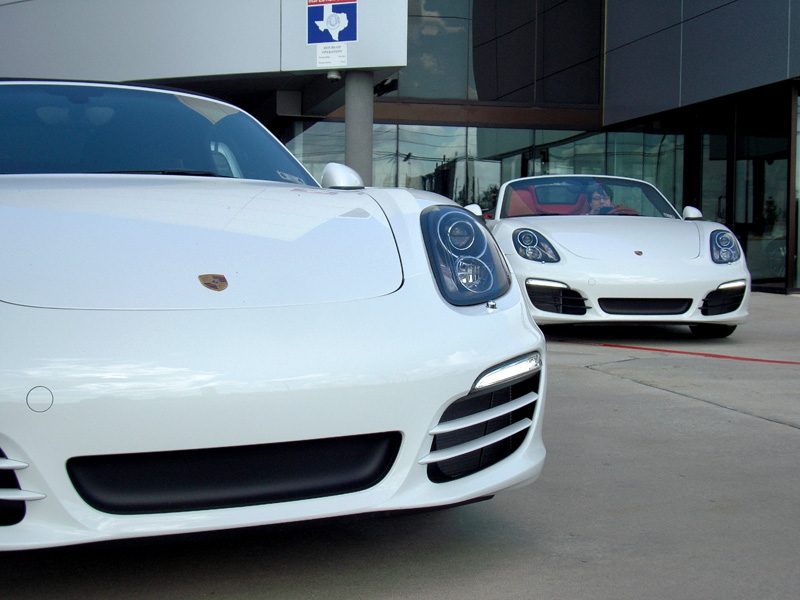 ...but Gerald had a small surprise, not one but two 981 Boxsters for us to drive! One in 2.9 form and the other the full blown S, allright!!!...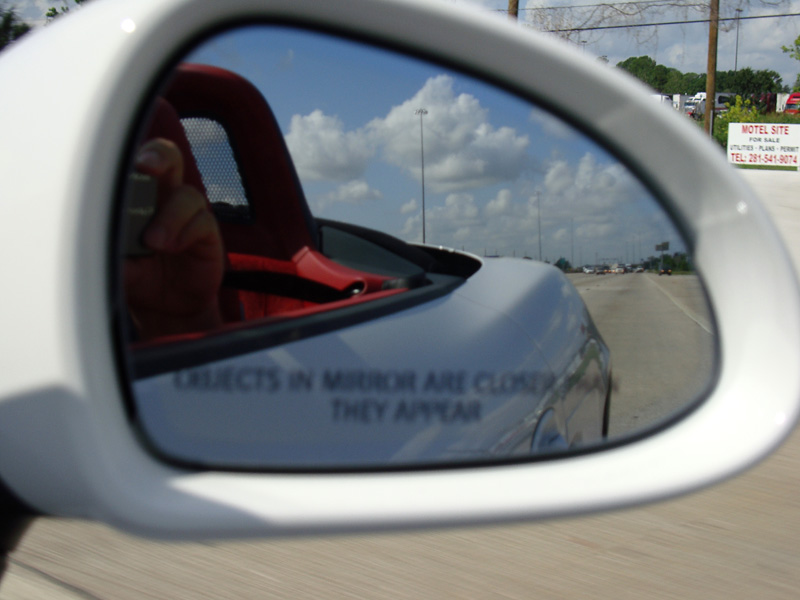 ...the new 981 Boxster is simply perfect, perhaps too perfect for its own good, at times you don't know if you are driving a video game or a car... ...electric steering and a gazillion electronic gizmos make the new Boxster too damn perfect, add centrally located engine and the new Boxster does not twitch, yet we have to note Porsche has work its magic because you never feel detached when driving the new Boxster... once again Porsche has brought the perfect roadster, SLK, Z4, get out of the way here comes the new Boxster!!!!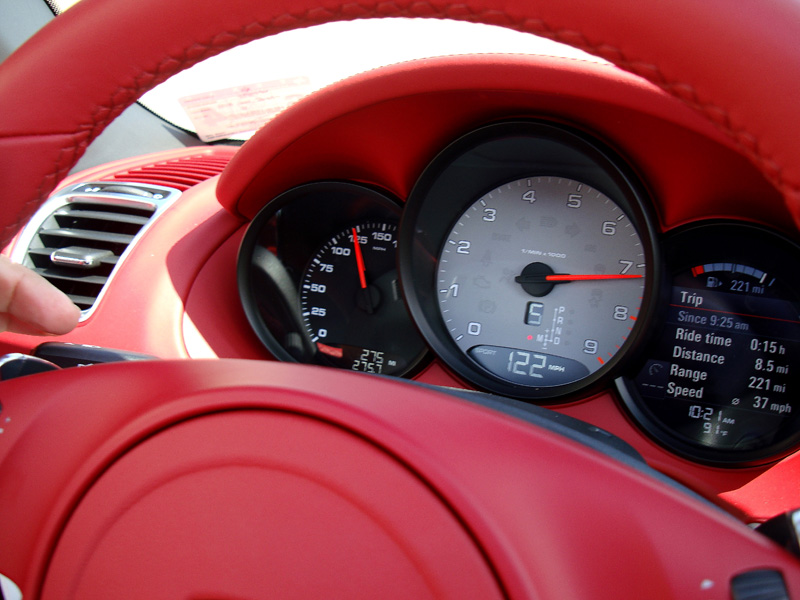 ...the new Boxster proved HELLA FAST!!! doubling the speed limit proved absolutely no problem for the new Boxster in S form... 125 in 5th and still going!!!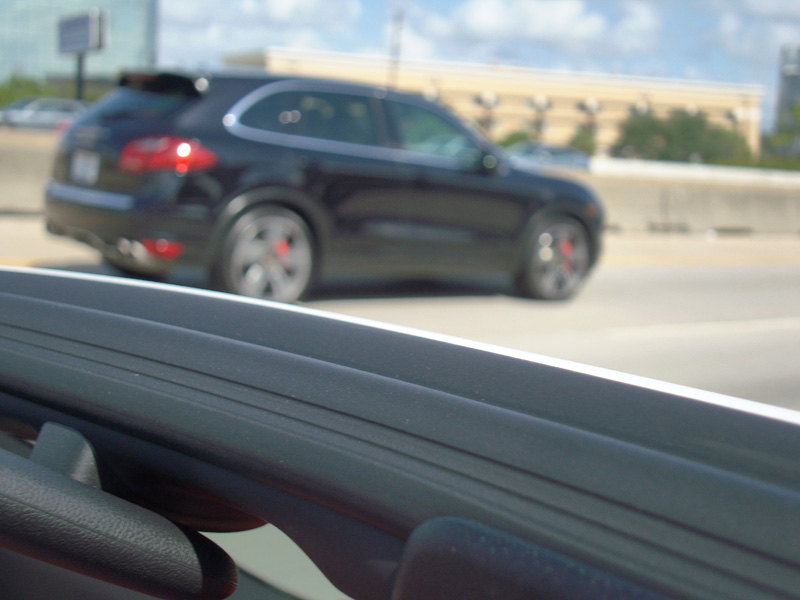 ...Cayenne Turbo was more than able to keep up with the new Boxster S up to 140 mph... one HELLA FAST SUV!!!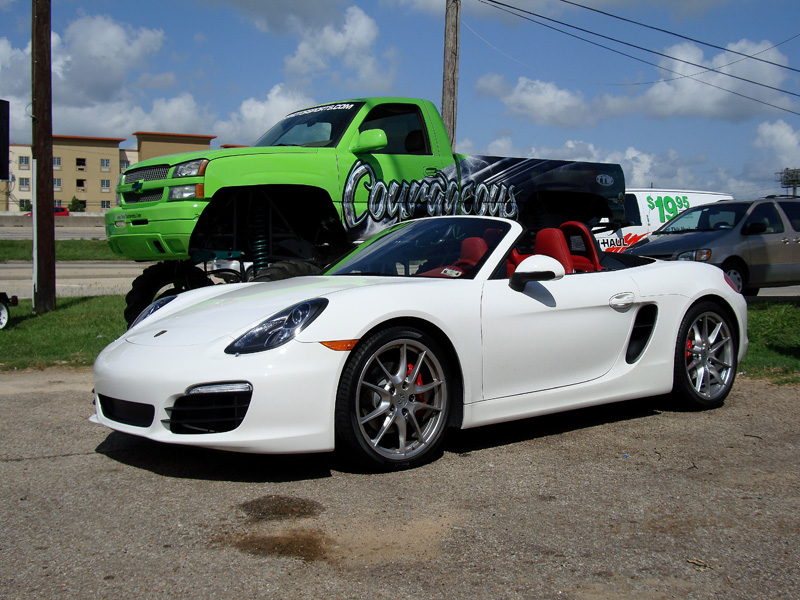 ...we stopped to get a lift kit for our Boxster but since it featured PASM suspension nothing could be done :( despite not being able to get the lift kit we were able to enjoy the new lines of the Boxster, no more Carrera hand me downs here as the new 981 Boxster features its very own doors and we have to note how well the creases work with the side air intake, side skirts are also fantastic!!! it took 3 generations of Boxster for Porsche to finally bring the goods... not much work left for TechArt here but a nice lip spoiler and a more elaborate rear diffuser... new mirrors are also to note, yes we know a Carrera hand me down, yet in our opinion they look much better on the Boxster... all in all a better and much improved Boxster, Porsche magic at its very best!!!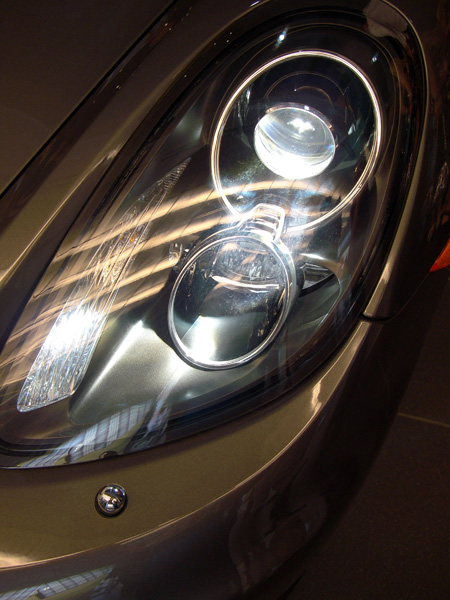 Finally Porsche has ticked all the boxes when it came to the new 981 Boxster, extraordinary exterior lines, superb interior, ubber balanced and hella fast.

PDK does not convince as of yet, Manual would still be our gearbox of choice.

Brakes are fantastic but PCCB's could be the wise choice despite dent on wallet :/

Handling, excellent, excellent, excellent, really, composed, fast, nimble and perhaps the only thing missing a bit of Boxster Spyder aura, because as of now the 981 is just too good :)

Price is not constrained in the new Boxster as we could notice from the window stickers, all well above $80k :/ this is perhaps going to present a problem for the new Boxster to find new homes because at this price range a preowned SL63 starts to look damn good specially for those not hard core Porsche enthusiasts, for those in the brand you could virtually get any 997 Carrera in Cabrio from out there and for those hard core Porsche enthusiasts a tin top early 997 GT3 or 997 Turbo or simply a preowned 987 Boxster Spyder that is so much fun!!! ...so the Boxster not only has to compete in its own segment but also with the 997, no wonder why the 997 market is so strong at this very moment, yet the new Boxster brings something to the table that is excellent handling, looks and performance.

All in all Porsche magic at its very best, the mini Carrera GT we all wanted is here in the form of the new 981 Boxster, its so damn good it leaves us not longing for a turbo version, really is that fast, drive it fall in love and put a dent on your bank account is worth it!!! :)