IPOC INDEPENDENT PORSCHE OWNERS CLUB

Newsletter 73 Porsche Parade Mexico 2009

The Porsche Parade Mexico 2009 was a tremendous success, uniting well over 200 Porsche owners and making it once again the largest Porsche GTG in Latinamerica. As always comradery and friendship came first but Porsche variety was also astounding and very interesting along with an impeccable organization, amazing locations and appalling enthusiasm, made of this year's parade an amazing event.

For many, when we talk about uniting 200 Porsches may not sound like much, for other perhaps, Porsche variety in an event may be mundane, but think of a market that had a Porsche embargo for over 40 years and where the market is only 13 years young yet when the Porsche Parade comes we see cars from all years and eras, without doubt the Mexican Porsche enthusiast is one of the most devoted ones in the world and that is what makes our events very, very special.

Of course everything started with the Carrera Panamericana where our current veteran enthusiasts first saw the Porsche cars perform and win. The impact of the Panamericana is still felt in the current parade and it will for years. I can only imagine being waked up at 1:00 am to make it in time to watch the Carrera Panamericana in time before all the roads were closed at 4:00 am. My grandfather used to do such trek to the outskirts of Puebla with my father and uncles. Once in his favorite spot at the infamous "Los Molinos" turns he would set up a tent and start a fire, once all that was done he would take his short wave radio and start listening to the race, my father would sit with his brothers and carefully listen to the radio, Ferrari, Mercedes and Maserati would be at the front, closely followed by the Porsches!!! Just a tad before sunshine you could listen to the engines coming, the high pitch Ferraris would be leading the race closely followed by the high grunt Mercedes Gullwing, the "Los Molinos" turns were a series of tight esses and the cars would come out of them at high speed, then the Porsches, one after the other with a low pitch grunt from the boxer engines, the impact of this race on a four year old kid would last a lifetime, and it has as many Mexican Porsche enthusiasts recall. The very first Porsches in our country came from this very race the Carrera Panamericana, yet after last race in 1954 importation of sport and luxury vehicles would cease and it was until 1994 that it would restart meaning that we had a 40 year drought yet at the parade you could spot Porsches from every decade. I can't recall what happened during the 60's and 70's but during the 80's rich and influential people imported many Porsche cars, I calculate from various sources that more than 300 Porsche made it into our country during the 80's, mostly 911's. Then, in 1996 came what I like to call the Henkel/BMW fiasco, where one Eduardo Henkel would go through great lengths to bring Porsche, how great, how about convincing Porsche to build the 993 Turbo in Mexican soil, an unprecedented act in the history of Porsche and the only Turbos built outside Germany ever. Unfortunately BMW took over the Henkel operation and did nothing with the brand, yet these years (1996-2000) brought and excess of 300 Porsches to Mexico. In 2001 Porsche de Mexico as we know it started its operations as we know them. Thus, Porsche variety and enthusiast becomes a great deal for our country and the mere importance of the Porsche Parade, but enough talk and... let's check out the action...

The Porsche Parade Mexico 2009 presented a great opportunity to get together with fellow Porsche enthusiasts, old friends and see and enjoy some magnificent Porsches. Porsche de Mexico did a magnificent job on the unique and first time ever for a car event location for the start of the event, the caravan also presented a challenge in a city with 25 million people and having well over 200 Porsches crossing from mere downtown to the Historic Autodromo Hermanos Rodriguez, something rarely seen if not ever and just for the Porsche Parade, but hang on and see the  second part of the parade here:

For more info on upcoming Porsche Driving Events and the next Porsche Parade please log on to:

¡¡¡ VIVE TU PORSCHE AL MAXIMO !!!

Frissen Gutierrez

Porsche Specialist & Porsche Owner since 1992

This Guards Red Carrera is one of our favorites, we have seen it on past years and its the perfect example on how Mexican enthusiasts play with tuning eras in an exemplary way... of course it starts with correct Guards Red and euro stance, oversized Fuchs keep things original yet current but also note how this impact bumper 911 gets a back dating duck tail, without a doubt nicely done...

Ok, hold on here, 2010 997TT's were due in a few months at the time we took the pic... MkI 997TT sporting a plethora of TechArt stuff and most importantly 2010 rear lights... one hot 997TT without doubt...

Clean full TechArt Speed Yellow gator... we give the owner of this Cayman an applause for keeping that front lip and "20 TechArt wheels intact, not an easy feat on Mexican roads I would say... very clean and very nice...

Yet another example of fine Mexican Tuning, the owner of this 997 denominates his creation "GTS" as it reads on the rear badge, starting with a rare Atlas Gray 997 sporting "20 TechArt Formula wheels on street setup, for track it sports a set of "19 Champion wheels, suspension carries a vast list of first class components that puts this 997 at a very low stance, OEM GT3 front and at the back a TechArt I rear spoiler that looks the part, engine and interior carry a plethora of well carried tricks executed at the highest of levels, this is one hot Carrera!!!

Martini Racing livery on classic 911, long hood and wide fenders are certainly a juxtaposition for the extreme purist yet not when emulating a race car... this one gets lots of attention everywhere it goes and why not, its very nice, well modded, daily driven example......

This is the original shot at the Angel of Independence in Mexico City, wow!!!

Our good friend Fernando Romo took the opportunity to take the perfect Facebook shot... nice!!!

It was time to head to the historic Autodromo Hermanos Rodriguez in the Parade caravan... let's go!!!

Photos by:

Frissen Gutierrez

Manuel Caballero

Porsche de Mexico

This year's official photo of the Porsche Parade Mexico 2009... location is by the Angel of Independence on Reforma Avenue, perhaps the most important avenue in Mexico along with the most significant monument... simply amazing location!!!

As always and early arrival was required, here a 997 GT3 in RS Green in the front of a beautiful  Powder Blue 356... variety, variety, variety...

Driver and co-pilot would have to go through registration... over 500 people registered for the event... registration, done!!!

Our friends from Porsche de Mexico, David Tiscareño and Andreas Jessa making sure everything is running perfect...

Every single detail counts, here the Porsche Lunch Boxes, one for every participant...

While running around we found these big honchos: Fernando Flores Beristain, Director for Porsche de Mexico and Fernando Bayo, President of the Porsche Club Puebla.

Hey!!! I know this guy... he must have deflated to fit in his 917...

Our friend David giving orders... "Please put those 200 Porsche in position and afterwards bring me a latte and make it quick!!!"

After David's orders in fact all Porsche were all aligned so we took a chance to view a few of them like this beautiful early 930...

The Porsche Parade is certainly a family affair... here The Bayos checking out the 917...

I said it in the past and I say now, kids are the ones buying Porsches in the future reason enough to start them young... many Porsche Club members brought their kids to the Parade... click on thumbs to view some of the kids at the event...

PCM directives leading the caravan...

...whoa!!! Gulf livery 917 followed by Guards Red Carrera GT arriving just like every other Porsche in the event... in the back historic Chapultepec Castle... nice!!!

...caught on the go, Porsche de Mexico, Marketing Manager, Andreas Jessa... good shot!!!

The weather was perfect for top down driving, here a 997 Cab top down, nice color combo and TechArt lip and sides look the part on this clean cab...

Parade caravan with open road ahead... amazing for Mexico City!!!

The line of Porsches was simply immense...

I definitely had first row seat of the action during the Parade caravan... MkII 997 cruising while on the left lane coming at speed, whoa!!!

...and I caught it!!! CGT at speed on the street!!!

Crossing Mexico City at speed!!!

...yet another magnificent and unique shot I managed to do... here we enticed this group to pick up the pace for the shot and it worked!!!

Porsche variety was great, here a pretty unique Cayenne V6 in GTS red and a plethora of tid bits from GTS and Turbo... nice and lady driven...

Viceroy livery, slant nose 911 really caught my attention so I tried hard to capture it right...

Lady Driven classic 911 with baby in the back, now this is quite unique for Mexico I have to say yet refreshing to see the Porsche Club Mexico is braking boundaries and having a larger audience enjoy the events...

Cousins found each other while in traffic, I guess only in Mexico...

I went through 1000's of pics of magnificent Porsches and I wanted to post them all, well not all but a good bunch of them, unfortunately I am already running late with the reports so I decided to end this part of the report with some top down driving and since I'm a sucker for Artic Silver 986 Boxsters, well here we go, je, je, je...

...and this one which I found rare for Mexico as I don't get to see many green 986 Boxsters around, this one is an S in pristine and original form, color combo is quite unique too... and so 200 Porsches passed by on the way to the Historic Autodromo Hermanos Rodriguez...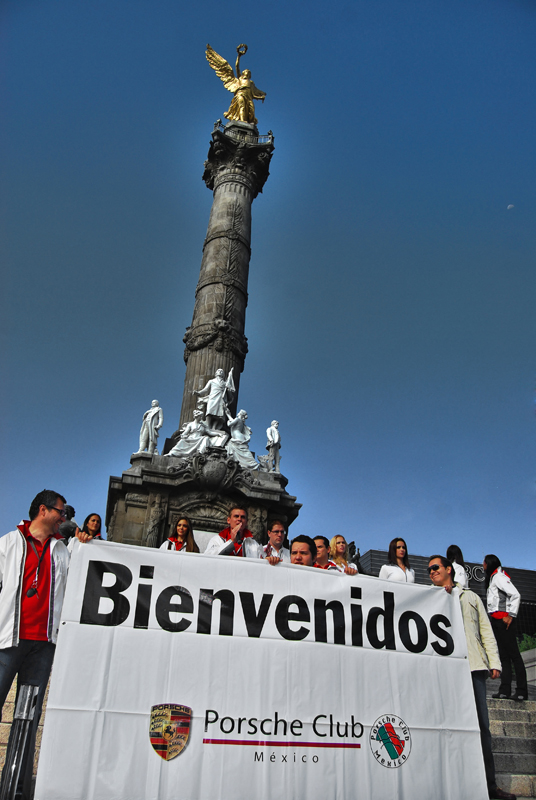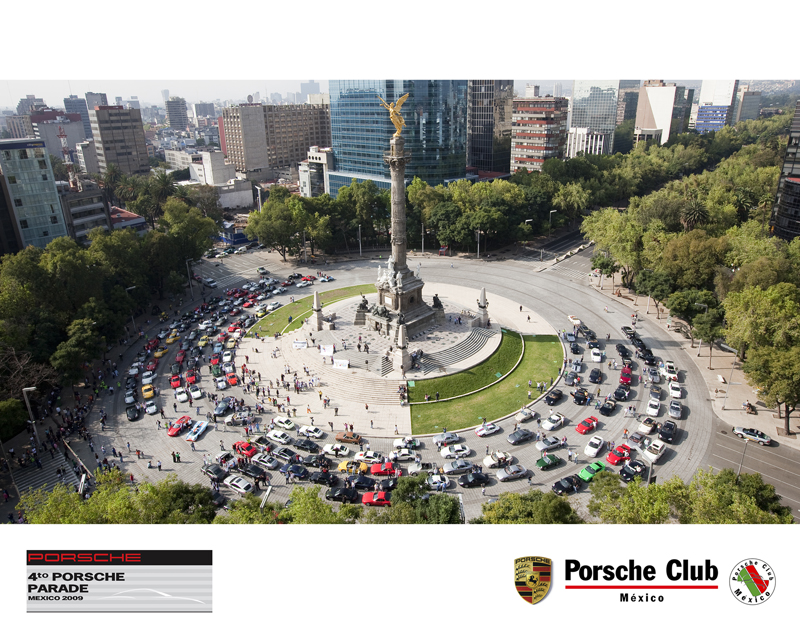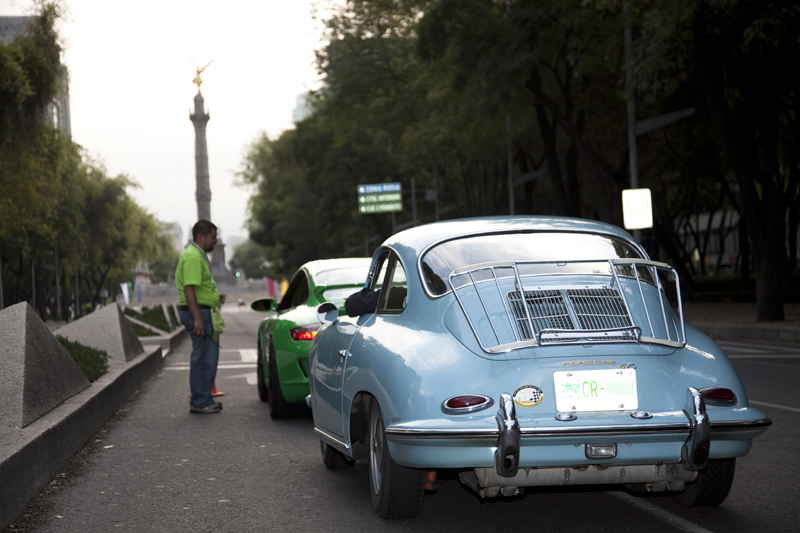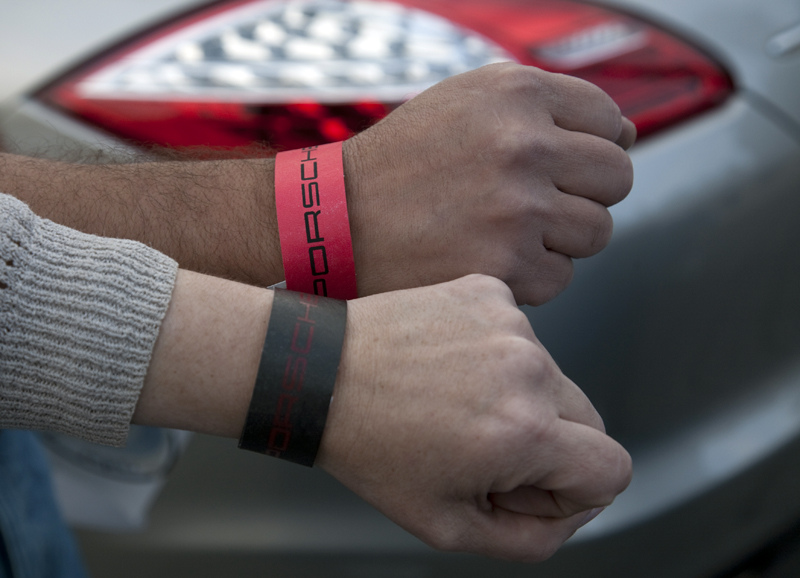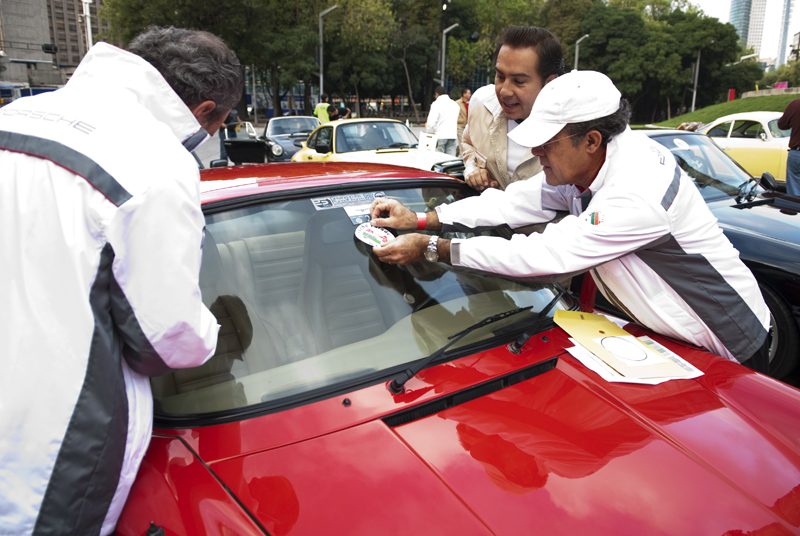 Event stewards would do a car inspection and correctly apply the event stickers... tremendous organization!!!